Recipes
Gulab Jamun
This syrup-soaked confection from the Subcontinent sweetens any celebration.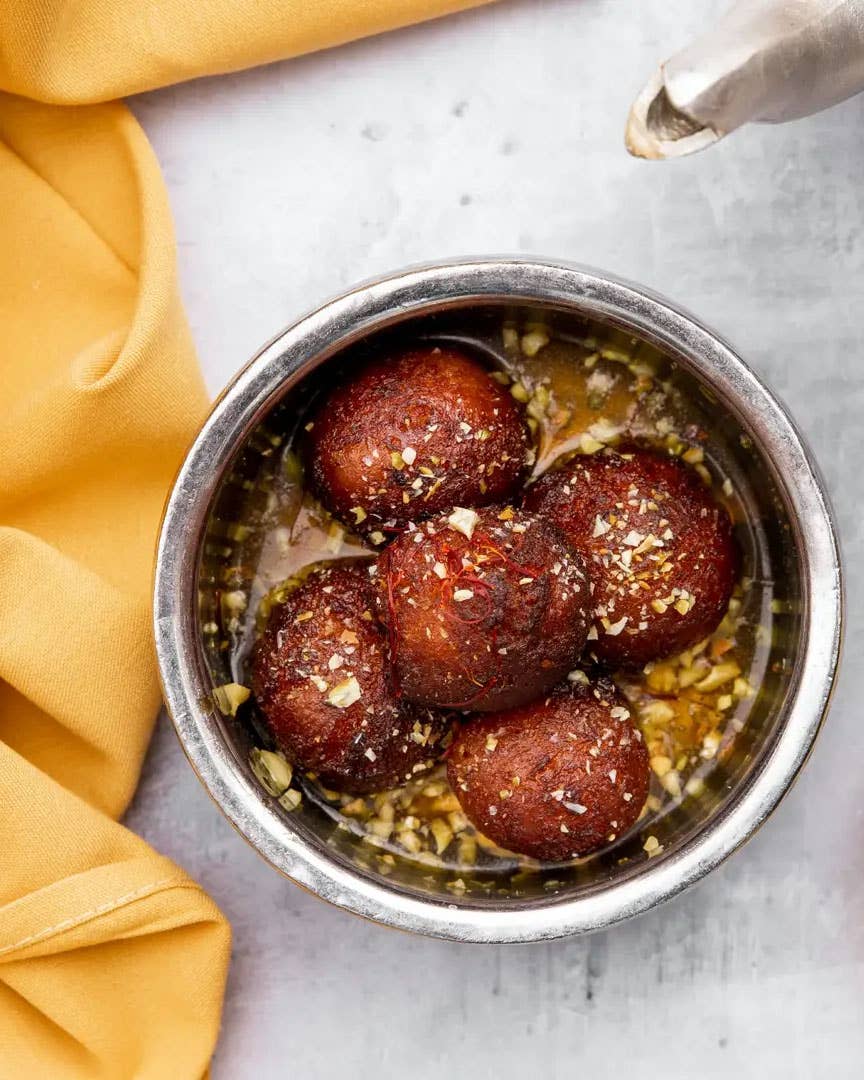 Gulab jamun, translating to "flowery fruit," is a traditional dessert enjoyed throughout the Indian Subcontinent. Usually served for celebrations, the syrupy spheres are traditionally perfumed with rosewater and saffron and are individually portioned, for ease in sharing. Best eaten warmed, gulab jamuns are always adorned with a choice of nuts, gold leaf, and occasionally shredded coconut. Nashville-based restauranteur and Chopped judge Maneet Chauhan adds warm baking spices to her version, and stuffs the spheres with a mixture of fresh cheese, pistachios, and cashews.
Ingredients
For the dough:
1½ cups unsweetened milk powder
1 cup all-purpose flour
1 tsp. baking powder
¼ cups plus 1 Tbsp. ghee, melted, plus more for frying
½ cups whole milk, plus more as needed
For the syrup:
2 cups sugar
2 green cardamom pods, cracked
1 star anise pod
1 cinnamon stick
1 tsp. Fresh lemon juice
1 tsp. rose water
¼ tsp. saffron
For the filling:
1½ oz. paneer, crumbled (¼ cup)
1 tbsp. finely chopped pistachios, plus more for garnish
1 tbsp. finely chopped cashews, plus more for garnish
1 tsp. sugar
½ tsp. rose water
Pinch of saffron
Kosher salt and freshly cracked black peppercorn
Dried rose petals, for garnish
Gold leaf, for garnish
Instructions
Step 1
Make the dough: In a large bowl, whisk together the milk powder, flour, and baking powder. Stir in the ghee, then add the milk switch to a wooden spoon or silicone spatula, and mix just until a soft dough comes together. Set aside to rest for 15 minutes.
Step 2
Make the sugar syrup: To a deep medium pot, add the sugar, cardamom pods, star anise, cinnamon stick, saffron, lemon juice, rose water, and 2 cups water, then bring to a boil over medium-high heat. Cook, stirring occasionally, until the sugar has melted and the syrup is fragrant and sticky, 6–7 minutes, then remove from the heat and keep warm.
Step 3
Make the filling: In a small bowl, stir together the paneer, pistachios, cashews, sugar, rose water, and saffron. Season to taste with salt and black pepper, then set aside.
Step 4
Form the gulab jamuns: Using lightly oiled hands, divide the dough into ten 1-inch balls. Working with one ball at a time, use your thumb to make an indentation in the center and fill with a teaspoon of the prepared filling. Wrap the dough around the filling, then pinch the edges to seal. Roll lightly between your palms to make a smooth ball with no cracks.
Step 5
Set the reserved syrup beside the stove. Into a deep pot, pour ghee to a depth of 2 inches. Heat over low heat until the ghee just begins to shimmer, then, fry the gulab jamuns in batches, turning often, until golden brown, around 3 minutes per batch. Using a slotted spoon, transfer the balls directly into the hot sugar syrup, then remove from heat, cover, and set aside to soak for at least 4 and up to 24 hours.
Step 6
To serve, return the pot to low heat to rewarm. Divide the gulab jamuns with some of their syrup among 5 bowls, garnish with chopped pistachios and cashews, dried rose petals, and gold leaf.