21 Exciting Ways to Cook With Saffron
One pinch of these precious red threads adds a world of flavor to soups, rice dishes, and craveable sweets.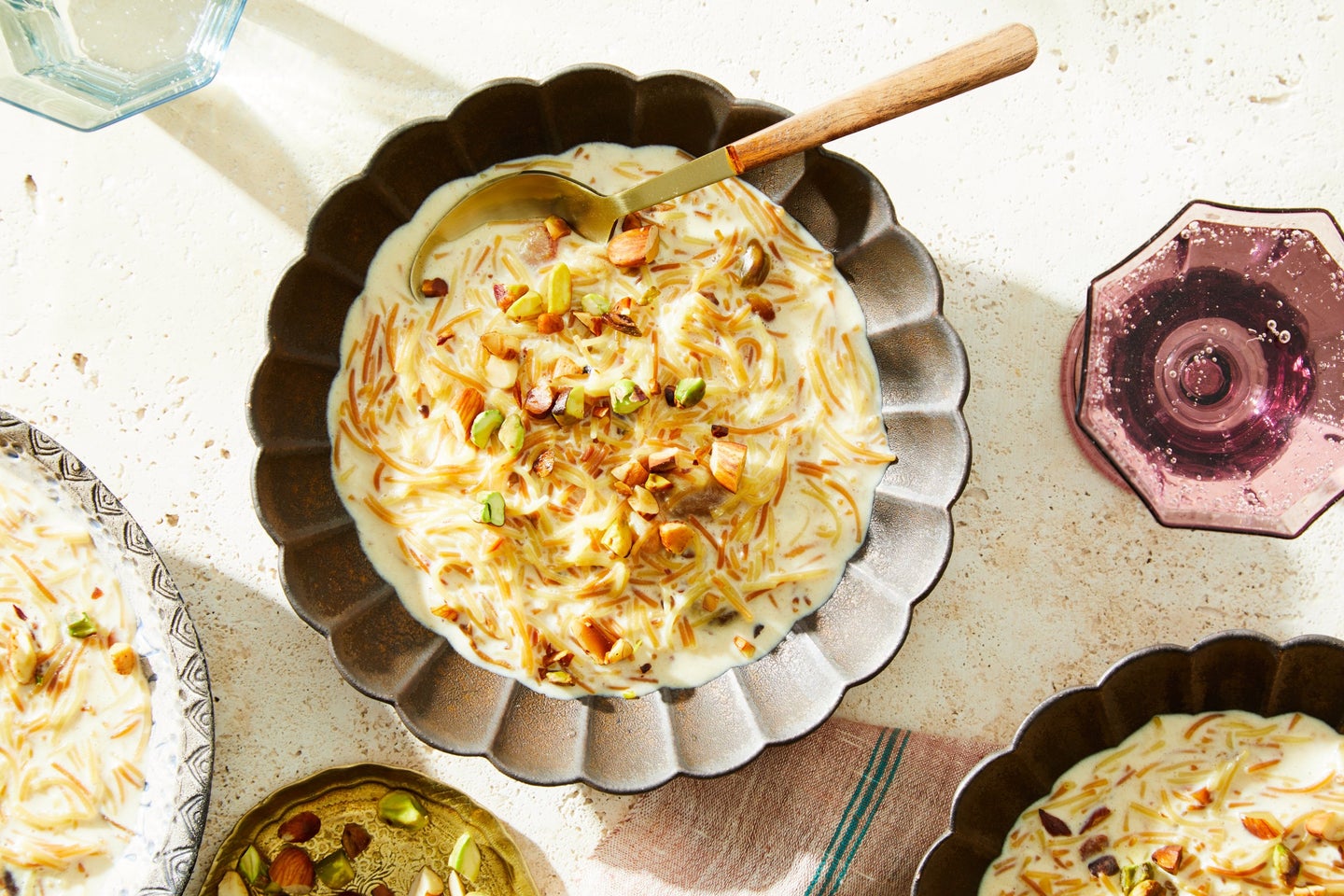 Saffron is not your standard spice. Prized since antiquity, it is neither seed nor herb but rather the dried stigmas of the autumn crocus (Crocus sativus), which thrives in hot, dry places like Iran, Kashmir, and southern Spain. Each saffron crocus yields just three stigmas, which farmers pluck by hand and toast carefully to draw out their heady, floral fragrance that's so mysterious it eludes all adjectives. Fifteen thousand stigmas equal roughly one ounce of saffron, making it the world's most expensive spice by weight—a fun fact that might lead you to believe you can't afford it. Nonsense: A few weightless threads are enough to turn a whole pot of soup or substantial dessert into a fragrant, orange-hued culinary masterpiece. 
Two tips to keep in mind, saffron-wise: First, because counterfeit saffron is everywhere, it's best to source it from a trusted retailer; give powdered saffron a pass and seek out deep red threads with as little yellowing as possible. Second, for maximal flavor and color, toast the saffron in a dry skillet, then grind it in a mortar and steep it in a tablespoon or two of hot water before adding to the dish.
This Persian specialty is arrestingly gorgeous with its saffron-stained grains and crisp, golden crust. Get the recipe >
Saffron and bone marrow combine in this luxuriously rich northern Italian risotto. Get the recipe >
There's something magical about cooking with flowers, and this recipe from a restaurant on the Italian-Slovenian border incorporates three sweet-smelling types. Get the recipe >
Because of this comforting recipe, we can no longer fathom making chicken noodle soup without adding a pinch of saffron. Get the recipe >
This regional dish uses the same rice and many of the same techniques as paella—and hinges on whatever wild game birds are in season. Get the recipe >
Homemade aïoli thickens the broth in this satisfying Marsellais stew made with halibut, shrimp, saffron, and white wine. Get the recipe >
There's no faster route to homemade ice cream than a no-cook base like this one, to which we add saffron and orange bitters for a Mediterranean-inspired treat. Get the recipe >
A layer of lavash between the pot and the rice acts as a barrier to prevent the dried fruits from burning—and adds crunch to this sweet-and-salty dish. Get the recipe >
Saffron and seafood are culinary besties as this saffron-scented bucatini—laden with shrimp, squid, and littleneck clams—goes to show. Get the recipe >
This Azerbaijani plov gets spattered with saffron-infused water to create patches of fragrant yellow rice. Get the recipe >
Lamb shanks turn meltingly soft in this centuries-old Moroccan braise that calls for honey, almonds, and raisins. Get the recipe >
Pay the paella prescriptivists no mind: Chorizo tastes terrific in paella, and it's as traditional an ingredient as any other. Get the recipe >
Think of Azerbaijani pakhlava as a layered shortbread cookie as opposed to the crackly, ultra-sweet baklava you're likely better acquainted with. Get the recipe >
Traditionally pigeon is the protein of choice in this spicy, faintly sweet Moroccan pie, but chicken thighs, quail, or Cornish game hens make excellent substitutes. Get the recipe >
In the off chance you have leftover saffron aioli, swoosh it onto sandwiches or serve it alongside  seafood paella. Get the recipe >
Afghan saffron vendor Tahmina Ghaffer loves the way saffron plays with dried sour plums, which can be found at well-stocked Middle Eastern and Asian markets and spice shops. Get the recipe >
We can think of no good reason this decadent Nowruz recipe shouldn't be made year round. Get the recipe >
Meaning "flowery fruit," the Indian dessert gulab jamun consists of dairy-enriched spheres bobbing in a rosewater-saffron syrup. Get the recipe >
Saffron rice is the requisite sidekick to this lavish Portuguese lamb roast hailing from vinho verde country. Get the recipe >
When temperatures soar, we crave this cool, creamy vermicelli pudding flavored with saffron and ghee. Get the recipe >
This crumbly, pudding-like confection is studded with nuts and dried fruits and gets its floral kick from saffron steeped in syrup. Get the recipe >