Recipes
Bairín Breac (Irish-Style Tea Bread)
The classic Irish accompaniment to the perfect cuppa.
Serves

makes 2 loaves

Cook

1 hour 10 minutes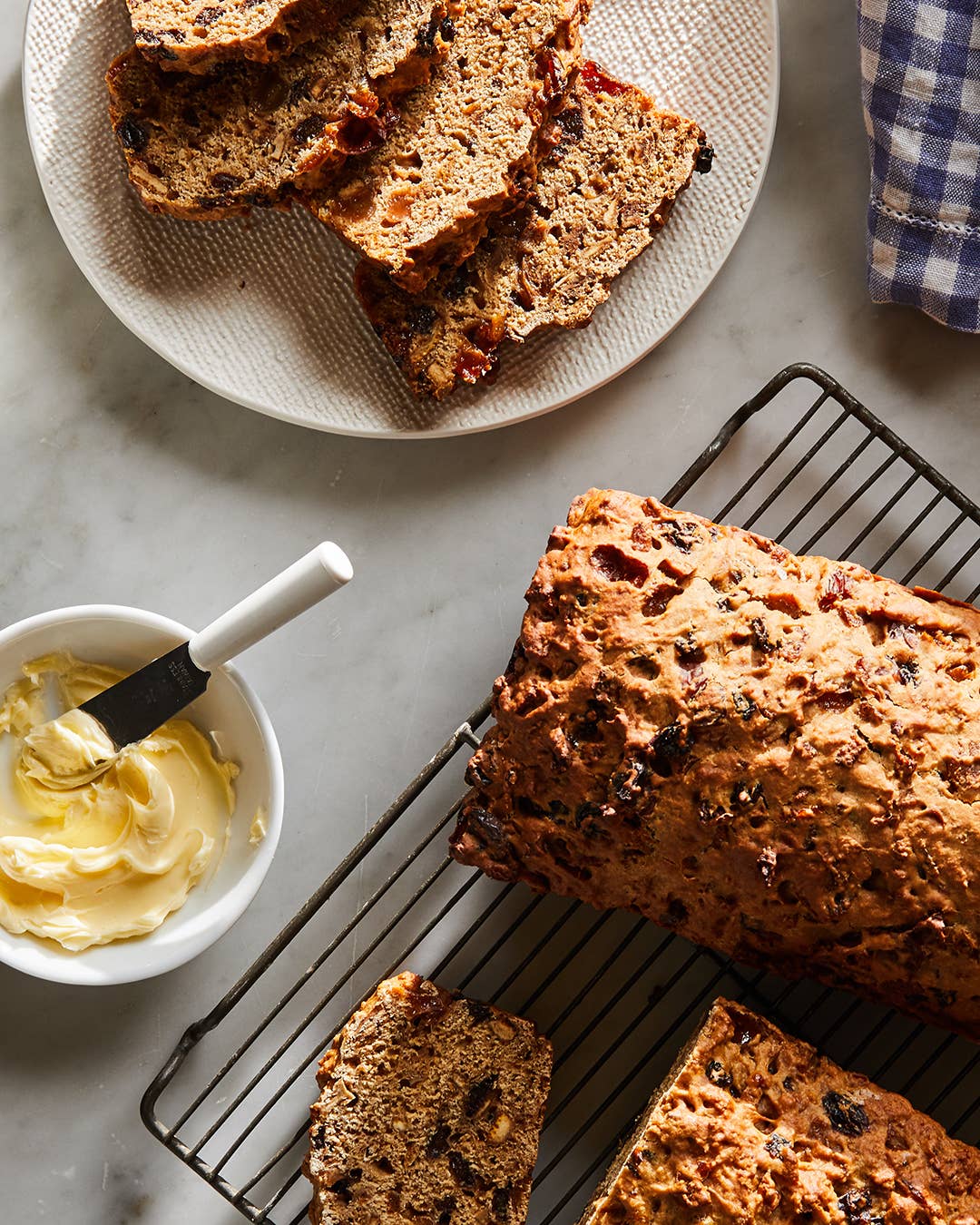 Chef Cúán Greene's grandmother Laillí grew up in Connemara, where she learned to bake this hearty tea bread, known as bairín breac or barmbrack in Irish. He says "breac" means speckled, appropriate as the loaf is studded with tea-infused currants and raisins. A "bairín" was originally a rectangular piece of wood placed in front of a horse-drawn cart's wheels as a brake, and it's also the shape of the rectangular loaf tin in which this bread is baked. While his grandmother would serve it with salted butter, Greene now slices the finished loaf into thick fingers and toasts them on a charcoal grill until smokey and caramelized, then smears each with a savory miso fudge and tops with sea urchin. A wild pivot from the way his grandmother served it. This recipe is based on one she taught him.
Ingredients
2½ cups mixed dried fruit (such as golden raisins, currants, candied citrus peel)
2 cups strongly brewed black tea (made with 3 tea bags)
1 cup plus 1 Tbsp. dark brown sugar
2 large eggs, lightly beaten
3½ cups cups all-purpose flour
1½ tsp. baking powder
1 tsp. ground allspice
1 tsp. ground cinnamon
1 tsp. ground cloves
Salted butter, softened, for serving (optional)
Instructions
Step 1
In a medium bowl, mix together the dried fruit, tea and brown sugar. Cover and set aside to soak at room temperature overnight.
Step 2
Preheat the oven (with one of its racks positioned in the bottom third) to 300°F.
Step 3
Butter two 9- by 5-inch loaf tins, line each with parchment paper, and set aside.
Step 4
In a large bowl, stir together the eggs and the reserved fruit-and-tea mixture. Into a second large bowl, sift the flour, baking powder, allspice, cinnamon, and cloves. Using a silicone spatula or wooden spoon, fold the dry ingredients into the egg-and-fruit mixture just until combined. Divide the batter evenly between the two prepared loaf tins, then transfer to the oven and bake until the bread is dark brown and a skewer inserted in the center comes out, about 50 minutes. Cool for a few minutes in the pans, then use the parchment lining to lift the loaves out to finish cooling on a wire rack. Serve warm, at room temperature, or toasted with salted butter, if desired.