Recipes
Kaiserschmarrn (Austrian Scrambled Pancakes)
This fluffy, crispy torn-up flapjack is a coffee-shop staple in Vienna—and an easy one-pan dish.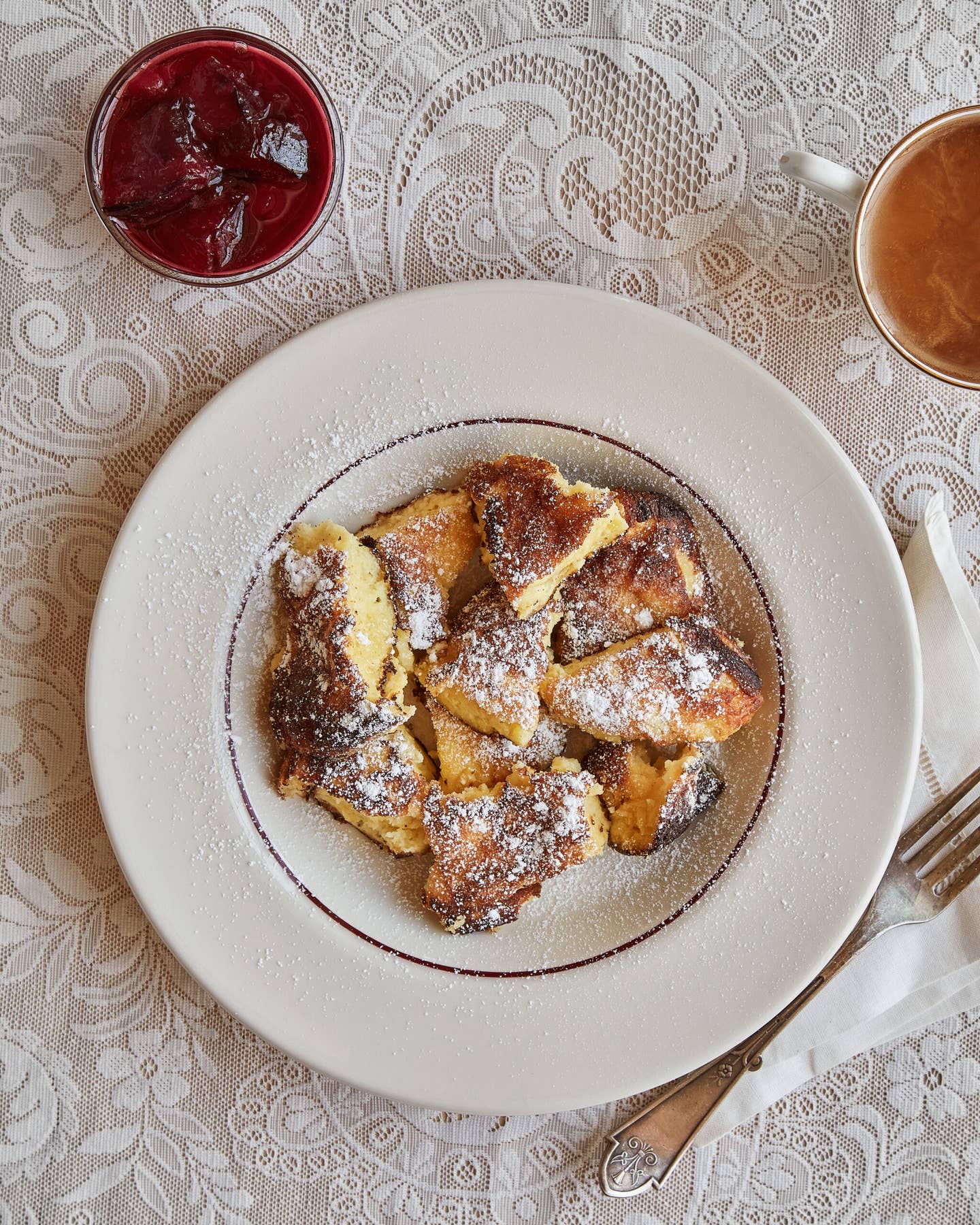 Historic old-school cafes dot the streets of Vienna, making it easy to pop in for a melange (a milky espresso drink) and something sweet. I decided to visit the pastry shop, Demel, to try its famous Sachertorte—the chocolate cake that is one of Vienna's most famous desserts—and other confections. When I reached the shop and peeked into the large glass windows, I saw cooks slinging giant, messy pancakes with little fuss and precision. They were making kaiserschmarrn, another sweet coffeehouse staple in Vienna. Before serving, the pancakes were torn up, creating a texturally interesting dish with crispy edges and soft centers all jumbled together. Dusted with powdered sugar and served with rum-soaked raisins, the casual dish was a delightful contrast to the centuries-old establishment's grandiose interior. It's also much easier to make than Sachertorte. This kaiserschmarrn recipe, inspired by Demel's version, is a simple one-pan dessert—minimal flipping skills required. In the spring and summer, feel free to swap out Demel's boozy dried fruit pairing for a fresh fruit compote—I like black plums quick-simmered with sugar and cinnamon.—Fatima Khawaja  
Ingredients
3 large eggs, whites and yolks separated
1 Tbsp. plus 2 tsp. sugar
¾ cup milk
1 tsp. vanilla extract
½ cup all-purpose flour
Pinch of kosher salt
3 Tbsp. clarified butter, divided
2 Tbsp. powdered sugar, for dusting
Fresh or store-bought fruit compote, for serving (optional)
Instructions
Step 1
In a large bowl, use an electric mixer or whisk to whip the egg whites and sugar to soft peaks. In a second large bowl, whisk together the egg yolks, milk, and vanilla. Whisk in the flour and salt just until incorporated (some lumps are OK). Gently fold the egg white mixture into the yolk mixture (again, some lumps are OK).
Step 2
To a 10-inch nonstick skillet over medium-low heat, add half the clarified butter. When the butter is hot, pour the batter into the pan and cook until the bottom is golden-brown, about 4 minutes. Using a spatula, cut the pancake into fours. Flip the pieces and drizzle the remaining clarified butter around the outer edges of the pancake; cook until the bottom is golden-brown, about 4 minutes. Use the spatula to cut the pancake into shaggy bite-size pieces. Transfer to a large plate and dust with powdered sugar. Serve hot, with fruit compote if desired.