Recipes
Halwa (Semolina Pudding with Nuts)
A dense, and warming confectionary, made to celebrate.
Serves

serves 8

Cook

25 minutes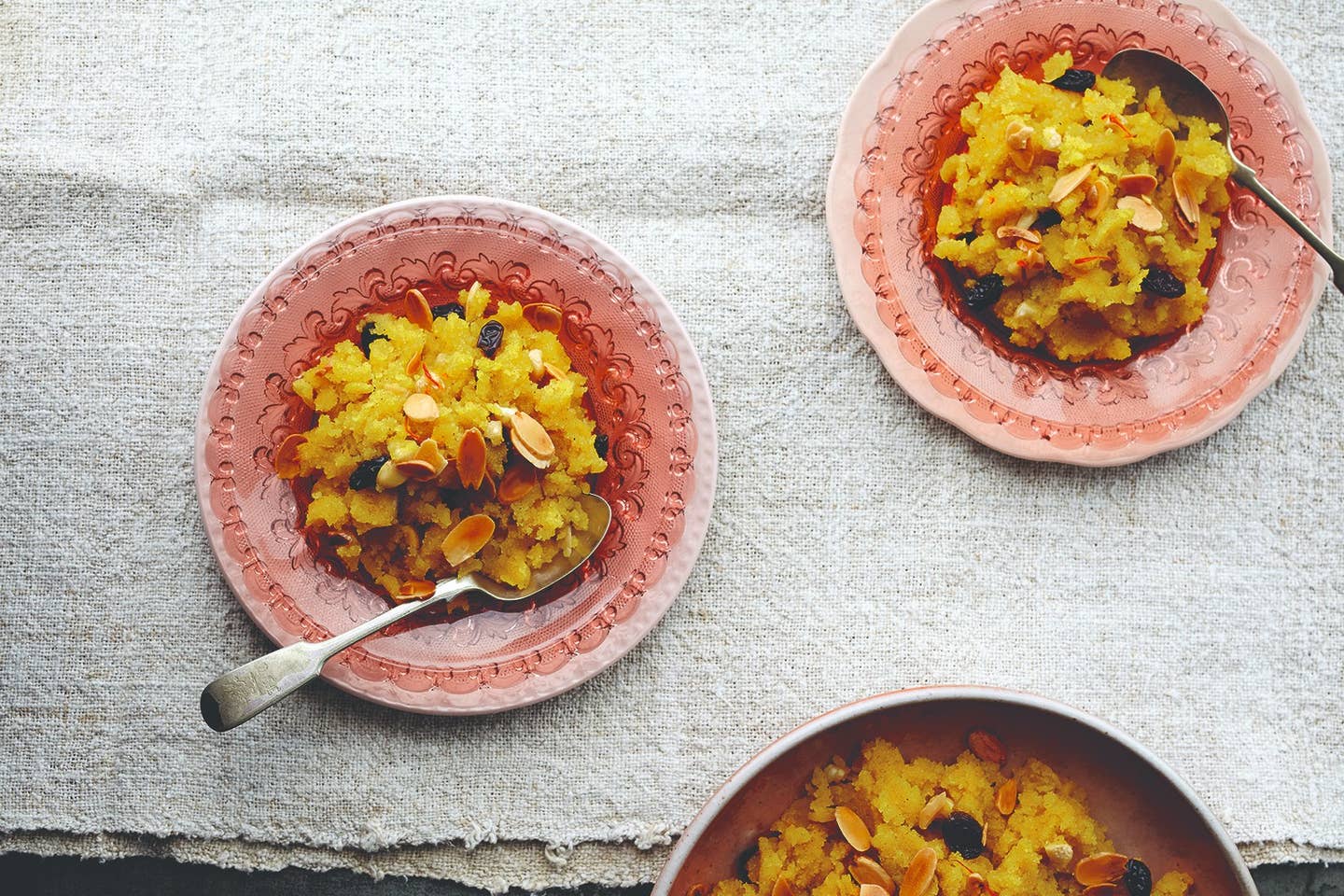 Halwa, a crumbly, pudding-like confection, is enjoyed by many cultures across India and beyond, and may be made with a wide range of different ingredients. British Indian chef Romy Gill tasted a version similar to this one during her second trip to Kashmir. The recipe, which is adapted from her cookbook, On The Himalayan Trail: Recipes and Stories from Kashmir to Ladakh, is fragrant with saffron and green cardamom and garnished with cashews, almonds, and raisins. Enjoy it like she does, paired with a warm cup of chai.
Ingredients
⅔ cups sugar
¼ tsp. crushed green cardamom seeds (from about 4 pods)
½ tsp. saffron
¼ cups plus 2 Tbsp. ghee
1½ cups coarse semolina
2 tbsp. coarsely chopped raw cashews
2 tbsp. plus 1½ tsp. raisins
1 tbsp. plus 1 tsp. toasted slivered almonds
Instructions
Step 1
To a medium pot set over medium heat, add 2¾ cup of warm water, the sugar, cardamom seeds, and saffron. Bring to a boil and cook, stirring occasionally, until the sugar is dissolved and the liquid has reduced to a light syrup, about 10 minutes. Remove from the heat.
Step 2
To a second medium pot set over medium-low heat, add the ghee. Once melted, add the semolina and cook, stirring frequently, until toasted and light brown, 7–8 minutes. Slowly stir in the reserved syrup and continue cooking, stirring frequently, until the halwa is a crumbly consistency, 2–3 minutes. Stir in the cashews and raisins, then transfer the halwa to a medium serving bowl, and sprinkle with the slivered almonds. Serve warm.