Recipes
Standing Rib Roast with Black Currant Port Glaze
Tart berries and sweet fortified wine balance the richness of this rich and meaty main.
Serves

serves 6-8

Cook

2 hours 30 minutes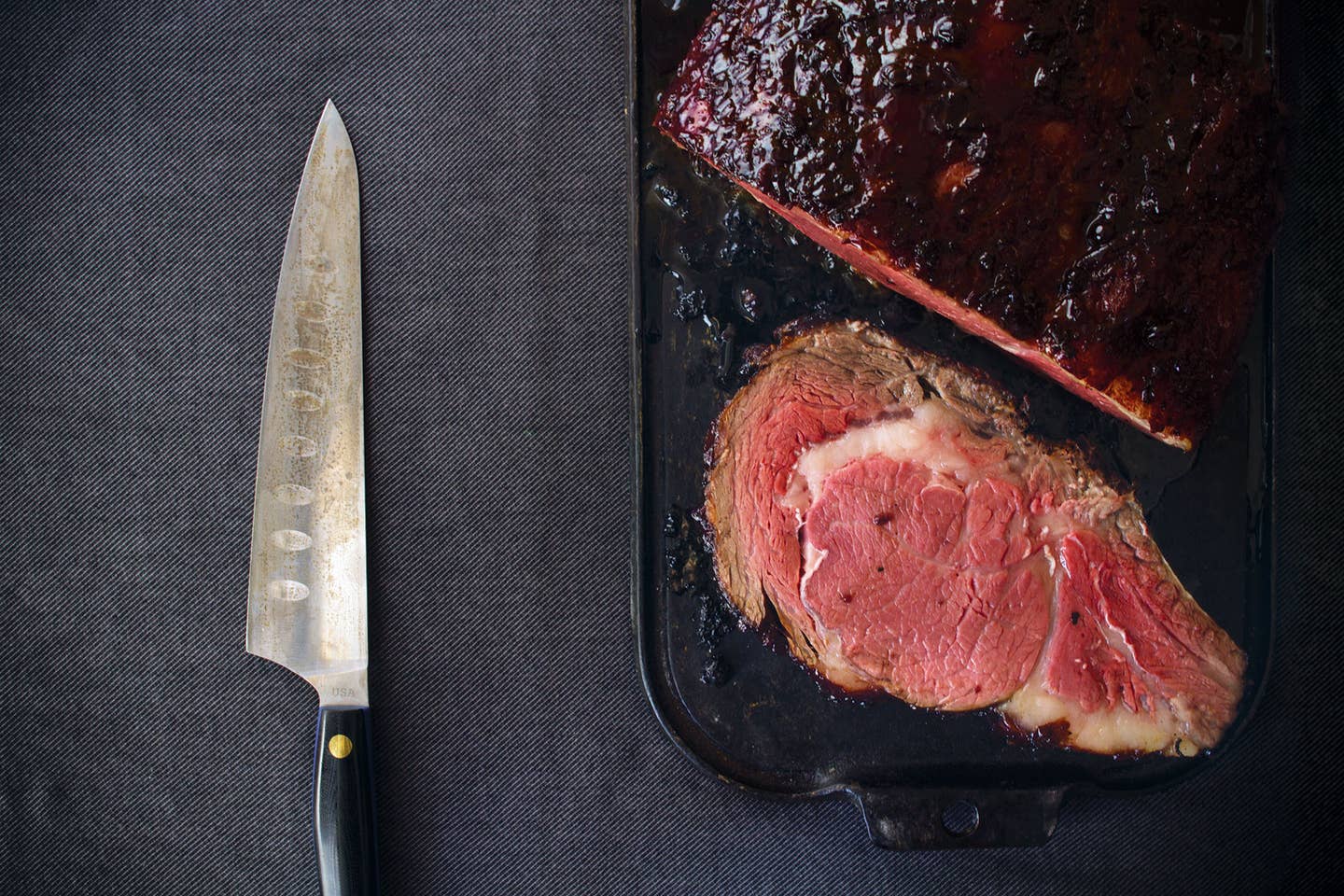 This crowd-pleasing glazed rib roast was inspired by former SAVEUR Test Kitchen director Kellie Evans' days as a film and television caterer—a job that required feeding many hungry people. For more of our very best Christmas dinners, check out all of our recipes here.
Ingredients
One 8-lb. bone-in beef rib roast
18 medium garlic cloves, peeled and halved
Kosher salt and coarsely ground black pepper
4 tbsp. unsalted butter
1 large shallot, finely chopped (about ½ cup)
2 cups ruby port
1 cup black currant preserves
2 tbsp. red wine vinegar
3 tbsp. canola oil
Instructions
Step 1
Position a rack in the center of the oven and preheat to 350°F. Using a paring knife, make 16 incisions, about ½-inch deep, all over the roast; insert the garlic halves. Season the meat generously with salt and pepper.
Step 2
Make the glaze: In a small pot over medium-high heat, melt the butter; when the foam begins to subside, add the shallot and cook, stirring frequently, until translucent and soft, 4–6 minutes. Add the port, bring to a boil, then lower the heat to medium-low and cook, stirring occasionally, until the liquid is reduced by a third, 6–8 minutes. Stir in the preserves and vinegar, season to taste with salt and pepper, and cook until smooth and syrupy, about 3–5 minutes more. Remove from heat.
Step 3
In a large cast-iron skillet over high heat, heat the oil until it shimmers, then add the roast and sear, using tongs or two large forks to turn the meat occasionally, until browned all over, 10–12 minutes. Position the roast bone-side down in the skillet and transfer to the oven. Cook, basting every 15–20 minutes with the glaze, until an instant-read thermometer inserted into the thickest part of the meat reads 120°F, 1 hour 15 minutes for rare. Carve and serve with the remaining glaze on the side.