Recipes
Roast Pork Loin with Salted Caramel Potatoes
Serves

serves 8

Cook

2 hours 30 minutes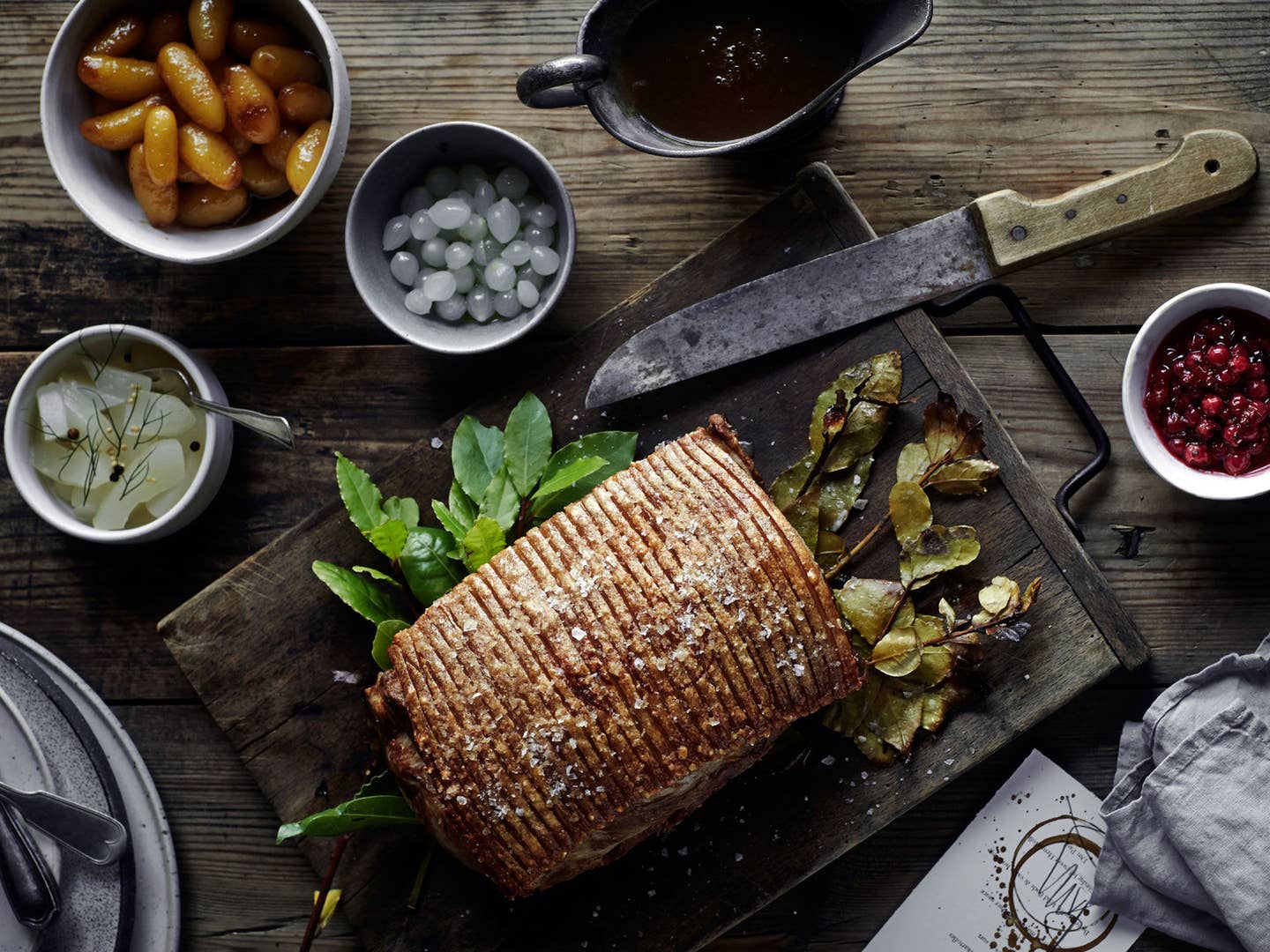 The centerpiece of Henne Kirkeby Kro chef Paul Cunningham's holiday dinner is this impressive pork loin roast served with potatoes coated in caramel and tart red currant jelly. He uses a cut of pork called "skin-on pork loin rack," which is a loin of pork with the skin and fat left intact and the rib bones still attached. It is not a common cut of meat in the U.S., so give plenty of time for your butcher to prepare it for you in advance. (You can also use an American-style pork loin roast, which comes with fat on top but no skin; if you do, stand it fat-side-up the entire cooking time and broil the roast for 3 minutes or until dark golden brown.)
Ingredients
1 (3 1/2–4-lb.) skin-on pork loin roast (see note above)
Kosher salt
3 large yellow onions, halved
4 fresh bay leaves
1 bunch thyme
2 tbsp. olive oil
1 lb. fingerling potatoes
1⁄2 cup sugar
8 tbsp. unsalted butter
Flaky sea salt
Freshly ground black pepper
1 tsp. apple cider vinegar
Red currant jelly, for serving
Instructions
Step 1
Heat the oven to 350°. Using a very sharp knife, score the skin on the pork roast crosswise every 1⁄4 inch, being careful to cut just through the skin and not the fat. Season the pork skin with kosher salt and rub into the score marks. Place the onions in a roasting pan and scatter over the bay leaves and thyme. Set a roasting rack over the onions and place the roast in the rack, skin side down.
Step 2
Pour 3 cups boiling water into the roasting pan, place in the oven, and roast for 30 minutes. Flip the pork roast skin-side-up, brush the skin with the olive oil, and continue roasting until the pork is cooked to 140°, about 1 hour. Heat the broiler and broil the top of the pork roast until the skin is golden brown and crisp, about 4 to 5 minutes. Transfer the pork to a cutting board, tent with foil, and let rest while you make the potatoes.
Step 3
Meanwhile, in a small saucepan of boiling water, cook the potatoes until just tender, about 5 minutes. Drain the potatoes, let them cool, and peel them. In a medium skillet, heat the sugar with 2 tablespoons water over medium-high and cook, swirling the skillet, until the sugar turns into an amber caramel, about 5 minutes. Add the cooked potatoes and butter and cook, stirring occasionally, until the potatoes are coated in the caramel and tender-sticky, about 20 minutes. Remove from the heat and season with sea salt and pepper.
Step 4
Pour the pork's pan juices through a fine sieve into a bowl and skim off as much of the fat as possible. Stir in the vinegar and season the sauce with kosher salt and pepper. Serve the sauce and the red currant jelly alongside the pork roast and caramel potatoes.