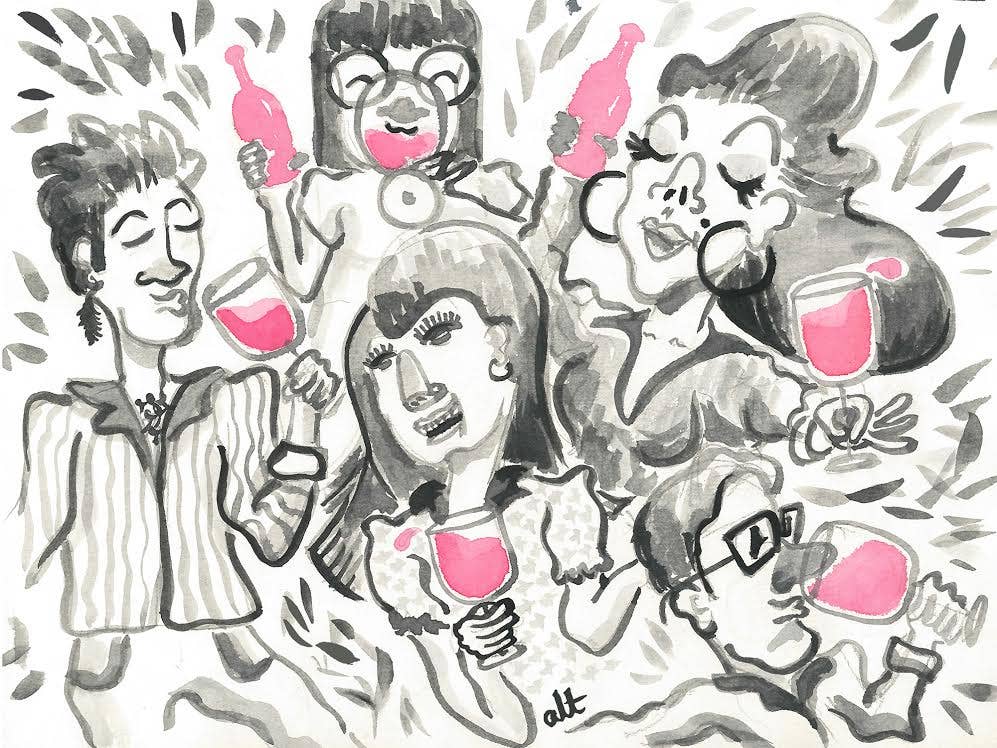 Drinks
Keep Rosé Weird
Whether you're #roséallday or taking a break from it, don't ignore the wide spectrum of unique roses
A lot has gone on in the world of rosé this summer.
Once seen as a gross, sweet blush wine, Rosé's public-reputation trajectory from unhip to trendy to "over it" has been a fast, dramatic, well-documented bandwagon ride. But all of this ignores the fact that rosé wine—like Merlot and Chardonnay, often unfairly stereotyped—can be much more than just light, refreshing, and cheap. It can be effervescent and puckery, it can be funky and cloudy, it can veer sharply towards red. Squeezing rosé into a physical box is just fine; limiting it to a conceptual box does a disservice to all potential drinkers.
"In this country, people associate rosé with a certain weather profile, with 'rosé season,'" explains Jorge Riera, Wine Director at Manhattan's Wildair and Contra, a wine bar and restaurant that both focus on natural wine. When summer ends, so does demand.
The characteristics of mass-marketed rosé are a product, naturally, of supply and demand: producers learned that millions of people like dry, light, rosé that doesn't inspire much thought and is easy to drink. But to confine a whole shade of wine to one season, one flavor profile, is to forget how wine is actually made—from a variety of grapes grown in a wide variety of climates—to create a wide variety of flavors. There is a whole lot of weird rosé out there, and it is time for us to get weird with it. Instead of kicking your rosé ritual, how about mixing it up and trying a rose that can still surprise you? One way to do this is to go natural.
The different flavor notes that you can find in natural wine—wine made without preservatives or chemicals, and often by human hands—is astounding. Unfiltered rosés can be cloudy and reminiscent of a farmhouse cider; in places like Sicily and Sardinia, you can find wines that vermouth maker and natural wine advocate Bianca Miraglia calls "holy shit funky but fruity and delicious and amazing." And Riera says the same (without saying "shit"). "When you're drinking these mass-produced rosés, "you're not even tasting [the grape]" due to their heavy reliance on sulfites [read: preservatives]," he says. "Sulfites kill the personality of the grape." And no one wants that.
When wine is made naturally, and grapes are allowed to express themselves (and their terroir), we get much more than just something drinkable. We get something with character, something that feels singular, something we're less likely to tire of.
Here are 7 rosés that will stave off boredom:
If you're looking for something light and crisp and familiar:
Fointsainte Gris de Gris, 2014, $12
This bottle is a "crisp, fresh, light, bright, clean rosé that you can find anywhere," Miraglia says. "It's the prototypical French rosé." And it's affordable.
If you're looking for something strange and beautiful:
Vers la Maison Rouge, 2013, $130
The 2013 from Jean-Yves Péron is a rare aged rosé—bottled exclusively in Magnums—and comes from old vines 500 meters above sea level. Riera loves it because it's "very particular, full of energy, and full of fruit."
If you're looking for a go-to region:
Any Loire rosé
In this region, Miraglia says, "You can get rosé from almost every grape in almost every price range, and lots of natural wine, too." It's a great place to get "that dry, clean, fresh wine" we've come to know and love, but Loire winemakers also make excellent sparkling rosé.
If you're looking for "holy sh*t funky, but fruity and delicious and amazing" rosé:
Susucaru, 2014, $25
Pick up a few of these bottles, which come from Sicilian winemaker Frank Cornelissen.
If you're looking for something that goes well with food—and you can drink all year:
Panevino en Rose, 2013, $40
This rosé comes from volcanic soil and has a great minerality, says Riera.
If you're looking for something sweet:
Rosé d'un Jour, 2013
This is a sweet rosé from winemaker Mark Angeli that has plenty of acidity to balance it all out. "It's so fresh, it's like drinking strawberries," says Riera.
If you're looking for a BOX:
Jenny and Francois, Year and price varies
Miraglia recommends Jenny and Francois, whose 3-liter boxes will last up to 3 weeks in your fridge, and make party planning much, much easier.