Shaved Carrot Tart with Ricotta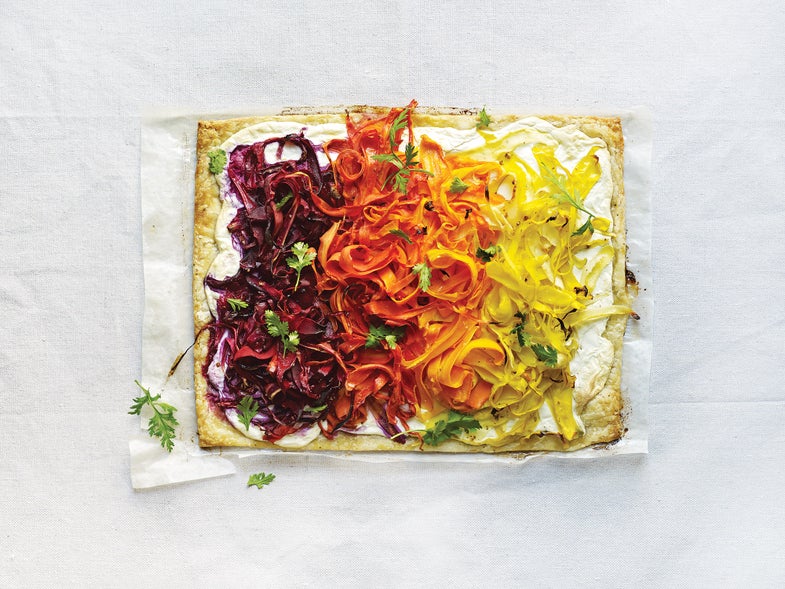 Piles of colorful carrot ribbons—which skew more savory than sweet, thanks to a lemony coriander-flecked dressing—come out of the oven glistening and retaining some of their bite. The keys to the couldn't-be-flakier crust beneath: keeping the ingredients as cold as possible, and not overhandling the dough. Leftovers of the tart can be refrigerated and recrisped in the oven the next day.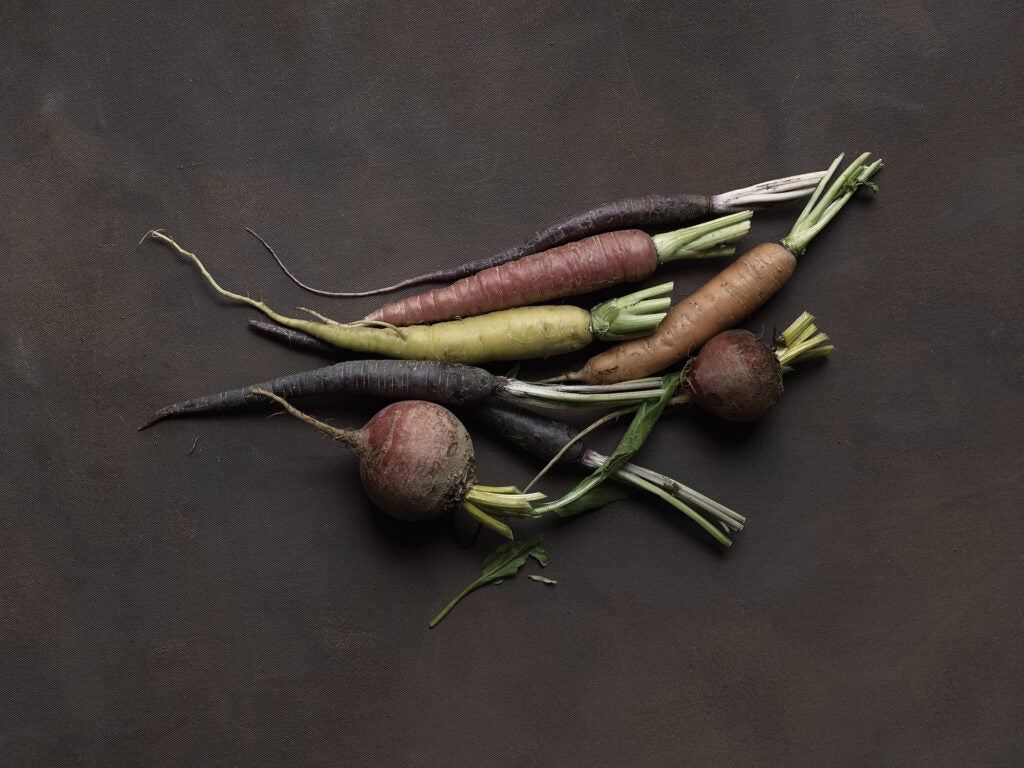 Shaved Carrot Tart with Ricotta
Colorful ribbons of lemon and coriander-speckled vegetables on a flaky and crusty flatbread
Time: 1 hour, 25 minutes
For the dough
2 cups unbleached all-purpose flour, plus more for rolling
1⁄2 tsp. tsp. kosher salt
1⁄4 tsp. tsp. freshly ground black pepper
1 1⁄2 sticks (6 oz.) unsalted butter, chopped into 1/2-inch cubes and chilled
1⁄2 cup ice-cold water
For the topping
2 cups ricotta
1⁄2 cup extra-virgin olive oil, plus more as needed
Kosher salt
10 medium carrots (preferably a mix of colors), peeled, with greens removed and reserved Juice of 4 lemons, plus 1/8 tsp. finely grated lemon zest
1 tbsp. plus 1 tsp. coriander seeds, coarsely ground in a mortar and pestle
1⁄2 tsp. ground caraway
Cilantro leaves, for serving
Flaky sea salt, to finish
Instructions
To make the dough, in a food processor, pulse the flour, kosher salt, and pepper briefly to mix. Add the butter and pulse 10–15 times or until only pea-size crumbs remain. Trickle in the water 1 tablespoon at a time, pulsing just to incorporate. (Mixture should feel moist and hold together when pinched.)
Turn out the dough onto a clean work surface and form into a ball. Wrap in plastic, then form into a 1-inch-thick square. Chill for at least 1 hour or up to overnight.
To make the topping, clean out the bowl of the food processor and add the ricotta, 2 tablespoons of the olive oil, 2 generous pinches salt, and the lemon zest, and process until very smooth (if needed for smoothness, add an additional tablespoon olive oil). Cover and refrigerate until ready to use.
Shave the carrots into thick ribbons using a vegetable peeler and set aside (if using various colors of carrots, keep the colors separate from one another).
In a large bowl, whisk the lemon juice, coriander, caraway, remaining 6 tablespoons oil, and a pinch of salt. Set aside.
Set a rack in the top third of the oven and preheat to 400°. Line a baking sheet with parchment paper. On a floured surface, roll out dough into a thin 11×16-inch rectangle. Use a paring knife to trim neat ends if desired. Transfer to the prepared baking sheet and chill 10 minutes. Remove and spread the ricotta mixture over the crust, leaving a 1⁄2-inch border. Using a pastry brush, brush the border lightly with olive oil.
Add the carrots in batches (or by individual color) to the bowl of dressing; tossing to coat. Squeeze the carrots lightly to release any excess dressing back into the bowl. Pile the carrots atop the ricotta (if doing an ombré design, overlap the colors slightly). Reserve any remaining dressing.
Bake, rotating the pan halfway through, until the crust is golden brown, 30–35 minutes. Remove; drizzle the carrots with the reserved dressing. Sprinkle with carrot top leaves, cilantro, and flaky salt. Slice and serve warm or at room temperature.