Add Delicious Dimension to Steaks and Salads With the 7 Best Balsamic Vinegars
Plus, how to spot cheap imitations from the real deal.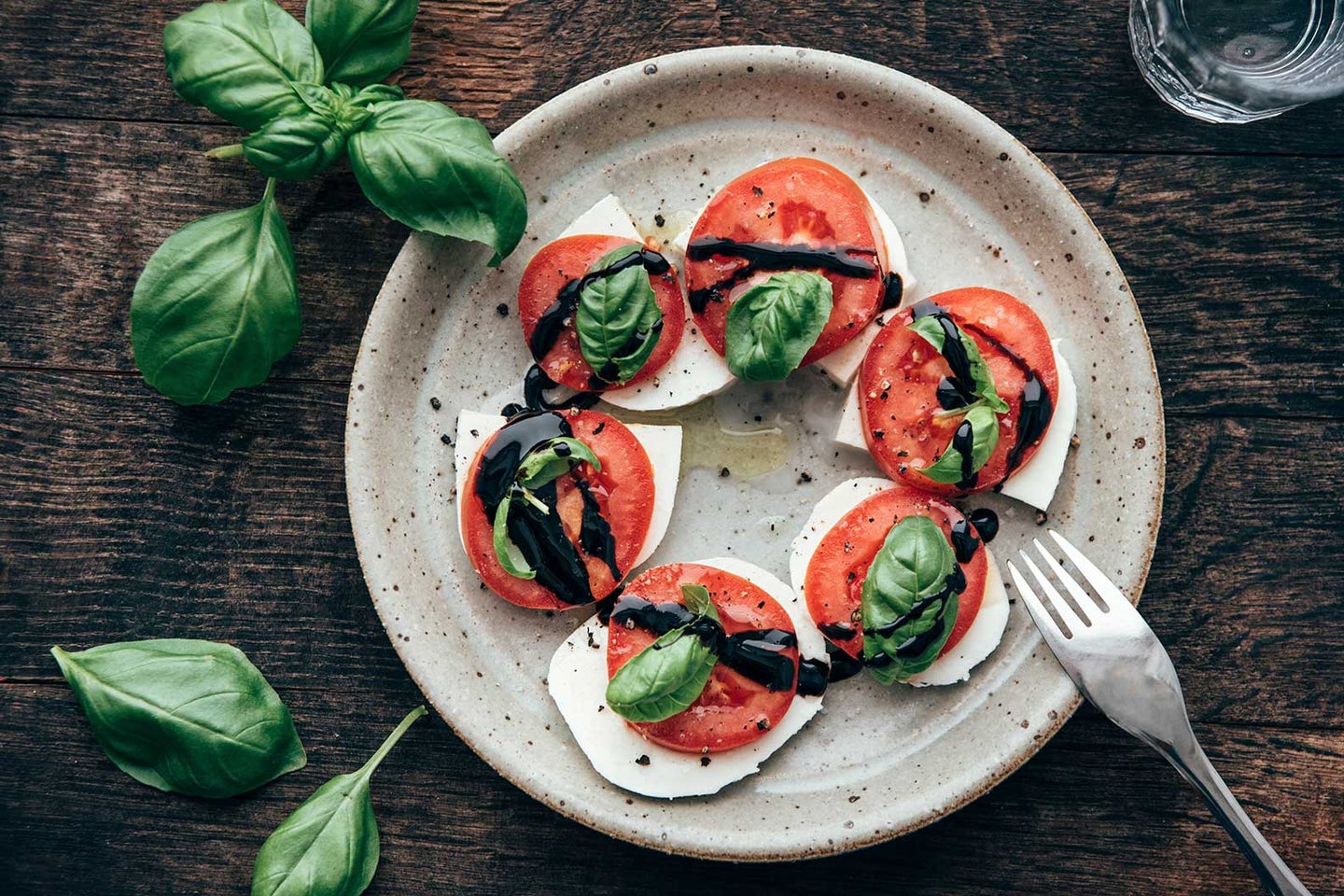 We may earn revenue from the products available on this page and participate in affiliate programs.
Before seeking the best balsamic vinegar, it helps to know exactly what it is—namely, unfermented grape must, aka whole pressed grapes complete with juice, skin, seeds, and stems, and then cooked down and aged. At its finest, it's a sweet yet sour elixir that can transform a simple arugula salad or ripe strawberry into something transcendent.
The highest quality balsamic vinegars hail from Modena and Reggio Emilia, which lie just west of Bologna in the Emilia-Romagna region in Northern Italy. The term "balsamic" comes from the Latin word balsamum, which refers to an aromatic resin. In the 18th century, families started aging their best vinegar in wood barrels, or batteria, and balsamico was born.
"Nowadays, the key word for balsamic is confusion,'" says Andrea Bezzecchi, owner of Acetaia San Giacomo in Novellara. "Balsamic has become a generic name—you can find balsamic made anywhere, and it's not necessarily a genuine product."
If you're looking for the real deal, the very top of the line is traditional balsamic vinegar marked DOP ("Denominazione di Origine Protetta" in Italian), or the European Union equivalent PDO ("protected designation of origin), otherwise known as aceto balsamico tradizionale. Produced only in Modena and Reggio Emilia, the vinegar is so beloved by the families who make it in barrels that they create a special batteria to commemorate the birth of a child, presenting it to their daughter or son many years later as a wedding gift. You'll pay hundreds of dollars for a small bottle of this remarkable stuff.
Mariangela Montanari's family has been making balsamic in Modena for generations. She crafts the fine vinegar La Cà dal Non (which means "grandpa's house" in the Modenese dialect). "Balsamico belongs to the culture of the city," Montanari explains. "The product can age forever… My great-grandfather is long gone, but there is still a part of him in our vinegar."
To make traditional balsamico, local grapes—primarily trebbiano and lambrusco varieties—are harvested in late September or early October, when they are at their ripest and sweetest. "The philosophy of our company is to work only with cooked grape must from the grapes we grow ourselves," says Montanari.
Immediately after being soft-pressed, the unfiltered must is slow-cooked in lidless vats. That's the single ingredient for the world's finest balsamic, which must be aged for at least 12 years. It comes at a cost, as the production area is extremely limited and all that time is a serious investment.
Each cask is topped up with vinegar from the season's harvest, and none of the casks are ever completely drained. (This aging method shares similarities with the solera process used for fine sherries and ports.) The vinegar becomes more and more concentrated as it ages because of evaporation that occurs through the walls of the barrels.
The more common and accessible find is Aceto Balsamico di Modena IGP, which is made by blending cooked grape must with wine vinegar. IGP stands for "Indicazione Geografica Protetta" ("protected geographical indication"), and means that the vinegar was produced and bottled in Modena, although the grapes are often harvested elsewhere. Cheap supermarket balsamic vinegar with no IGP designation might be labeled with flowery marketing lingo, but you can spot it with a look at the ingredients: It will contain wine vinegar blended with low-quality grape must and other ingredients like thickeners and coloring.
Aceto balsamico tradizionale can come with a sky-high price tag, and rightfully so. But plenty of other balsamics deliver on nuanced, complex, balanced, and delicious flavor. Here are some we love, from major investments to everyday cooking staples.
Features to Keep in Mind When Shopping for Balsamic Vinegar
Age
Traditional balsamic vinegar is aged in wooden barrels for 25 years or longer. Like wine or whiskey, it continues to get more expressive and delicious the longer it matures. Because casks share vinegar from multiple years, the ages are more of an average estimate than an exact number. Balsamic "grows and changes year after year," says Montanari. "It takes time to develop the product—to make balsamic, you have to respect the value of time in a world that is very fast."
Method of Production
First grapes are harvested; then they're pressed or crushed to create grape must. The must is then boiled (before it gets a chance to ferment, which would start the winemaking process) to make a concentrate, and moved to batteria to ferment and age over years or even decades.
Packaging and Volume
Look for the DOP or IGP seals when shopping for balsamic. Aceto Balsamico Tradizionale di Modena DOP is bottled by the consortium (not the producer) in a distinctive, rectangular-bottomed, 100-milliliter bottle (about the size of a perfume bottle) created by Italian automobile designer Giorgetto Giugiaro and in use since 1987.
Country of Origin
You can find excellent vinegar made around the world, but balsamic is the pride of Italy. Tradition, legacy, terroir, and production methods create a vinegar that is "like nothing else in the world—totally balanced, with a persistent sweet and sour taste, very clean, and completely unique," Montanari says.
Our Top Picks
It's the pure, cooked grape must of local lambrusco and trebbiano grapes, plus generations of tradition and care, that make this balsamic a standout. After getting cooked over an open fire and reduced, the 25 years of aging begins using traditional wooden barrels made of four different varieties of wood. Like his father before him, Bezzecchi oversees production in the Corte Faragosa, a farmhouse in the Reggio Emilia countryside that dates back to the mid-1500s. Tasted and scored by master tasters, Bezzecchi is a perfectionist who obsesses over every detail to create this potion, bursting with concentrated flavors of dried figs, ripe cherries, and rich caramel.
More than 80 years after husband-and-wife team Amerigo and Agnese opened a trattoria just outside Bologna, rooted in the regional recipes of their beloved Emilia-Romagna, the restaurant bottles and sells a taste of their home. Their balsamic vinegar is made from local grapes and matured in wood casks for a minimum of three years. Produced without additional colorings or flavors—just wine vinegar and grape must—it's a great buy for less than $20. Its delicate, bright flavor is perfect for marinating chicken or drizzling atop couscous.
Montanari named her signature vinegar after her father, a kind and loving man who instilled his love and talent for the art of balsamic in his daughter. This Modenese balsamic is aged for more than 25 years inside of different wood barrels, each of which helps coax depth and complex flavors out of the local grape must—the single ingredient—over time. Its final aging batteria is made from rare cherrywood, which imparts tangy, sweet fruit aromas. "You experience sweetness and acidity at the same time; one does not overpower the other," says Montanari. She recommends this stunning balsamic straight from the spoon, or over simple roasted salmon, a perfectly ripe peach, or vanilla gelato.
Only grape must and wine vinegar are used to make this syrupy, luscious balsamic. From harvesting their own estate grapes at peak ripeness to the bottling of the final product, the Leonardi family follows the traditional steps to create a vinegar that they feel confident lives up to their family name—they have been growing their own grapes and crafting vinegar since the 18th century. With sunny, dried fruit flavors, this is a great choice for dressing ripe tomatoes, pork chops, and ribeye.
Made with wine vinegar, grape must, and caramel coloring, this is a slightly less refined vinegar that is a great, affordable, and flavorful option for cooking. It's still high quality—full of the sweet, tangy flavors of trebbiano grapes and crafted in Modena—and it contains more than double the amount of grape must required by Italian law to grant IGP status. It's perfect for adding to slow-cooked soups or beans, deglazing meaty sauces, or roasting potatoes with plenty of garlic.
Saba (called sapa, vin cotto, or mosto cotto) is a condiment made by slow-cooking must over a direct flame until the syrup is reduced to a third—it has balsamic flavor without the sharp acid bite, and it's significantly cheaper since it doesn't require so much aging. Acetaia San Giacomo uses the same fine grapes that go into its balsamic for their organic saba, which is bursting with rich caramelized flavors and awesome paired with cheese, or mixed into extra-virgin olive oil for dipping crusty bread.
White balsamic hasn't been cooked over an open wood fire in copper kettles, so it doesn't get balsamico's deep, dark color (or flavor). Instead, the newer condiment combines white grape must with white wine vinegar and is simmered at a low temperature to avoid any darkening. It has a cleaner, less intense flavor than traditional balsamic, but shares its lush sweetness. Blazing Bella has been making balsamic in Modena since 1889, and their white balsamic vinegar is made from just grape must and white wine vinegar (no flavors or colorings), then aged in chestnut, oak, and juniper barrels. It's a perfect choice when you don't want to "stain" lightly-colored foods with dark balsamic, and is great in vinaigrettes and with delicate fish.
Ask the Experts
Q: How can you spot a high-quality balsamic vinegar?
Besides seeking out the DOP and IGP seals, look at the bottle's ingredient list. "The shorter the list is, the better the product is," says Montanari. Ideally, cooked grape must should be the first ingredient.
Another pro tip: Don't confuse a viscous balsamic with a quality one. "Thickness doesn't mean that it's been aged, only that it's been concentrated," explains Bezzecchi.
Q: What are some creative ways to use balsamic vinegar, beyond salad dressings?
"Use traditional balsamico only at the end of preparation for food—like fresh truffle," advises Bezzecchi. Montanari likes a few drops "pure on a spoon as an aperitif or digestif; it cleans your mouth before or after a meal."
A classic combination is balsamic and strawberries, but Montanari says you can't go wrong with any ripe fruit, from peaches to cherries, as the acid in the balsamic delivers "an explosion of fruit flavors." Quality balsamic is also great drizzled on omelets, steak, grilled veggies, and even a bowl of vanilla ice cream.
Q: How long does balsamic vinegar last?
"Nearly forever," says Bezzecchi. "It's super safe and stable because of its high acid content." To keep its flavors at their finest, don't keep your balsamic right next to the oven or stove.
Our Take
Balsamic vinegar is a truly unique product, with a storied history rooted in a sense of time and place. But don't let its preciousness intimidate you. If you can splurge on a hundred-dollar bottle, by all means, parcel out small spoonfuls to savor, soaking up the smooth, rich, nearly haunting sour-sweetness. Use the less prohibitively expensive varieties to glaze ribs, drizzle on grilled peaches, dress salads, mix into risotto, and pair with ribbons of silky prosciutto. They'll give your food great depth and incomparable flavor.