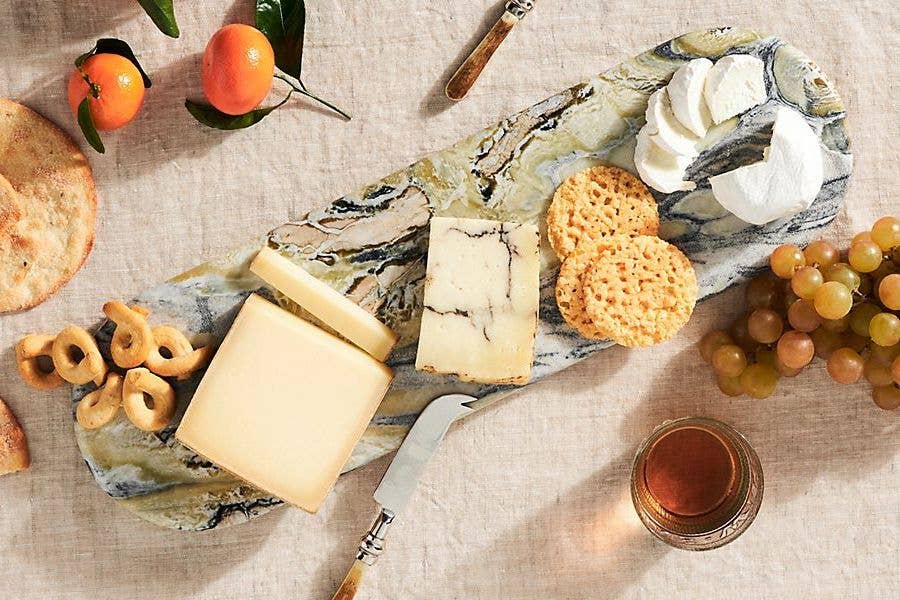 Shopping & Reviews
Every Wedge and Wheel Looks Better on One of the 9 Best Cheese Boards
An entertainer's canvas.
The best-curated cheese plates share more in common than a creamy brie or tart, crumbling cheddar—they all start with a carefully considered platter. Choosing the right board isn't just an aesthetic decision, though. Stone and marble are great choices for outdoor gatherings as they will keep your spread cooler for longer, while non-porous slate is suited to everyday use. Hardwood—when maintained with oil—will age as well as your favorite Gruyere. No matter your style or wedge of choice, we've found the nine best cheese boards to create the ultimate spread.
We love the gorgeous wood grain on this round European oak board, and its large size (about 22 inches) is perfect for laying out a luxurious array of cheese, cured meats, crackers, dried fruits, and whatever other goodies inspire you. Boska has been crafting fine cheese boards in the Netherlands, near the town of Gouda, since 1896, so you can be sure their platters are worth the investment. With the right care and the occasional rub of olive oil, a Boska board will last a lifetime.
With a price tag of just under $20 and nearly 2,000 rave reviews, this acacia wood board is hard not to love. Its long, ergonomic handle makes it easy to carry from room to room, or to display on your kitchen wall. Acacia is known for being virtually indestructible, and this platter doubles as a cutting board for when you're not entertaining. With a natural polish and lovely, rich color, your cheeses will have a happy home on this board.
Cheese and wine are inseparable friends, and this set makes it easy and elegant to enjoy them together. LSA International is a London-based design studio that makes thoughtful, considered items, like this combination of a natural oak cheese board and glass wine carafe. Each carafe is mouth-blown by skilled artisans using lead-free soda lime glass, and nestles perfectly into the indentation carved into the board.
This slate board is a cheesemonger favorite, and for very good reason. Hand-picked from a family quarry in upstate New York, slate isn't just for roofing: These unique boards provide a beautifully organic surface for serving cheeses and snacks, and each one is cut by hand. They're available in two sizes, and each comes with a piece of chalk, so you can label your cheeses right on the slate.
Farmhouse Pottery makes beautifully handcrafted one-of-a-kind decor in their studio in Woodstock, Vermont. This 11.5-inch round cheese board comes in both white and gray, two muted tones of natural ash wood that will make your cheeses pop. It's pretty enough that you'll want to display it after you've finished noshing; hang it up by its leather strap for a thoughtful kitchen accent.
Featuring eye-catching swirls of jade marble in muted tones of pink and green, this platter is sure to elevate any cheese or charcuterie board. No two slabs are the same, and at 20 inches long, you can show off a wide variety of cheeses on it. Marble is also a natural way to keep cheeses cool on a hot day, so you can keep the outdoor cheese and wine parties going all summer long.
This cheese board is the ideal size for toting along in your picnic basket. Made of tropical hardwood with a shiny, blackened finish, you can set up an elegant al fresco meal anytime, anywhere. This board is available in round and rectangular shapes (each clocking in at about 10.5 inches), or you can opt for both and let each cheese shine on its own petite platter.
Handmade in a small town outside of Antigua, Guatemala, the Sobremesa board is made with recycled hand-blown glass and sustainably sourced Caro Caro wood. The dome creates the ideal climate for cheese, letting it breathe and allowing some humidity to form—mirroring the cool, slightly damp environment of a cheese cave. At just under 8 inches in diameter, this small platter is simple, elegant, and perfect for your favorite wedge and a handful of olives or dates.
Get the invites going, because you'll need some help enjoying all the goodies you will serve on this oversized 44.5-inch long wood platter. Carved from European oak in the Netherlands, this board is long enough to show off a wide variety of cheese and tapas, and will make a gorgeous impression along a buffet or dining table. It's also great for serving bread or desserts. Like all Boska products, it's built to last.
What wood is best for cheese boards?
When selecting a wooden cheese board, look for a material that will not absorb flavors easily. Cheese is rich in fats and oils, which go rancid once the fat oxidizes, and you don't want to tar your cheese experience with unpleasant smells. Steer clear of softwoods like fir, cedar, pine and cypress, and instead, opt for non-porous hardwoods like olive, birch, American cherry, teak, and hard maple. Avoid any lacquer finishes; they aren't food safe and might chip off. (No one likes to pair their Camembert with flakes of varnish.)
How do I care for a wood cheese board?
Caring for a wood cheese board is much like caring for a nice cutting board or butcher block. Wash by hand—with warm water and a dash of detergent—after every use, and let it air dry upright so all the moisture can evaporate. Smear your wood board regularly with oil. (You can purchase cheese board oil, but olive oil works just fine.) This creates a protective layer, which keeps your cheese board from splitting over time and helps absorb odors and stains.
How do I care for stone or slate cheese boards?
To clean your stone or slate, gently scrub with a nonabrasive sponge or a washcloth and soapy warm water. If faced with a stubborn stain, cut a lemon in half and sprinkle a bit of baking soda on top. Rub the lemon with the baking soda against the discolored areas; it will create a paste that will help restore your board to its beautiful state.
Stone and slate can scratch easily, so consider pre-cutting your hard cheeses. To hide scratches and even proactively protect against them, rub mineral oil into your slate board after every several uses with a microfiber cloth. The oil will preserve the slate's integrity and keep it looking polished for many delicious cheese experiences to come.