Chefs Share the Best Food Dehydrators to Make Spice Rubs, Cocktail Garnishes, and More
The possibilities are endless.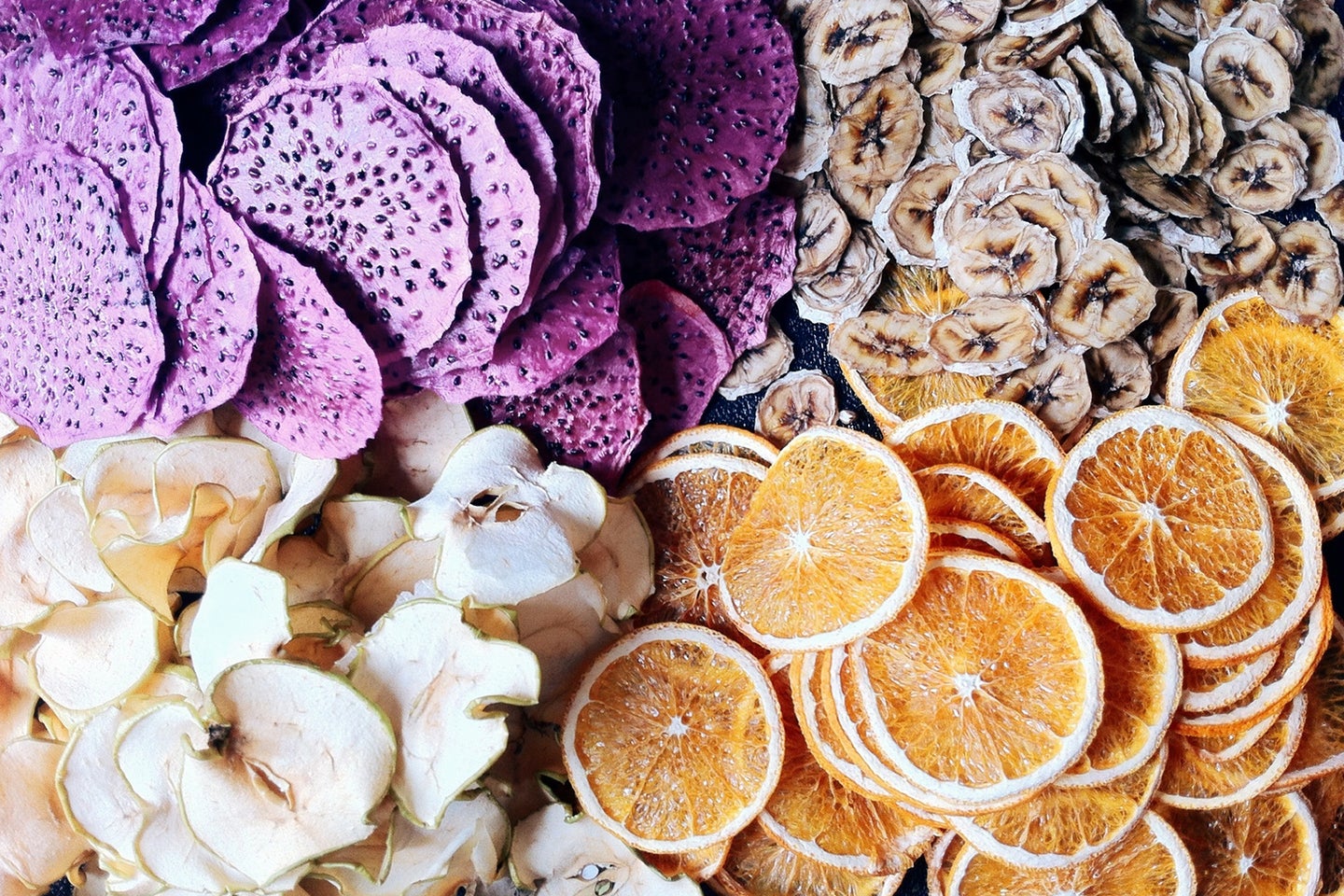 A food dehydrator can do a lot more than just DIY-ing dried fruit. "All ingredients are possible," says Shige Kabashima, owner and bar director at NR, an oyster, ramen, and cocktail bar in NYC, who creates his unique libations with flavor infusions from dehydrated fruits and herbs. Chef Joe Schafer, of Earth at Hidden Pond in Kennebunkport, Maine, employs his dehydrator to make extra crispy chicken, pork crackling, and fish skin, plus mushrooms, which he incorporates "into pasta dough for extra flavors, or used as a spice rub for fish and meats."
Dehydrating can even help eliminate food waste. "They are perfect for upcycling previously used fruits and ingredients to make yummy fruit leathers," says Tom Sopit, managing partner at Employees Only bar in Los Angeles. Feeling inspired? Cooking and cocktail pros share the best food dehydrators, plus expert advice for getting the most out of these multitasking machines.
Features to Keep in Mind
Capacity
Naturally, the pros take a bigger-is-better approach: "We sling a ton of cocktails at Nomi Park, so I went for the largest I could find," explains Corey Hayes, food and beverage director for Wayfinder and Nomi Park hotels in Newport, Rhode Island. If your bar cart at home doesn't have the same demand, compromise size-wise with a model that lets you expand capacity (doubling or even tripling it) by buying additional trays as needed without enlarging the overall footprint.
Trays and Shelves
In addition to capacity, the number and size of a food dehydrator's trays or shelves may impact quality, according to Angie Rito, co-owner and co-chef at Don Angie in NYC. She finds that "contents dry more evenly" in a dehydrator with "sliding trays and a drying fan on the back, versus stackable trays with the fan on the bottom." Tray material types are another factor to consider. For Sopit, "simple plastic trays work just fine and do the job."  If dehydrating a more fluid ingredient that won't suit a mesh or perforated tray, just "add some parchment paper and you're good to go," he adds.
Temperature Control
Temperature control is an "extremely important" feature on a food dehydrator, says Hayes, since heat levels vary so much between ingredient types (and from cook to cook). For example, he suggests 145 degrees Fahrenheit for dehydrating fruit, and 160 degrees Fahrenheit for jerky. That said, some super-beginner-friendly, cost-conscious machines have just one temperature setting, which works perfectly fine for those seeking a simple, straightforward gadget.
Our Top Picks
Multiple pros raved about Excalibur's machines, especially the brand's nine-tray electric dehydrator. Sopit swears by its ease of use and can't live without the timer, which runs for up to 26 hours and automatically shuts off. Rito uses this model at Don Angie, mainly for drying herbs in-house. "The resulting flavor is way more potent than that of store-bought [dried] herbs, which are typically months old and have lost much of their flavor by the time they leave the shelves," she says. Rito also uses the Excalibur to dehydrate chilis and citrus peels for housemade spice blends and garnishes.
"It's very reasonably priced, it lasts a long time, and it dries well," Kabashima says of this simple, no-frills electric dehydrator, which is a steal at under $40. He also appreciates the convenience of customization by adding additional trays (sold separately), doubling the capacity. But do take note that its design is so beginner-friendly and foolproof that it's free of even basic knobs and buttons like temperature control or a power switch. Instead, it turns on or off when plugged into an outlet, its temperature fixed at 160 degrees Fahrenheit, which could be limiting down the line.
This heavy-duty, 10-tray pick is what Hayes deems his "hands down, favorite dehydrator; I have worked with many dehydrators and this is by far superior to anything I have used," he raves. "It's running all the time behind my bar; in fact, I give my bartenders an immense amount of grief if I go back there and see nothing in it!" Hayes uses this 1,200-watt, top-of-the-line option to dehydrate cured eggs, beef, chilis, citrus fruits, and more.
For a space-strapped cook, it's smart to choose a model with a modest countertop footprint that maximizes expandability through additional trays. LaMara Davidson, chef and founder of Cornbread + Kimchi in Dallas, recommends this "awesome" Nesco dehydrator that can be used with as few as five or as many as 12 trays at a time. The compact unit is "easy to clean and store away after use." In addition to dehydrating various types of fruit "to enhance summertime cocktails," Davidson uses her Snackmaster Pro to dry wild sage from her backyard for cooking as well as a DIY potpourri.
Emanuele Balestra, bars director at Le Majestic hotel in Cannes, France, uses one of Sedona's souped-up, digital (versus electric) dehydrators because of the vast temperature range, which dips down to 85 degrees Fahrenheit––35 degrees lower than most options on the market. This low-and-slow approach is the key to creating his own cocktail bitters, which require "exact, perfect flavor achievable only by controlling every step in the process," he says. He cultivates plants from the resort's expansive gardens and is a proponent of using fresh ingredients for dehydration. "When grown as naturally as possible and picked when they are fully mature, plants exude their full aromas, and plants are much more powerful and potent in the dehydrator when they're picked fresh," Balestra explains.
Ask the Experts
Can I leave a food dehydrator on overnight?
"Definitely," says Hayes, who stresses the importance of keeping the machine at a safe distance "from anything flammable as the dehydrator does generate heat." Also, keep food at an appropriate temperature at all times to limit bacterial growth.
What's the ideal drying consistency?
Just like cooking, "dehydrating different types of food, like fruits, veggies, meats, or fresh herbs, will all require different times and temps," says Sopit. Plus, drying consistency is about personal preference; there's no one-size-fits-all edict on just how crunchy zucchini chips should be, or how chewy the ideal turkey jerky is. Even within a single ingredient category there's variance: Hayes dehydrates pineapple, lemons, and limes until they snap, but prefers a bit of hydration remains in kiwi and dragonfruit.
Every product is independently selected and vetted by editors. Things you buy through our links may earn us a commission.