Shopping & Reviews
The Best KitchenAid Mixers for Every Cooking Personality
The perfect model for beginner bakers, prospective pastry chefs, and more.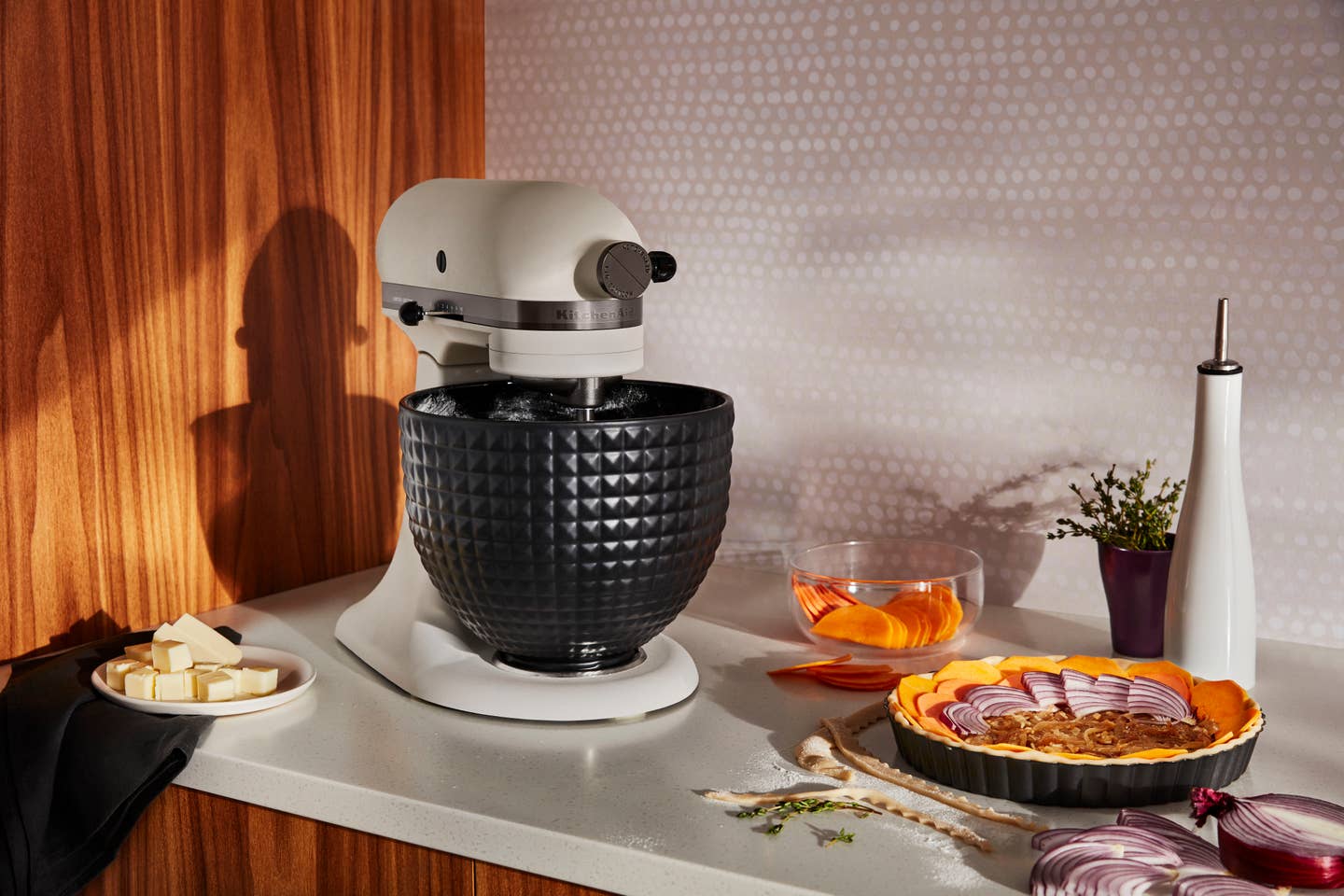 Buying a KitchenAid stand mixer is an investment, but "it's a worthwhile one," says executive chef Michael Zeman of Dottir, the restaurant serving Nordic cuisine via the Pacific Northwest inside the KEX Portland hotel. Their signature braided "Grandma Helga's" doughnuts wouldn't be on the menu without a KitchenAid stand mixer—which handles small batches of the dough far better than the restaurant's usual commercial mixer—and Zeman uses the same model at home for whipping cream and even making pasta. Williams Sonoma Electrics Buyer Kimi Sawanobori also suggests using the attachments for tasks like mashing potatoes and shredding chicken.
"If you're on the fence about buying one, do it," says Zeman. But before you do, think about how you plan to use your stand mixer. The iconic brand has many different models for different kitchens and cooking needs, so we consulted him and Sawanobori to break down exactly how to pair yourself up with the best KitchenAid mixer. Read on for our top picks, detailed in terms of power, aesthetics, size, and durability.
Best Entry Level:
Bowl Size: 5 quart | Wattage: 325 | Material: Steel, iron | Weight: 22 pounds | Style: Tilt-head
---
Easy to clean

10 speeds for various types of mixing
---
Smaller size means smaller batches
Why we chose it: The KitchenAid Artisan is a classic model for bakers who want to up their game.
This is the standard KitchenAid. It's the most common, and the best starting point for someone ready to bring a stand mixer into their home but without any special needs like space restrictions or higher capacity. It comes in the most colors, has the most bowl color and material options, and fits all attachments—even the ice cream maker. It will handle most tasks, though may require some babysitting for extended kneading or stiff doughs.
Best for the Sourdough Superstar
Bowl Size: 6 quarts | Power: 1 horsepower | Material: Die cast zinc and aluminum housing | Weight: 29 pounds | Style: Bowl lift
---
Strong motor is excellent for sturdy doughs

Bigger bowl for big batches of bread
Why we chose it: Kneading big batches of dough for bread is a breeze in this large, sturdy mixer.
If you're a passionate bread baker looking for something to do the hard work of kneading for you, this 6-quart Pro model is ideal. It has about twice as much power as the Artisan models, which is especially useful for mixing thick enriched doughs, and the bowl-lift mechanism gives the added stability to keep it from "walking" off a counter during a long mix. The slightly larger bowl also gives a little extra room for the dough. The Pro 600 will get you the same stability and a bigger bowl, but with less power.
Best for the Aspiring Pastry Chef
Bowl Size: 7 quarts | Power: 1.3 horsepower | Material: Die cast zinc housing | Weight: 31 pounds | Style: Bowl lift
---
Most powerful motor

Can turn out big batches of cookies, breads, and more

Bowl lift makes mixing extra stable for large batches
Why we chose it: Bakers who use their mixer frequently for big batches must have the Pro mixer, which is at home in both a home kitchen or a professional pastry kitchen.
Maybe you're a budding food entrepreneur hawking cakes from your home kitchen. Maybe you just need to streamline (really) big bakes! Either way, this powerful model offers restaurant-worthy horsepower and capacity in a manageable size. It's roughly three times as powerful as the Artisan, and capable of holding a whopping 16 cups of flour. It also comes with a "powerknead" spiral dough hook and an 11-wire whisk to make the best use of that power. Plus the warranty lasts for five years, rather than the typical one.
Best Budget Option
Bowl Size: 4.5 quarts | Power: 275 watts | Material: Die cast zinc and aluminum housing | Weight: 25 pounds | Style: Tilt-head
---
Affordable
Available in an array of colors

10 speeds for various types of mixing
---
Less powerful motor means mixer can struggle with dense doughsaller size means smaller batches

No handle on the bowl
Why we chose it: Home cooks who don't have their mixer in constant use will do just fine with the lower-power motor and smaller bowl of the classic.
The best budget-friendly KitchenAid mixer looks just like the Artisan (in a few colors), but with about one-third less horsepower and around one-third less expensive. It should still be plenty strong for basic or sporadic home baking, and it still fits all the same attachments to whip up homemade pasta and more. The trade-off for the lower price means there's no handle on the bowl, which can be difficult to navigate for people with mobility issues in their hands or arms.
How We Chose These Products
We tapped recipe developers, chefs, and food writers for our list of the best KitchenAid mixers. We considered wattage and bowl size, as well as price point.
Types of KitchenAid Mixers
KitchenAid mixers come in two distinct lines: the Artisan and the Pro. The Pro is designed for large batches and heavy use, so it has significantly more power to handle the contents of its larger bowl sizes. The Artisan comes with a smaller bowl, and the Classic is outwardly similar to the Artisan, but with slightly less power and no handle on the bowl.

The most obvious difference looking at the models, though, is the mechanism for fitting the bowl into the mixer. The Artisan model uses a tilt-head, meaning the top of the mixer rises up and the bowl stays in place. The Pro has a bowl-lift, so the part that holds the bowl goes up and down while the top of the mixer stays in place. "The bowl-lift design allows for more stability," explains Sawanobori. "So if you're making dough for bread and it has to 'knead' for a while you'll want that stable mixer, especially for big batches." The 7-quart Pro model also comes with a five-year warranty, rather than the standard one-year.
Put simply, a larger bowl can make bigger batches. KitchenAid mixers' bowls generally range from the 4.5-quart Classic and 5-quart Artisan to the 6-quart Pro 600 and 6500 and 7-quart Pro. Not sure how much room you'll need? Sawanobori says that the 5-quart is good for one batch of cookies. "If you're doubling a batch of a cake/bread on a regular basis, you'll want a 7-quart," says Sawanobori. She also notes the Artisan Mini, which has just a 3.5-quart bowl, is well-suited for half-batches of cookies and icing.
Material is another important factor. Most of KitchenAid's metal bowls include a handle for easy maneuvering, but the Classic's bowl does not (along with a few other models' glass and ceramic bowls). Glass and ceramic are also significantly heavier than metal, making them difficult for some people to lift. However, glass can go in the microwave to quickly melt butter before mixing.
The biggest size differences between the various models of KitchenAid mixer stems from the bowl capacity, but if you are pressed for counter space or have very low cabinets, it's good to be aware of the height differences too. At 16.5 inches, the bowl-lift models are the tallest, however, the head doesn't tilt, so it needs no additional clearance. The tilt-head models are only 14.5 inches tall, and most people pull them out from beneath the cabinets to accommodate the extra three inches needed when tilting. If you are really hurting for vertical space, the Artisan Mini is just 13.3 inches high.
"A KitchenAid doesn't just make cookie dough," says Zeman. "There are tons of attachments to expand its mixing and dough-making uses, and they're pretty cheap." He particularly marvels at how anyone can make sausages at home using the meat grinder and sausage stuffer attachments, and says he uses his pasta rolling attachment frequently. Most attachments work for all of the different consumer-level models discussed here. One notable exception is the ice cream maker, which doesn't fit the Artisan Mini.
KitchenAid stand mixers are known for their sturdy construction that withstands the test of time and heavy use. The Pro line is the most durable with its exceptionally strong motor that can work through big batches and tough doughs. While the less powerful machines, like the Classic, are made from the same durable materials, their motors aren't made for the same tough jobs; if the motor sounds strained while mixing a tough dough, reduce the speed or remove some of the dough from the bowl. Regardless, all mixers come with a year warranty, and will most likely become a family heirloom.
Q: How long can you expect a KitchenAid mixer to perform at its best?
Zeman says they make hard use of the ones in the kitchen at Dottir and they're all going strong, as is his own personal one at home. We've used the same KitchenAid mixer for over 15 years without issue! To keep your mixer in good condition, always clean the mixers and attachments right away. "Caked-on mess is hard to get out of the many angles and corners," says Zeman.
Q: What is the most popular KitchenAid mixer?
The Artisan is most popular model of KitchenAid mixers. Across the board it's an ideal mixer for beginning and intermediate bakers with a slightly stronger motor and bigger bowl than the Classic. With almost 10,000 Amazon reviews are any indicator, the Artisan mixer has cemented its place in kitchens all over the world.,
Q: Are KitchenAid mixers made in the USA?
Yes, all of KitchenAid's stand mixers are manufactured in America and assembled at its factory in Greenville, Ohio. A few of the brand's other products are made in China; double check to determine which when buying.
Q: Do KitchenAid mixers come with a warranty?
All KitchenAid mixers come with a one-year warranty, except the Pro Line 7-Quart, which Sawanobori notes has an extended five-year warranty.
A KitchenAid mixer is a long-lasting, quality addition to your kitchen. Regardless of whether you're a hardcore baker, an occasional breadmaker, or an aspiring pastry pro, there's a model that's right for you.