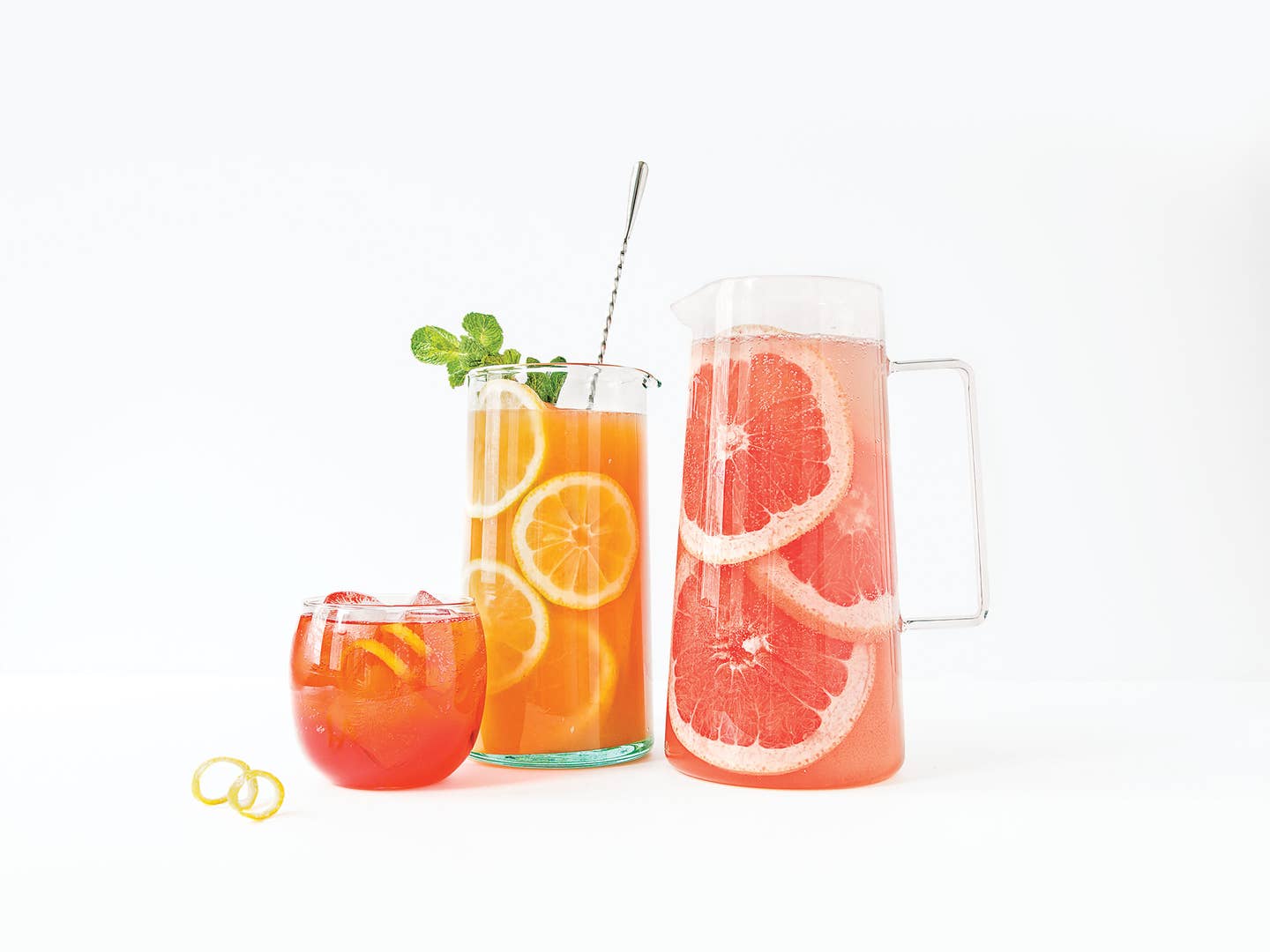 Drinks
On the Spritz
These bright, bubbly, batchable aperitivo cocktails are the breeziest of summer drinks
Spritzes are the cocktail world's rumpled linen button-down: unfussy warm-weather favorites with Italian style to spare. More a method than a kind of drink, spritzing was, as the mythos goes, born in Hapsburg-occupied northern Italy in the 19th century. It was there that Austrian soldiers introduced the practice of diluting the region's wines with a squirt (or spritz) of water to make them more pleasing to their Riesling-trained palates. Today, Italians knock back the wine-based effervescent cocktails—chief among them, prosecco tinted orange-red with the bittersweet liqueur Aperol—during the pre-dinner aperitivo hour. In America, the fatuous white wine spritzer appeared as a sort of halfhearted diet fad in the 1980s, but has since been reimagined as a chic prelude to eating or a softer alternative to heavier-hitting drinks. Whipped up with just a few ingredients, the spritz has a Technicolor genius that lies in its I-woke-up-like-this simplicity. Make your base in a large batch and set it out in a pitcher alongside a bubbly mixer for guests to add as they please. The long, lean drinks will shepherd you through the golden evening hours with ease.
PROSECCO
Its clean, light, fruit-forward flavors make prosecco the ideal candidate for mixing. Bisol, Adami, and Nino Franco all produce widely available, high-quality versions.
SODA WATER
Maximum sparkle is key, and, for that, Canada Dry's aggressive bubbles do the job. If you have a SodaStream, the spritz is your oyster: Carbonate your water to the highest level, and then carbonate it again for a little extra oomph.
THE ALTERNATIVES
Although prosecco or soda water is traditionally what puts the spritz in a spritz, anything with a little CO2 will do the trick.
| Fizzy Alternative | What it Adds | Pairs Well With | One to Try |
| --- | --- | --- | --- |
| Tonic Water | A double bitter kick | Oloroso Sherry or Dry Vermouth | Fever-Tree, from $2.49 at amazon.com |
| Lambrusco | Red-fruit flavors and tannic bubbles | Herbal Amaros | Lini 910, $15 at astorwines.com |
| Basque or (more polished) Norman Cider | A funky fruitiness | Salty Manzanilla or Fino Sherries | See Three Basque Ciders to Drink Right Now |
| Crémant d'Alsace | Money to your pocket (it's a French sparkler that's less expensive than Champagne). | Use it as a substitute in any Champagne cocktail. | Dirler-Cadé, $20 at winehouse.com; Albert Mann, $23 at astorwines.com; or Barmès-Buecher, $25 at vdgwine.com |
Don't sweat the measurements. The easygoing spritz is improvisational (and forgiving) by nature.
Keep it bitter. Bitterness sparks appetite—the point of a spritz. Choose an aperitivo that is boldly bitter (Campari, Cynar) or more mellow (Cocchi Americano, Aperol, Cappelletti).
The more bubbles, the better. If your spritz loses its sparkle, what's the point? Add another splash of soda, prosecco, or tonic whenever things are feeling flat.
Give it body. A spritz should be light on its feet but should also have viscosity. Use fruit liqueurs (such as Giffard) or syrups to add complexity and weight.
Beware of getting spritz-faced. They go down easily. So do as the Italians do and take yours with little nibbles.
Spritz: Italy's Most Iconic Aperitivo Cocktail, with Recipes by Talia Baiocchi and Leslie Pariseau is available at amazon.com.