Beyond Champagne: The Best Sparkling Wines Under $50
Whether shopping for affordable champagne alternatives or exploring the super diverse world of sparkling wine, here are 16 Italian proseccos, Spanish cavas, and more non-champagne bubblies worth getting to know.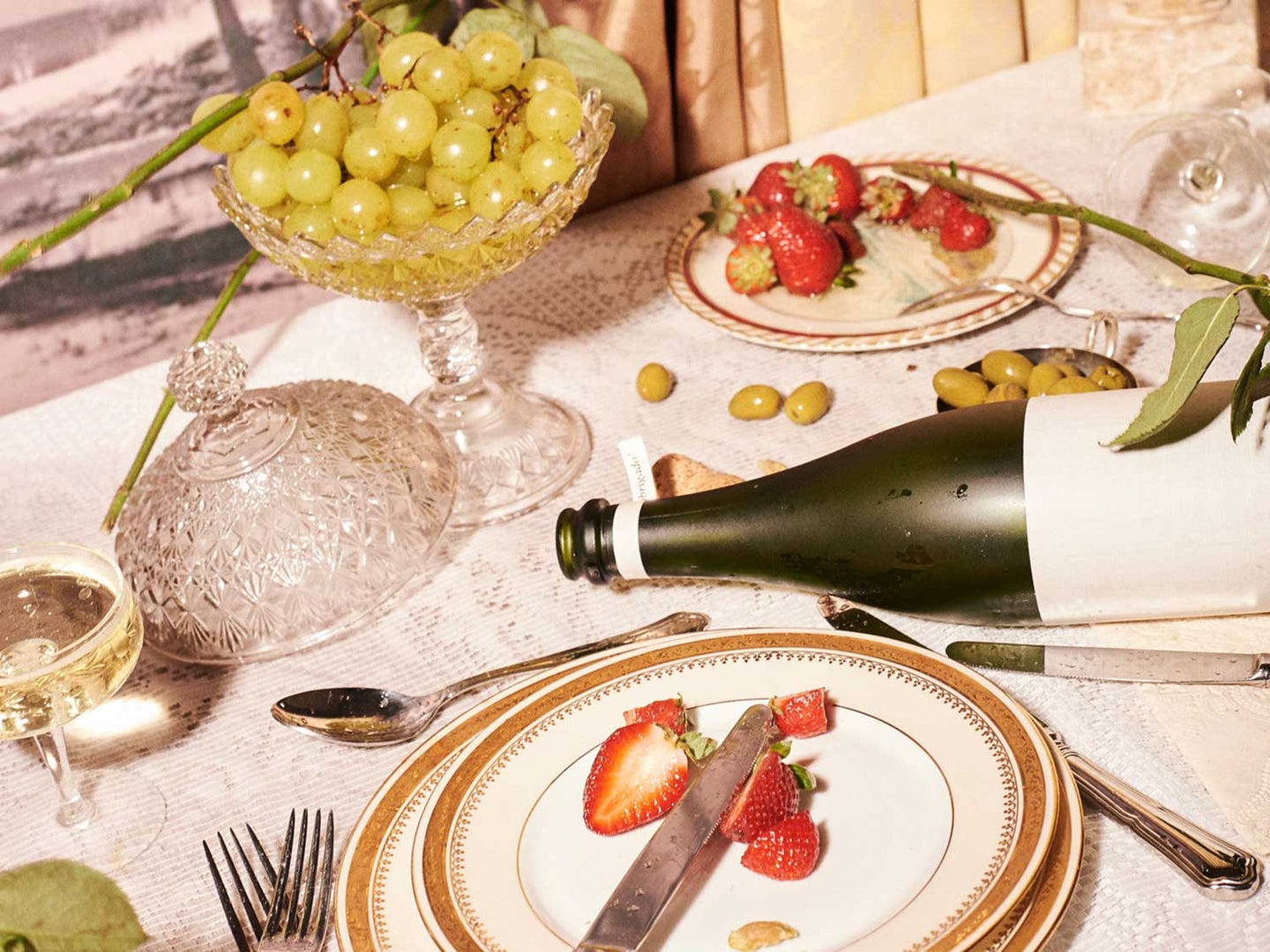 While 2020′s New Year's gatherings will no doubt be smaller and more distanced than years past, they needn't be any less festive—at least as far as the drinks are concerned. With budgets tighter than usual, it might be worth swapping out your usual champagne for one of the equally exceptional, often more affordable sparkling wines from Italy, Spain, the United States, the United Kingdom, Brazil, South Africa, and even elsewhere in France. Whether you prefer to stay true to those produced in the classic "champenoise" method or to seek out something unexpected, with this list in hand, you'll certainly walk away with a new favorite bubbly.
But first: let's unpack what separates champagne from the rest of the world's sparkling wine. The first and most obvious distinguishing factor is provenance: true champagne comes from the titular region located about an hour northeast of Paris. Secondly, it must be made using some ratio of the area's pinot noir, pinot meunier, and chardonnay grapes. The third factor is method: Legend has it that sometime around the turn of the 17th century, still wines left in a cellar began undergoing a secondary fermentation, which caused their corks to pop, thus creating the first sparkling wine. Indeed, that second fermentation—which still takes place in the bottle—is a hallmark of the méthode traditionnelle (previously known as the "méthode champenoise"), that is still used in the Champagne region today.
Secondary fermentation is achieved by adding sugar and yeast to a still wine before bottling, which results in the desired carbonation. Aging the wine for a minimum of 15 months on the lees, or spent yeast, helps give champagne its quintessentially bready flavors. After disgorgement (the removal of that yeasty sediment), more wine and sugar (referred to as the "dosage") are usually added to ensure sweetness. The official certification of Champagne—the region's Appellation d'Origine Controlée (AOC)—is awarded only to wines that follow these specific rules, which are set forth by the governing organization, Comité Champagne.
Throughout the rest of the world, wineries are not bound by the strict parameters of champagne production. In the centuries since champagne's birth, resourceful producers have been finding new and interesting ways to create effervescence. "Sparkling wine outside of Champagne is as diverse—and delicious—as any wine category in the world," says Chris Leon of New York City's Leon & Son Wine and Spirits.
Elsewhere in France, in seven regions, including Bordeaux and the Loire and Rhone Valleys, there's crémant, the closest cousin to champagne. Aged for at least nine months on the lees and produced similarly to champagne, "crémant is a great alternative to champagne," explains veteran bartender-educator Ms. Franky Marshall. "Whether from Alsace or Burgundy, it's definitely worth considering when you need something easy-drinking."
Italy's popular effervescent styles, prosecco and asti spumante, and Spain's cava are nearly as well-known as their French counterparts, while natural winemakers and New World producers are even more inclined to experiment with avant-garde styles and techniques. This means everything from sparkling riesling from New York's Finger Lakes region to trendy pét-nats from the American West Coast.
Ready to get started? Whether you're shopping for a New Year's toast, looking for a wine to top off spritz cocktails, or simply expanding your knowledge of the category, you'll find what you need in our guide to 2020′s standout sparkling wines.
France
Gustave Lorentz Crémant D'Alsace
Since the 1800s, the Lorentz family has been making wine in France's Alsace region, which borders Germany. A great example of a classic, sparkling French wine from outside Champagne, this non-vintage blend is made from chardonnay, pinot blanc, and pinot noir sourced from the family's vineyards, which are planted along the foothills of the Vosges Mountains. Layering hints of berry and red fruit over bursts of lemon peel, this crémant is refreshing on any day—but especially as a lively sparkling toast.
Gerárd Bertrand 2017 Cuvée Thomas Jefferson Brut Rosé (Crémant de Limoux)
If there's one producer who knows their way around a creamy, bubbly rosé, it's biodynamic viticulture pioneer Gerárd Bertrand. Hailed the "Prince of the Languedoc," in reference to his work in the famed sparkling wine-producing region in the south of France, Bertrand offers a standout crémant from Limoux—the coolest appellation of the region, thanks to its advantageous position between the Pyrenees and the Mediterranean. The pale, salmon-tinted wine is made from chardonnay, chenin blanc, and pinot noir grapes, which manifest in notes of strawberry and lemon peel, fresh acidity, and high carbonation.
Italy
Though Cinzano is universally known for its vermouth, the company also offers some solid sparkling wines. First launched in 2017, in part to celebrate the brand's 260th anniversary, this non-vintage sparkling wine is made from moscato grapes from the eponymous Asti province in Italy's Piedmont region. An affordable crowd-pleaser that offers the characteristic asti aromas of white flowers, honey, and toasty bread, the spumante pours out with a generous, moussey froth and a pronounced, pleasantly jammy sweetness. Enjoy this one with fruity citrus or apple desserts or alongside a salty salumi platter.
Contratto Metodo Classico Pas Dosé Millesimato
While sparkling wines from the Alta Langa area of Piedmont aren't well-known Stateside, the category is growing in recognition thanks to its oldest producer, Contratto. Having only recently become available in the United States, this wine is made using an 80/20 blend of Piedmontese pinot noir and chardonnay grapes, which are manually picked and sorted by vineyard. This wine is produced in the méthode traditionnelle using indigenous yeasts, and bottle aging takes place over 60 months. The wine is "pas dosé," meaning it receives no added sugar after disgorgement. Elegant and dry, yet also soft and savory, notes of stone fruit and red berries fade into a mineral finish.
Sotheby's Prosecco Valdobbiadene Superiore 2018
The world-renowned auction house and retailer released its debut 12-bottle wine collection in the fall of 2019 with an emphasis on affordability—all of the bottles are priced between 17 and 40 dollars. Each wine is labeled with its own lot number and a brief story about the producer, nodding to Sotheby's auctioneering roots. Of the offerings, this prosecco from the Mongarda family stands out. Prosecco is produced using the Charmat method, in which the secondary fermentation process takes place in a steel tank. Taking a non-interventionist approach, the brand blends 90 percent glera with 10 percent verdiso and bianchetta grapes from the Veneto region for a crisp wine that is notably dry, with notes of green apple and honeysuckle. With a pleasant freshness and mineral finish, it's great on its own or for topping off a sparkling cocktail.
Fratelli Berlucchi Blanc de Blancs Brut 25
A strong exemplar of the franciacorta style of Italy's Lombardy region, this bright, straw-colored blanc de blancs (wine made entirely from white grapes) leads with hints of lemon, pear, and green apple, before expanding to a toasted, bready quality from 25 months on the lees. High acidity makes this spumante a reliable standby for pairing with cheese and other salty foods, while generous bubbles scream festivity—all for just 20 bucks.
Spain
This complex wine is a gold standard for entry-level cava—the méthode traditionnelle Spanish sparkling wine category that's become more widely appreciated in recent years. Produced by Segura Viudas, a more than 800-year-old estate in the Penedès region outside of Barcelona, the Reserva Heredad is a 67/33 blend of indigenous macabeo and parellada grapes. Aged for over 30 months, the wine is sold in a stunning bottle inspired by the gothic arches of the winery's medieval farmhouse. Aromas of citrus, apple, and tropical fruit unfurl on a gently bubbly palate that doubles down on flavors of bread and apple—finished with an enjoyable sweetness.
As a post-Hollywood second act, retired actress Cameron Diaz co-founded Avaline, a line of non-vintage organic and vegan wines. For the inaugural release, Diaz partnered with family-owned Spanish winery Raventos i Blanc, established in 1947 and known for its traditionally produced effervescent wines. Avaline's white sparkling wine employs a classic combination of typical Spanish cava grapes like xarel-lo, macabeo, and parellada. Aged on the less for 18 months—twice the required duration for wines from the Panedès region—the wine offers distinctly floral and citrus notes and a pleasant, subtle sweetness.
Anima Mundi Cami dels Xops 2019
Some avant-garde producers have leaned heavily into the méthode ancestrale, which may have originated in the Limoux region of Southwestern France in the 16th century, thus predating Champagne's méthode traditionnelle. In this process, a single fermentation is seen to completion in the bottle. Wines produced in this manner are called pétillant-naturel, or affectionately "pét-nat" for short. Fans of the style would be wise to consider this approachable biodynamic blend of macabeo and xarel-lo grapes. The result is a dry wine with notes of pear and lemon at the forefront and medium-fine bubbles. Anima Mundi is a notable side project from fourth-generation Catalan cava maker Agustí Torello Roca.
England
In recent decades, England has emerged as a notable producer of sparkling wine—the country's vineyards have increased by some 160 percent over the last decade. From the charming town of Tenterden in the Kent countryside comes this standout, golden-hued bubbly. Made using pinot noir, chardonnay, pinot meunier, and pinot blanc grapes, which are grown in the chalk, clay, and loam soils of Kent, East Sussex, and Dorset, Chapel Down's non-vintage brut bottling is emblematic of the super-fresh English style, offering pleasant aromas of red apple, citrus, and bread that give way to a mineral-forward palate of stone fruit and quince.
Armenia
Keush Origins Brut Sparkling NV
With approximately 6,000 years of viticultural history, Armenia is considered by some to be the cradle of wine. Still, the country struggles to get the recognition it deserves. On the sparkling wine front, look no further than Keush, the brainchild of Lebanon-born winemaker Vahe Keushguerian, who spent time in Italy and California before taking a fateful trip to Armenia in 1997. A key callout for this traditional brut is the indigenous Armenian fruit used in its production: voskehat and khatoun kharji grapes sourced from 100-year-old vines grown some 1,800 meters above sea level. Ideal for cool-climate sipping, the budget-friendly wine offers fantastic salinity and citrus notes that play excellently with cheeses, cured meats, and shellfish.
South Africa
As far as South African sparkling wine is concerned, it's hard to find a more iconic bottle than Graham Beck's brut, which was served at Nelson Mandela's inauguration. The Western Cape winery is overseen by pioneer and cellarmaster Pieter Ferreira, who also helms the Méthode Cap Classique organization—the governing body for South Africa's traditional sparkling wine production. The non-vintage sparkler is made using a 60/40 blend of pinot noir and chardonnay, fermented separately then blended together and aged for 15 to 18 months. Listed at just 20 dollars, this is a bang-for-your-buck wine with whiffs of lime, lemon, and green apple that give way to a medium body and mineral-rich palate of bready and nutty flavors.
Steenberg Vineyards Sparkling Sauvignon Blanc
Set just 20 minutes from central Cape Town in the fabled wine-growing region of Constantia, Steenberg Vineyard has the distinction of being the oldest registered farm in the country, dating back to 1682. The producer makes exceptional still sauvignon blancs, so naturally its sparkling version stands out as well. The straw-colored wine is crisp, fresh with superfine bubbles and notes of citrus, peach, and tropical fruit.
Brazil
Brazil has entered the sparkling wine conversation in recent years—and for good reason. This inaugural release, a 2018 vintage from newcomer producer D.M. Brut. Cheekily named for "Dom Maria," a figurehead imagined by the brand's founders to convey openness and inclusivity ("Dom" is a title typically bestowed upon men and Maria is one of the most common female names in Portuguese), this brut is made using a combination of pinot noir and chardonnay grapes grown in Southern Brazil's Valley of the Vineyards or Vale dos Vinhedos. Known for being one of Brazil's oldest wine-growing regions, the valley's first vineyards were planted by Italian immigrants in the 19th century. The legacy of these immigrants lives on in the area's wine production, as well as in the Venetian dialect still spoken there today. Pop open this sleek, minimalist bottle to discover an easy-sipping sparkler—produced in the méthode traditionnelle—with a fresh nose of citrus and pleasant dryness that makes it ideal for a mid-day aperitif, or a perfect accompaniment to oysters.
The United States
Schramsberg Blanc de Blancs Brut 2016
If you're looking for an American wine that'll more than hold its own next to true French champagne, this is the blueprint. The 100 percent chardonnay stunner is produced on California's North Coast using the méthode traditionnelle, and aged in French oak. This vintage bottling hits every requisite note on the palate—from brioche and toasted almond to apple, pear, honey, and just a whisper of citrus. Medium-bodied with high acidity and a froth of tiny bubbles, this is a wine to drink at noon—or at midnight.
Dr. Konstantin Frank Riesling Nature 2018
In just a few decades, riesling has become the unofficial grape of New York's Finger Lakes region. Since 1957, local winemaker Dr. Konstantin Frank (and the subsequent four generations of the Frank family) have been working wonders with the fruit at their winery on Keuka Lake. Produced in the méthode traditionnelle, this 100 percent Riesling is a crisp, dry sparkling wine that works best as a pairing for rich seafoods—think lobster and salmon—and fried food.