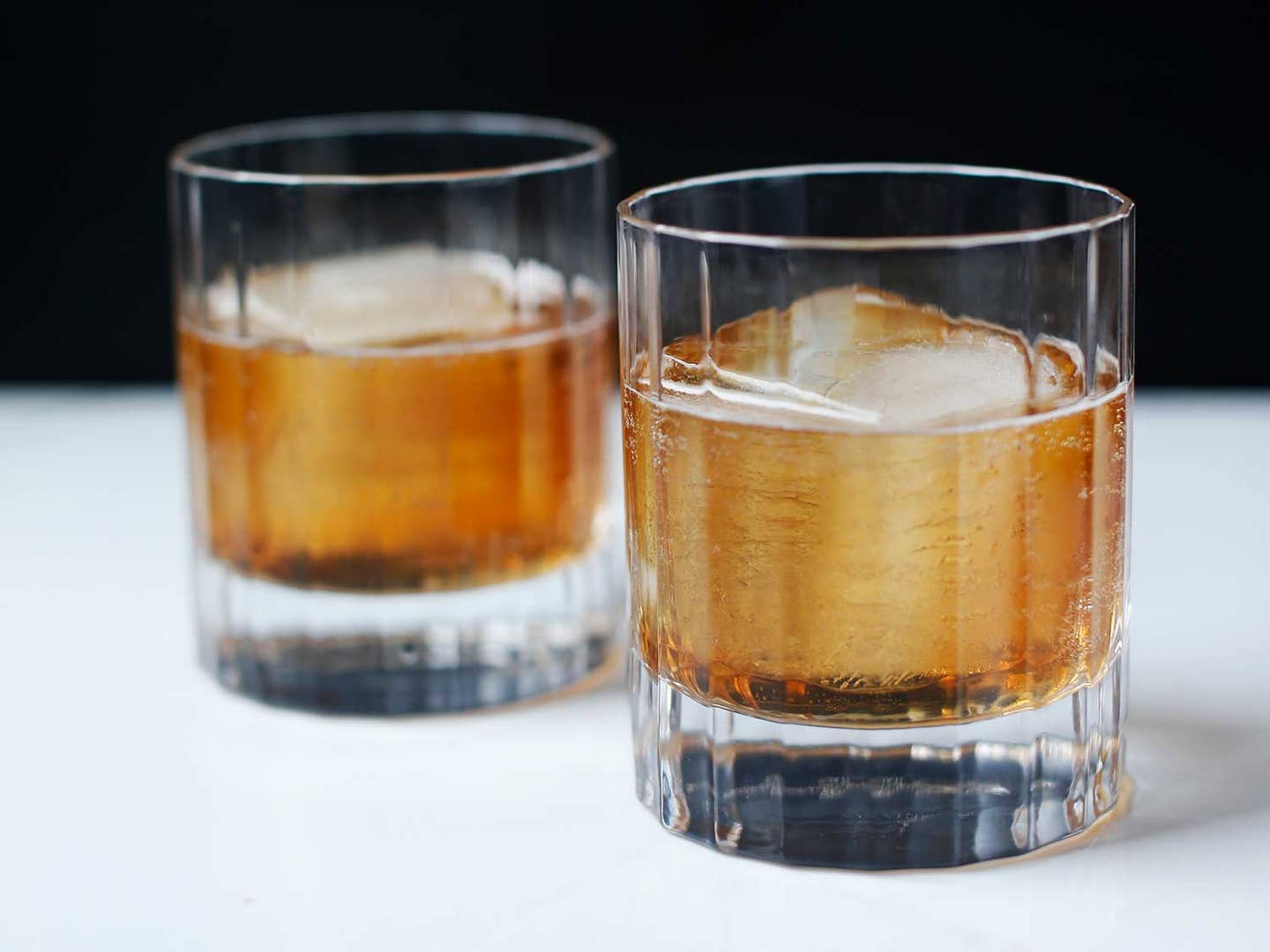 Drinks
Beyond Dry January: How to Make Excellent Nonalcoholic Cocktails at Home
With countless no- and low-alcohol ingredients and recipe books on the market, it's never been easier to practice mindful drinking all year long.
As long as Dry January has existed, it has been mocked and criticized as a virtue-signaling gimmick that simply demonizes alcohol. While some criticisms of the tradition may be valid, the fact is that abstaining from or reducing alcohol intake, at any time, is an admirable endeavor—not a reason to shame people. In the past few years, the "mindful drinking" movement has evolved to embrace nuanced, positive frameworks for approaching sobriety or moderation.
"Dry January is a wonderful opportunity for people to check in, see where they're at, and determine whether sobriety or just cutting down is good for them," said Derek Brown, the owner of Washington, D.C.'s famed Columbia Room and author of the forthcoming no- and low-alcohol cocktail book Mindful Mixology: A Comprehensive Guide to No- and Low-Alcohol Cocktails. To this end, nonalcoholic cocktails can now be found on the menus of most top cocktail bars. Meanwhile, a growing selection of new nonalcoholic ingredients offer unprecedented freedom for those who want to be able to craft a complex, thoughtful drink or recreate the sensation of a classic cocktail sans the liquor.
This year, as bars remained shuttered or at limited capacity, folks have been drinking more at home—sometimes a lot more—making this movement more timely than ever. "It's about choice: whether you're doing it for piety or for health or just to wake up the next day without a hangover, nonalcoholic spirits and cocktails offer people a choice they didn't have before," Brown explained. "Before, you'd go to a bar and get a lemonade or soda, or an enterprising mixologist might try to put something together, but this is more intentional. It's saying, 'Hey let's make a drink specifically for people who don't drink or are taking the night off.'"
The growing diversity of nonalcoholic drinks is also the focus of writer Julia Bainbridge's recently released and excellently titled Good Drinks: Alcohol-Free Recipes For When You're Not Drinking for Whatever Reason, in which she confronts her own complex relationship with alcohol and introduces booze-free cocktails from some of the top bartenders across the country. For Bainbridge, the book represents a "celebration" of the newfangled innovation and creativity behind those recipes.
"I decided to put the book together because I was inspired by what I saw happening in the industry: alcohol-free mixed drinks were starting to be taken more seriously," Bainbridge said. "For so many years, it seemed like the imagination stopped after fizzy lemonade or a Shirley Temple, but, somewhere around 2016, it became impossible not to notice that the drinks world was moving beyond that. In New York, Atera was offering "Champine," made from steeping Douglas fir pine needles and combining that tea, essentially, with malic, lactic, and tartaric acids for a wine-like sharpness, then carbonating and bottling it in-house. Agern offered alcohol-free drink pairings with its tasting menus. These drinks had names, they were listed on menus, they were presented with enthusiasm. It was so exciting!"
For those who are not quite ready to test out their own mixology skills, it's worth exploring some of the ready-to-drink options on the market, including bartender-writer John deBary's Proteau, a line of zero-proof botanical drinks that come in options like the sparkling Rivington Spritz, which blends hibiscus, chamomile, Chinese rhubarb, gentian, and strawberries for a trifecta of bubbly, floral, and fruity. Then there's Ghia, a Mediterranean-style aperitif that builds on a base of riesling grape juice with heady botanicals like bitter gentian root and bright yuzu. Enjoy it with a splash of tonic water or shaken with citrus juice.
More seasoned home bartenders may be interested in replicating their favorite classics, like an old fashioned or Aperol Spritz. For straight substitutions, Brown recommends seeking out analogs, nonalcoholic spirits designed specifically to replicate the palate of traditional spirits. Looking for a whiskey-inspired nonalcoholic cocktail? Try Lyre's vanilla-y, gently spiced Non-Alcoholic American Balt Bourbon, which can be easily subbed into an old fashioned or boulevardier. Prefer gin? Monday Gin's Zero Alcohol Gin offers a familiar base of juniper with citrus and spice botanicals that stands up excellently in a lemon-grenadine gin sour or in a Negroni made with Proteau's vermouth-style Ludlow Red in lieu of Campari.
"There are some really great nonalcoholic spirits on the market, but they don't have ethanol and that changes things a lot," Brown explained, adding that many of these spirits, particularly analogs, are not really meant to be consumed straight. "A lot of times people will try the spirit on their own and decide it's just not up to snuff. The real test is to use it in a cocktail and see how it holds up and whether or not it offers familiar flavors."
All of this being said, as with making regular cocktails, there's no right or wrong way to go about creating and enjoying nonalcoholic recipes with ingredients you find at home. Brown points to his Pinch Hitter, a shaken, sour-style drink that fuses fresh lemon juice with ginger syrup. For a bit of bite and body, he adds apple cider vinegar and aquafaba—strained canned chickpea water, often used as a vegan egg white substitute for meringues. (One more selling point for nonalcoholic cocktails: they're versatile and easy to adapt for folks who have other dietary restrictions.) And for his Campfire Old Fashioned, the base is a strongly brewed lapsang souchong black tea, rather than a bourbon alternative.
At the end of the day, nonalcoholic cocktails are simply meant to be fun and offer variety. The category is also about inclusivity—creating a space that welcomes your sober parents, your pregnant best friend, or your buddy who's not sure if he can drink on antibiotics. Like their liquor-based counterparts, booze-free drinks can serve to help us discover new flavors or celebrate a special occasion like an anniversary, a birthday, or a new job—or just making it through the work week at your current one.