The Drama of Dinner: How to Fine-Dine at Home
In postwar America, opulence took the form of heavy cream, butter, beef, seafood—and the occasional dessert on fire.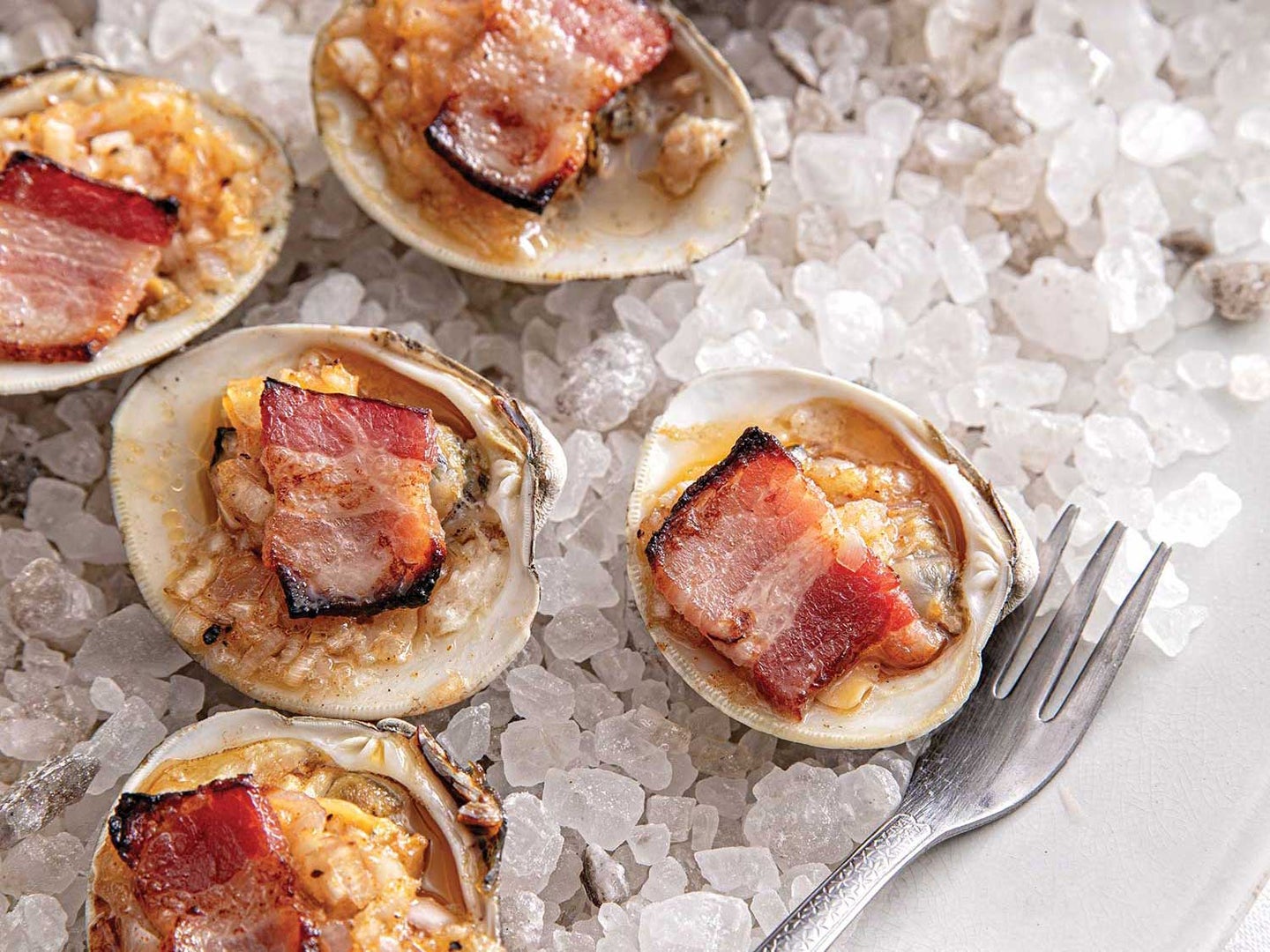 You can probably picture the sort of menu that features Clams Casino, Crab Louie, and Steak Diane. It's oversize, a single card-stock placard, handed to you with great flourish by a waiter wearing a white dress shirt and black bow tie. The background music is piano, played at a gentle volume just out of sight. Elegantly old-school, this kind of fine-dining experience demands a pre-meal martini and might even make you long for a post-dessert smoke.
Fare swanky enough to warrant a proper name began popping up at grand American hotels during the early 1900s, before Prohibition, the Great Depression, and two world wars conspired to stymie the trend. It wasn't until the mid-20th century that the postwar boom—plus home-ec "innovations" like Swanson TV Dinners and Duncan Hines cake mixes—transformed eating out into an exercise in accessible extravagance. Suddenly, flambé ruled the day as sirloin (Steak Diane) and tropical fruit (Bananas Foster) were doused in alcohol and set afire tableside. Indulgences that had been denied in the lean years, such as shellfish, now came topped with bacon and butter (Clams Casino) or rich rémoulade sauce (Crab Louie). Since then, times have changed and changed again, especially as of late. But being stuck inside with your spouse on a Saturday night needn't dictate sweats, Diet Coke, and DiGiorno. Dress to the nines, pour a stiff drink, and gild a few culinary lilies. These five classics from the Saveur vault prove that, even in the worst of times, more really feels like more.
Clams Casino
Former Saveur editor Kelly Alexander, who covered Clams Casino for our October 2003 issue, pointed readers to Inns and Outs, the 1939 autobiography of Julius Keller, once the maître d'hôtel of Rhode Island's now-defunct Narragansett Pier Casino hotel. In his memoir, Keller claims to have first served the littlenecks topped with bacon and bread crumbs sometime around 1917, to a patron who had simply requested clams. "Seizing the opportunity," he wrote, less than humbly, "I prepared a dish which I had tried on my own cultivated palate."
Clams Casino
To make this recipe, we adapted one that restaurateur Julius Keller, who claims to have invented the dish, supplies in his autobiography.
Time: 45 minutes
Ingredients
Rock salt
24 littleneck clams, scrubbed
8 Tbsp. unsalted butter (1 stick), softened
2 medium shallots, minced (about ½ cup)
1⁄4 tsp. tsp. sweet Hungarian paprika
Kosher salt and freshly ground black pepper
4 slices of bacon, cut crosswise into 1-in. pieces
Instructions
Position a rack in the top third of the oven and preheat to 500°F. Fill a large, rimmed baking sheet halfway with rock salt and set aside.
Using a shucking knife, open the clams, loosening the meat from the top and bottom shells, then discarding the top shells. Nestle the shucked clams (in their bottom shells) atop the rock salt and set aside.
In a medium bowl, stir together the butter, shallots, paprika, and salt and pepper to taste. Spoon a generous 1 teaspoon of the seasoned butter onto each clam, then top each with a piece of bacon. Bake until the edges of the bacon are crisp and the butter is browned and bubbling, about 5 minutes. Serve hot.
Steak Diane
Considered a signature entree at Manhattan's late, great Drake Hotel, Steak Diane is widely attributed to Beniamino Schiavon, the Drake's maître d'hôtel from 1942 to 1967. The hitch? Schiavon probably invented the sirloin's flambéed cream sauce in collaboration with chef Luigi Quaglino during the 1930s, when the two worked together in Belgium. And though many assume the name references the Roman goddess of the hunt, The New York Times, in its 1968 obituary of Schiavon, described the titular Diane only as a "beauty of the 1920s." Saveur's take on the steak, originally published in March 1997, upgrades the beef to filet mignon.
Steak Diane
A lean cut like filet mignon takes well to sautéing in a little fat, as in this classic preparation with a simple pan sauce that's laced with brandy and set aflame.
Time: 35 minutes
Ingredients
4 4-oz. filet mignon steaks
Kosher salt and freshly ground black pepper
2 Tbsp. canola oil
1 1⁄2 cups beef stock
2 Tbsp. unsalted butter
2 medium garlic cloves, minced (about 2 tsp.)
1 medium shallot, minced (about ¼ cup)
4 oz. oyster or hen-of-the-woods mushrooms, torn into small pieces (about 2 cups)
1⁄4 cup cognac
1⁄4 cup heavy cream
1 Tbsp. Dijon mustard
1 Tbsp. Worcestershire sauce
1⁄4 tsp. Tabasco sauce
1 Tbsp. minced chives
1 Tbsp. minced Italian parsley
Instructions
Season the steaks generously with salt and pepper. In a large skillet over medium-high heat, heat the oil until it shimmers, then add the steaks and cook, turning once, until evenly browned, 4-5 minutes for medium-rare. Transfer to a plate to rest.
Meanwhile, return the skillet to medium-high heat and add the stock. Cook, stirring to deglaze, until the liquid is reduced by two thirds, about 10 minutes. Pour the demi-glace into a heatproof bowl and set aside.
Return the skillet to medium-high heat and add the butter. When the butter is melted and the foam begins to subside, add the garlic and shallots, and cook, stirring frequently, until soft, about 2 minutes. Add the mushrooms and cook, stirring frequently, until they soften, release their liquid, and begin to brown, about 2 minutes more. Add the cognac, then carefully light with a long match or lighter to flambé, shaking gently until the flame dies down. Stir in the reserved demi-glace along with the cream, Dijon, Worcestershire, and Tabasco.
Return the reserved steaks to the skillet, lower the heat to simmer, and cook, turning to coat, until the sauce is thickened and the meat is warmed through, about 4 minutes. To serve, transfer the steaks to warmed serving plates; stir the chives and parsley into the sauce, and drizzle it over the steaks.
Crab Louie
There are plenty of theories about Crab Louie's name, including a tall tale involving the outsize appetite of Louis XIV. A recipe for the dish first appeared under the title "Crabmeat a la Louise" in chef Victor Hirtzler's 1910 The Hotel St. Francis Cookbook. The hotel, now the Westin St. Francis, still stands on San Francisco's Union Square, but it doesn't serve the city's best Crab Louie. For that, you must wait in line on Polk Street to nab one of 20 seats at Swan Oyster Depot. Peggy Knickerbocker raved about Swan in Saveur's March 1998 issue—and convinced the place to divulge its Louie secrets, including the dressing, comprised of mayonnaise, ketchup, pickle relish, olives, and onions.
Crab Louie
Nobody knows for sure who Louie was, or where this dish was invented—but we think the version made at the Swan Oyster Depot in San Francisco is as good as it gets.
Time: 15 minutes
Ingredients
1 cup mayonnaise
1⁄4 cup ketchup
1⁄4 cup sweet pickle relish
2 Tbsp. chopped black olives
1 small white onion, minced (about ½ cup)
Kosher salt and freshly ground black pepper
1 medium head iceberg lettuce, shredded (about 8 cups)
Meat from 2 cooked 2-lb. Dungeness crabs (or substitute 4 cups cooked lump crabmeat)
Lemon wedges, to serve
Tabasco sauce, to serve (optional)
Instructions
In a medium bowl, whisk together the first five ingredients; season to taste with salt and pepper. In a large bowl, pour 1 cup of the dressing over the lettuce and toss to combine. Divide the dressed lettuce between 4 chilled salad plates, then top each with ¼ of the crabmeat. Drizzle the crab with the remaining dressing. Serve cold, with lemon wedges and Tabasco sauce, if desired.
Chicken Divan
Before the stately Hotel Chatham (designed by Warren & Wetmore, the same firm behind Grand Central) was razed in 1966, Anthony Lagasi, chef at its Divan Parisien restaurant, forever changed the way Americans viewed chicken and broccoli. By the early 1940s, Lagasi had debuted a dish that bathed and baked the otherwise bland ingredients in a rich bechamel sauce, creating the casserole we now know as Chicken Divan. Although the original recipe was never divulged, the restaurant's maître d'hôtel hinted that Lagasi used poached chicken; Saveur's version, which ran in Irene Sax's December 2006 feature "The Age of Casseroles," sautées the poultry instead.
Chicken Divan
Layers of succulent chicken breast and tender broccoli, coated in a rich parmesan cheese sauce became a casserole staple in the 80s. Here's the original.
Time: 1 hour, 30 minutes
Ingredients
1 lb. boneless skinless chicken breast
Kosher salt and freshly ground black pepper
3 Tbsp. vegetable oil
1 large head broccoli (about 2 lb.), stemmed and broken into 1-in. florets
5 Tbsp. unsalted butter, divided
1⁄4 cup all-purpose flour
1 cup chicken stock
1 cup whole milk
3 Tbsp. dry sherry
1 pinch of freshly grated nutmeg
1⁄2 cup finely grated Parmigiano-Reggiano, divided
1 cup slivered almonds
1⁄2 cup heavy cream
Instructions
Season the chicken with salt and pepper. In a large skillet over medium heat, heat the oil until it shimmers, then add the chicken and cook, turning once, until golden and cooked through, 13-15 minutes. Transfer to a cutting board and allow to cool slightly before cutting, against the grain, into ¼-inch-thick slices. Set aside.
Meanwhile, bring a large pot of generously salted water to a full boil. Add the broccoli and cook just until bright green and barely tender, 2-3 minutes. Drain into a colander, rinsing well under cold running water to stop the cooking, then set aside.
Preheat the oven to 375°F. Rub the inside of a 2-quart casserole dish with 1 tablespoon butter and set aside.
4 In a medium pot over medium heat, make a roux: Melt the remaining 4 tablespoons butter, then when the foam begins to subside, whisk in the flour and cook, stirring continuously, for 1 minute. Gradually whisk in the stock, followed by the milk, then cook until thickened, about 10 minutes. Whisk in the sherry, nutmeg, and half of the cheese until smooth, about 1 minute. Remove from heat, season to taste with salt and black pepper, and set aside to cool slightly.
Meanwhile, in the prepared casserole dish, arrange the reserved broccoli in a single layer and sprinkle with the remaining Parmigiano-Reggiano. Arrange the reserved chicken slices evenly over the broccoli and sprinkle with the almonds. In a large bowl, beat the heavy cream to soft peaks. Gently fold the whipped cream into the reserved sauce, then pour the sauce over the chicken. Place the casserole on a large baking sheet to catch any drips, then transfer to the oven, and bake until golden brown and bubbling, about 30 minutes.
Bananas Foster
Ah (or maybe ugh), to be the sole female sibling running a family-owned business some 70 years ago. In 1951, the late Ella Brennan, manager of the still-famous Brennan's restaurant on New Orleans' Bourbon Street, found herself saddled with one older fruit-broker brother unloading his banana surplus, and another one demanding she devise a dessert to honor of his crime-commissioner crony, Richard Foster. Ella's epiphany—bananas sautéed in brown sugar, butter, and combustible liquor, then torched—remains a top reason to eat in the Crescent City. Our Bananas Foster, which first appeared in the April 2013 feature "New Orleans" by Lolis Eric Elie, uses banana liqueur in addition to classic rum, heightening the banana flavor in this caramelized dessert.
Bananas Foster
It's now famed as a luxurious dessert, but when this Big Easy favorite made its debut in 1951, it was for a breakfast promotion.
Time: 15 minutes
Ingredients
4 medium, ripe bananas, peeled
8 Tbsp. unsalted butter (1 stick)
1 cup light-brown sugar, packed
1⁄2 tsp. ground cinnamon
1⁄4 cup banana liqueur
1⁄4 cup dark rum
Vanilla ice cream, for serving
Instructions
Quarter the bananas by cutting them in half once lengthwise, then once again crosswise. In a large skillet over medium-high heat, combine the butter, brown sugar, and cinnamon, and cook, whisking frequently, until the butter is melted and the sugar is fully incorporated, 4-6 minutes. Add the banana liqueur and bananas, and cook, stirring gently, until the bananas are softened and slightly caramelized, 4-6 minutes more. Add the rum, then carefully light with a long match or lighter to flambé, shaking gently until the flame dies down. Divide the bananas and their sauce among 4-6 bowls and serve hot, with vanilla ice cream.