Recipes
Steak Diane
Add drama to your dinner by setting the sauce to your steak aflame.
Serves

makes 4 Steaks

Cook

35 minutes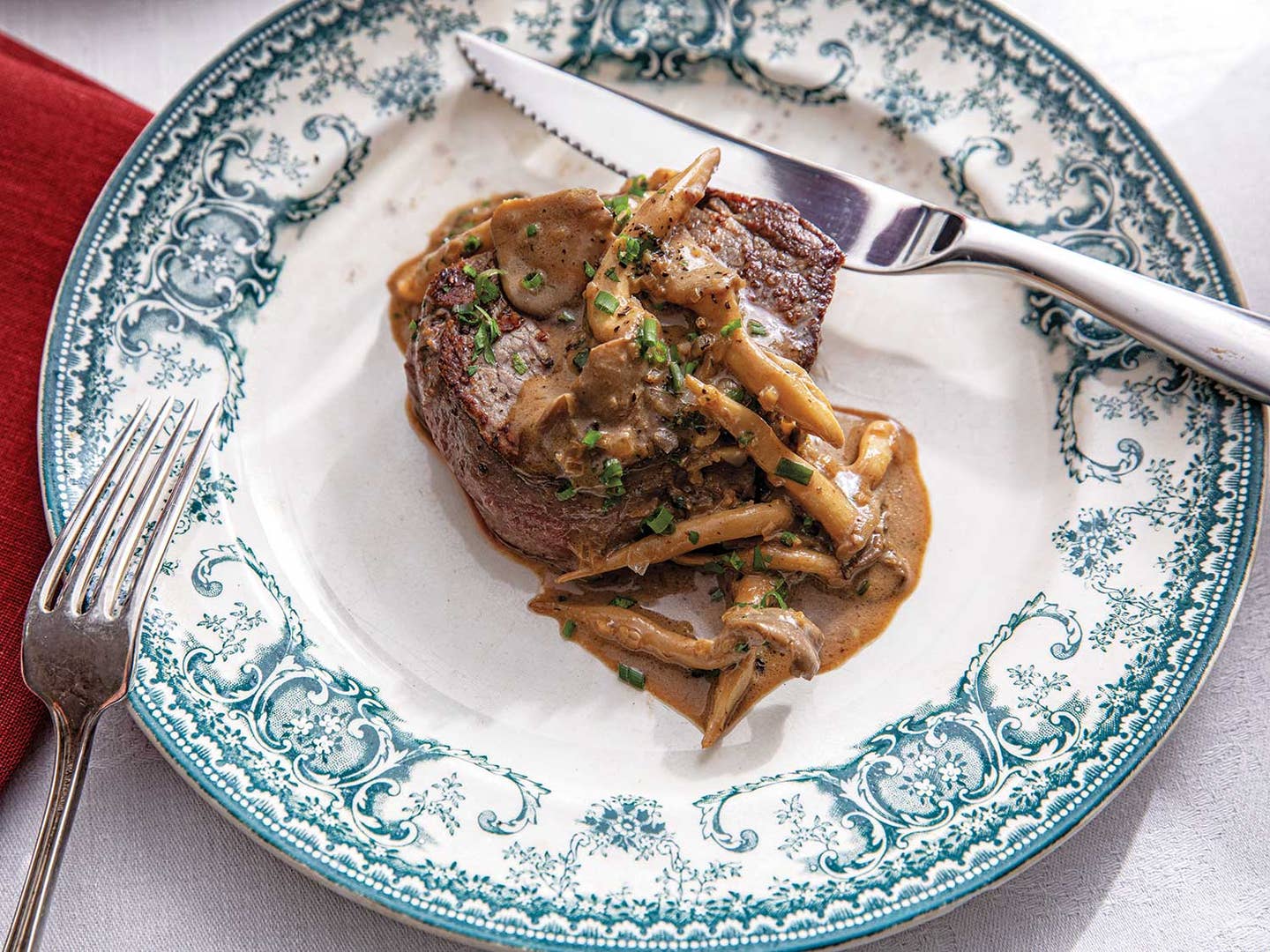 Considered a signature entree at Manhattan's beloved Drake Hotel, Steak Diane is widely attributed to Beniamino Schiavon, the Drake's maître d'hôtel from 1942 to 1967. Though many assume the name references the Roman goddess of the hunt, The New York Times, in its 1968 obituary of Schiavon, described the titular Diane only as a "beauty of the 1920s." SAVEUR's take on the steak upgrades the beef from the Drake's original sirloin to tender filet mignon.
Ingredients
Four 4-oz. filet mignon steaks
Kosher salt and freshly ground black pepper
2 tbsp. canola oil
1 1⁄2 cups beef stock
2 tbsp. unsalted butter
2 medium garlic cloves, finely chopped (about 2 tsp.)
1 medium shallot, finely chopped (about ¼ cup)
4 oz. oyster or hen-of-the-woods mushrooms, torn into small pieces (about 2 cups)
1⁄4 cup cognac
1⁄4 cup heavy cream
1 tbsp. Dijon mustard
1 tbsp. Worcestershire sauce
1⁄4 tsp. Tabasco sauce
1 tbsp. finely chopped chives
1 tbsp. finely chopped Italian parsley
Instructions
Step 1
Season the steaks generously with salt and pepper. In a large skillet over medium-high heat, heat the oil until it shimmers, then add the steaks and cook, turning once, until evenly browned, 4–5 minutes for medium rare. Transfer to a plate to rest.
Step 2
Meanwhile, return the skillet to medium-high heat and add the stock. Cook, stirring to deglaze, until the liquid is reduced by two-thirds, about 10 minutes. Pour the demi-glace into a heatproof bowl and set aside.
Step 3
Return the skillet to medium-high heat and add the butter. When the butter is melted and the foam begins to subside, add the garlic and shallot, and cook, stirring frequently, until soft, about 2 minutes. Add the mushrooms and cook, stirring frequently, until they soften, release their liquid, and begin to brown, about 2 minutes more. Add the cognac, then carefully light with a long match or lighter to flambé, shaking gently until the flame dies down. Stir in the reserved demi-glace along with the cream, Dijon, Worcestershire, and Tabasco.
Step 4
Return the reserved steaks to the skillet, lower the heat to simmer, and cook, turning to coat, until the sauce is thickened and the meat is warmed through, about 4 minutes. To serve, transfer the steaks to warmed serving plates; stir the chives and parsley into the sauce, and drizzle it over the steaks.