Recipes
Guadeloupean Porc Confit
Slow-Simmered Pork with French Caribbean Cane Syrup
Serves

makes 2 1/2 cups

Cook

4 hours 20 minutes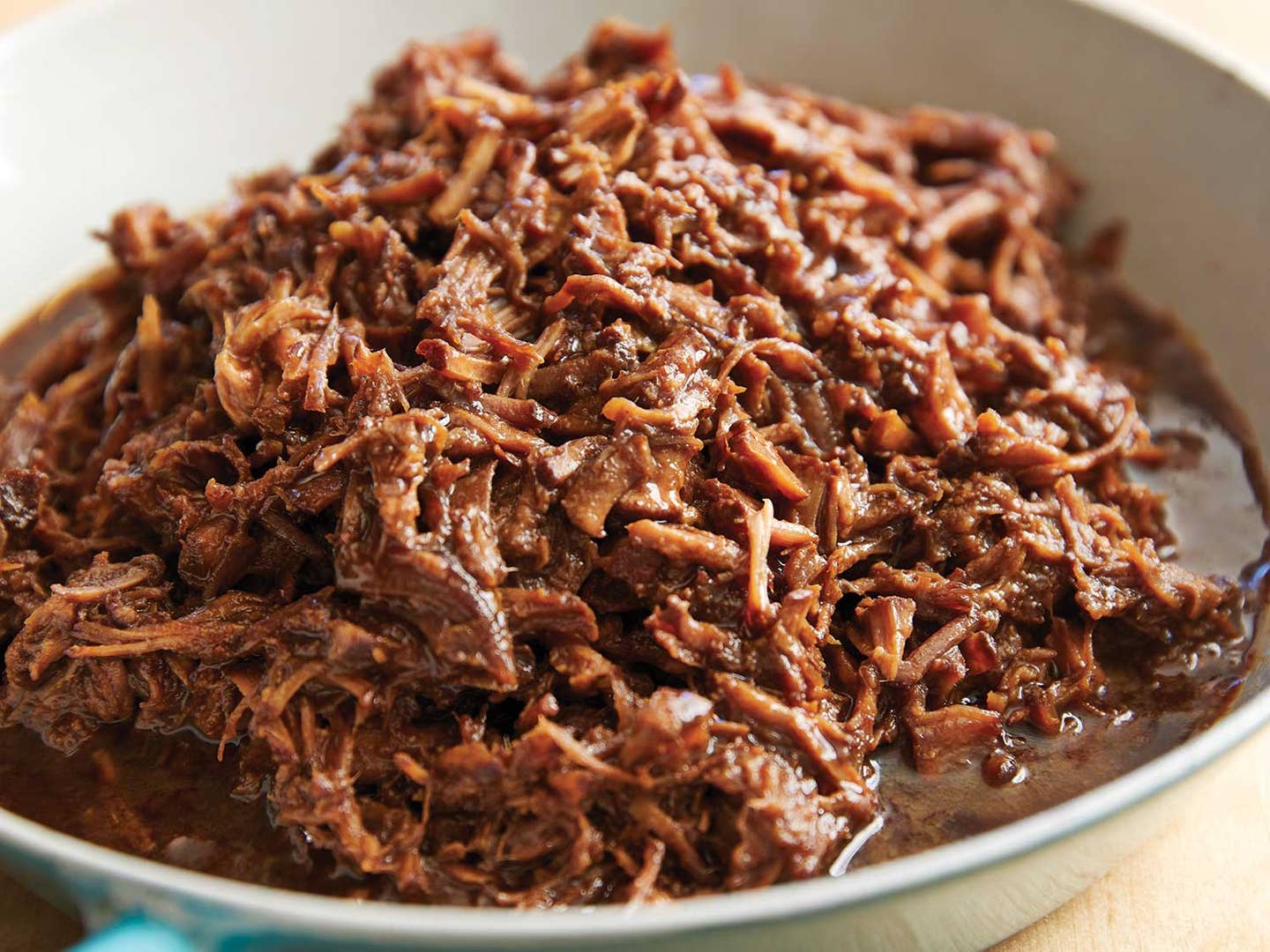 Drumeaux uses a cut of pork called rouelle—a thick round slice with a bone in the center, taken from the pig's hind leg—that is not likely to be sitting in your grocery store's meat case. Special-order it from a butcher, or substitute a 2‑inch‑thick, bone-in pork-­shoulder steak.
Ingredients
2 lb. bone-in pork rouelle
Kosher salt and freshly ground black pepper
1 tsp. cayenne pepper
1⁄4 cup Dijon mustard
2⁄3 cup dark soy sauce
2⁄3 cup sweet soy sauce
juice from 2 medium limes (about ¼ cup)
3 chive stems
1 sprig fresh thyme
2 mini sweet peppers, halved, stemmed, and seeded (or half a green bell pepper, stemmed and seeded
3⁄4 cup sirop de batterie*
Instructions
Step 1
Season the pork generously with salt and black pepper. Sprinkle with cayenne, then spread the mustard over the meat and set aside.
Step 2
In a large pot, combine the dark and sweet soy sauces, lime juice, chives, thyme, and peppers. Bring to a boil over medium-high heat, then add the reserved pork. Reduce the heat to simmer, then cover and cook until the meat is very tender when poked with a fork, about 3 hours. Remove from heat, and set aside to cool to room temperature for about 1 hour, leaving the pork in the cooking liquid.
Step 3
Use tongs to transfer the pork to a medium bowl, reserving the liquid. Remove and discard the fat and bone, then use two forks to shred the meat. Pour the sirop de batterie over the pork and set aside. Return the liquid to the stove and reheat to a simmer; stir ¾ cup of it into the pork mixture. (Use any leftover broth as a base for soup: Dilute it with water or stock, then add noodles, vegetables, etc.) Season to taste with additional salt and black pepper.
*While this dark sugar-cane-based ­sweetener is available at some Caribbean markets, you can also substitute ¼ cup molasses mixed with ½ cup cane syrup (we prefer Steen's).