Recipes
Chiquetaille de Mourue (Marinated Salt Cod)
A classic Caribbean fish salad for topping for Guadeloupean bokit.
Serves

makes 2 1/2 cups

Cook

13 hours 45 minutes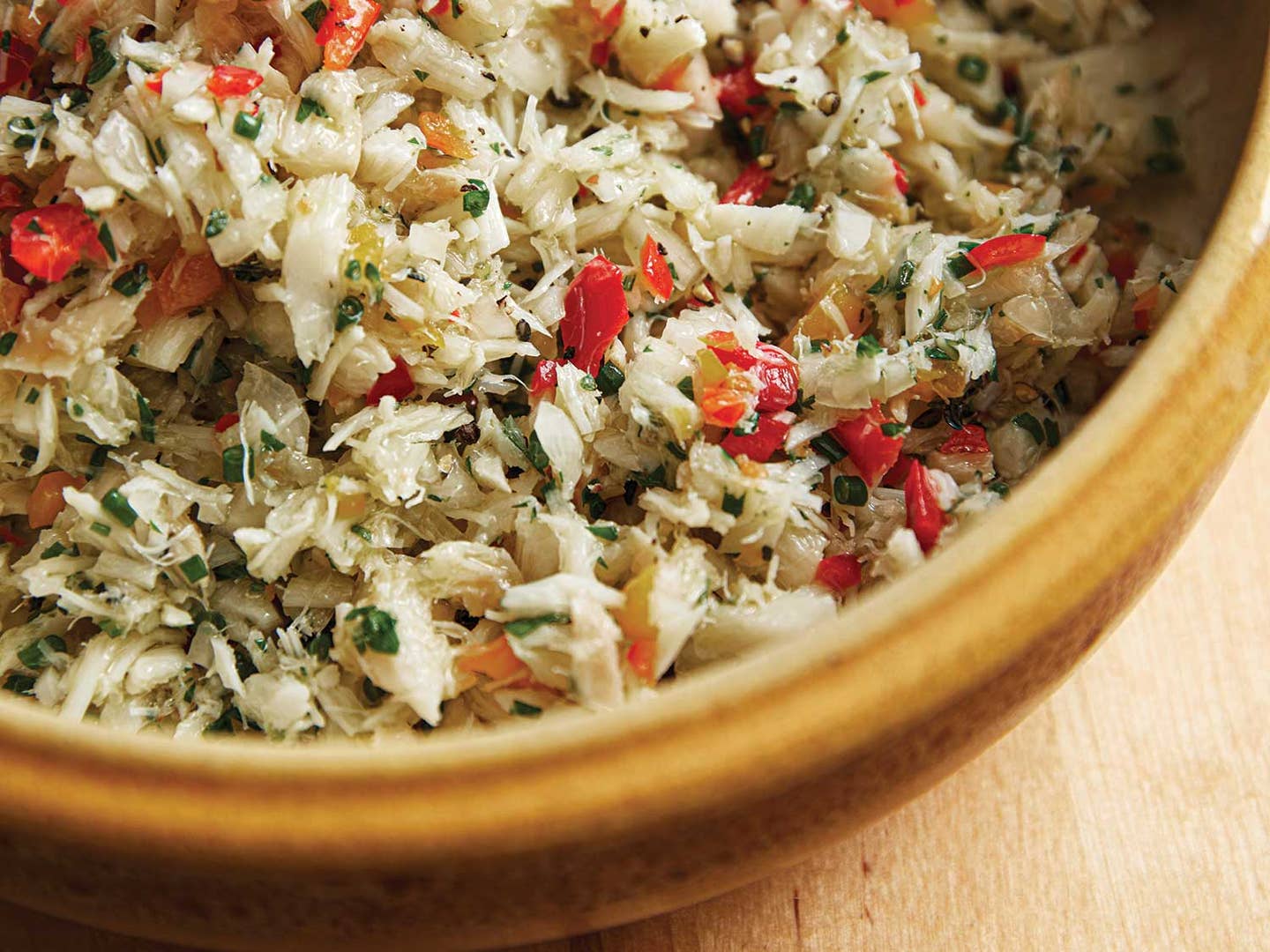 Chef David Drumeaux adds West Indian piments végétarien (small sweet peppers) to this salad. They can be hard to find outside the Caribbean, so use mini bell ­peppers as a substitute.
Ingredients
8 oz. salt cod, rinsed and cut into 4-in. pieces
1 small onion, finely chopped (about 1 cup)
4 mini bell peppers, seeded and finely chopped (about ¼ cup)
1 Tbsp. finely chopped Italian parsley
2 tsp. finely chopped chives
1 tsp. finely chopped thyme
2⁄3 cup olive oil
juice from 1 medium lime (about 2 Tbsp.)
Kosher salt (optional)
Freshly ground black pepper
Instructions
Step 1
Place the salt cod in a large bowl, and add enough cold water to cover by several inches. Set aside to soak in the fridge for 12 hours, changing the water every 3 or 4 hours.
Step 2
Drain and rinse the cod. Transfer it to a medium pot, cover with cold water, and bring to a simmer over medium-high heat. Cook until the fish flakes when poked with a fork, 15-20 minutes. Using a fine mesh sieve, drain, then rinse the cod under cold running water, squeezing it to remove excess moisture. Finely crumble the fish into a large bowl, and add the onion, peppers, parsley, chives, and thyme; toss to combine. Stir in the olive oil and lime juice, then season to taste with salt, if desired, and black pepper. Cover and refrigerate for at least 1 hour, or up to 48 hours, before serving.