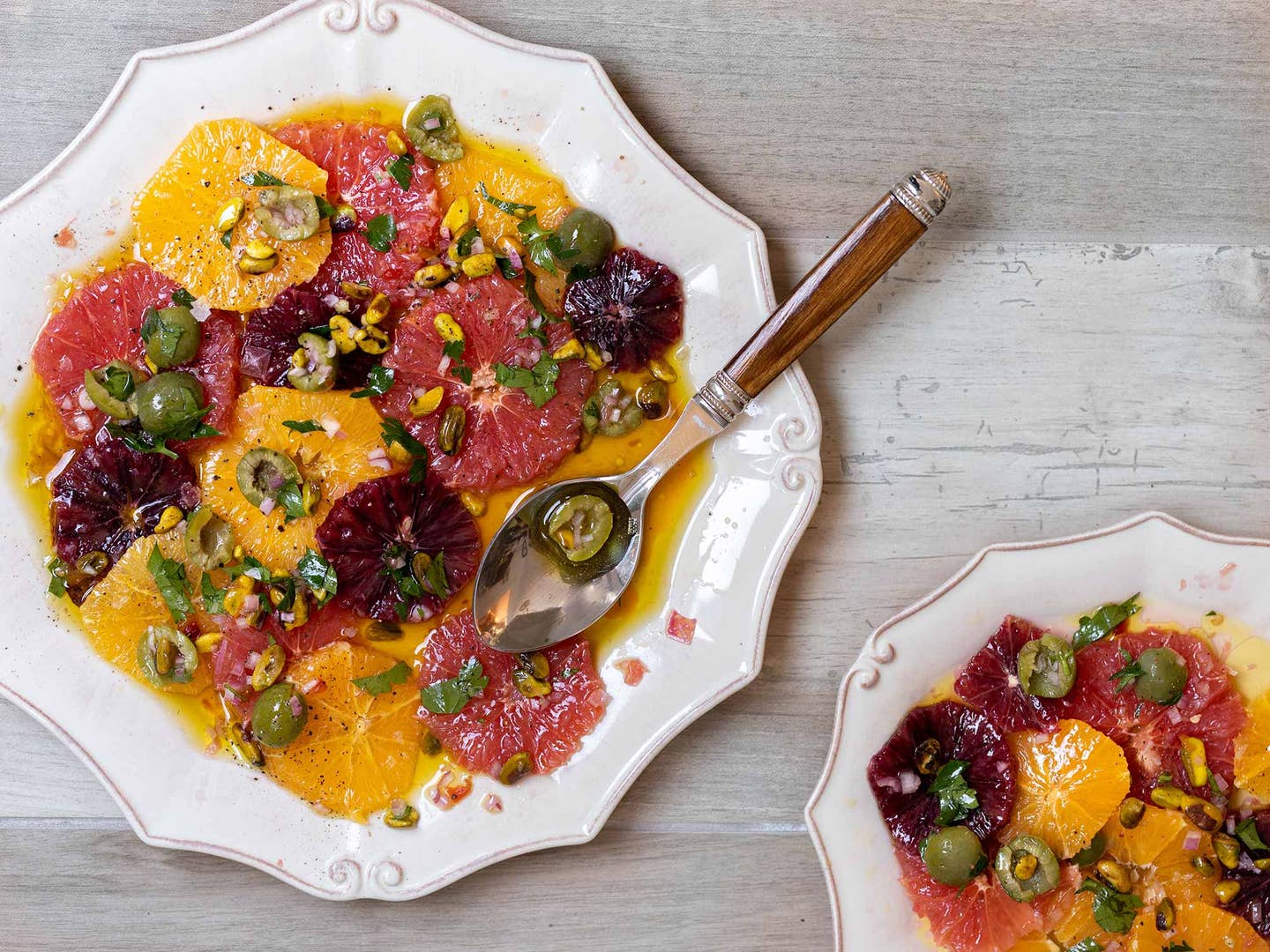 Recipes
This Winter Citrus Salad Shines Like a Thousand Suns
Years after Franny's closed, there's one seasonal menu item this chef can't stop thinking about—and making at home every winter.
Franny's smelled like charred pizza crust, wood smoke, and crispy pancetta. Even in the stillness of morning, when the restaurant was nearly empty, these aromas emanated from the exposed brick walls as if they were embedded there. For over a decade it was a quintessential Brooklyn restaurant. Locally sourced ingredients, a seasonal menu, and a wood-fire oven might seem ordinary—even a little passé—nowadays, but when owners Andrew Feinberg and Francine Stephens opened Franny's in 2004, those features were all the rage. You could close your eyes and choose from the menu at random, and every last dish—from house-cured salumi to toothsome pastas and Neapolitan-style pizzas—was invariably stellar.
Franny's drew regulars from its Prospect Heights neighborhood while also enticing Manhattanites to trek across the East River. It was that good. Back in 2010, the restaurant was my first gig out of culinary school and I still daydream about the food there. But one winter starter stood out: the citrus salad. It was inspired by a dish Feinberg and Stephens tasted in Sicily in 2001 and was meant to evolve throughout the season; on any given night, you might find Cara Caras, blood oranges, grapefruit, tangerines, mandarins, or clementines on the plate. Whatever the combination du jour, the salad was always dazzling. Even our most loyal regulars never tired of it.
At Franny's I was stationed at garde manger, where the cold apps were made. Like most recent culinary school grads, I was passionate and eager yet jittery and bungling, but when I finally got into the swing of things, I made dozens of citrus salads each shift. I peeled case upon case of fruit, using a sharp chef's knife to follow the natural curvature of each piece. Then, depending on its size, I either sliced the fruit into pinwheels or used my fingers to separate it into bite-sized segments. I fanned these pieces out onto a plate, alternating colors and shapes, and topped it all with a punchy green relish—a coarse mixture of toasted pistachios, Castelvetrano olives, parsley, and house-pickled hot peppers—which we adjusted each day based on the sweetness and acidity in the fruit. Last came a liberal drizzle of robust Italian olive oil and some flakes of crunchy sea salt.
It has taken me years to understand the genius behind that salad. Each element had been chosen with care and intent by chefs de cuisine John Adler and Danny Amend, from the hot peppers sourced from the Union Square Greenmarket to the potent extra-virgin olive oil.
Franny's closed in 2017, but Feinberg and Stephens' approach to cooking has remained an inspiration—both to me and to the many other cooks who passed through their doors over the years. The secret, we all learned, is attention to detail. In that cramped Brooklyn kitchen, we tasted the day's ingredients constantly to calibrate the salt, acidity, and fat in every dish; we never prepared food formulaically. That, after all, is how one learns to cook with the seasons. Case in point: this gorgeous salad, which is quick and forgiving and easy to recreate at home. Here are some pointers.
Pristine, peak-season citrus is non-negotiable in this dish. While good-quality navel oranges are readily available throughout the year, specialty citrus fruits—think blood oranges, sumos, oro blancos, pomelos, and satsumas—are still at their best in the winter months.
Choose an assortment to showcase a vibrant range of flavors, colors, and textures. Look for firm fruit with clear skins, good heft, and zero sponginess.
When it comes to the relish, feel free to improvise based on your own preferences and what's in the pantry. "Every bite should be unique and exciting," explains Adler, but that's where the rules end. In place of Castelvetrano olives, try a Moroccan oil-cured variety, or swap them out entirely for a handful of capers and a minced anchovy or two. I like using hazelnuts and fried chickpeas instead of pistachios. Virtually any soft fresh herb will do, but I like to err on the less aromatic side with Italian parsley or chervil, since too much herbaceousness can compete with the other flavors.
For heat, store-bought Calabrian chiles or jarred cherry peppers may be used, but at Franny's, we pickled our own. If you have a week to spare, you can do the same: Core and seed your favorite hot peppers, place them in a nonreactive pot, and cover them in a brine made of four parts white vinegar to one part sugar. Season with a generous pinch of salt, bring to a simmer while stirring to dissolve the sugar, then transfer the mixture to a jar with a tight-fitting lid. Refrigerate for at least seven days before using.
Another Franny's secret? Vinegar. It may seem counterintuitive to layer more acidity onto an already tart citrus base, but doubling (or actually tripling) down works wonders in this recipe. A backdrop of other bold, somewhat bitter ingredients like herbs, nuts, and olive oil, plus salty components like olives and flakey sea salt, are elevated, balanced, and enhanced by the addition of pickled peppers and a splash of red wine vinegar.
Amend also points to best-quality extra-virgin olive oil—and lots of it—as the salad's most important element, barring the citrus. "We used the olive oil like salt," he explains, "to take the hard edges off the citrus and bring harmony to the dish." Look for a smooth, full-bodied Italian oil such as Cru di Cures from Lazio or Tratturello from Molise. "If you're gonna splurge anywhere, splurge on oil," he adds.