Recipes
Winter Citrus Salad with Pistachio-Castelvetrano Olive Relish
Break out your best extra-virgin olive oil for drizzling over this sunny, Italian-style salad.
Serves

serves 2-4

Cook

25 minutes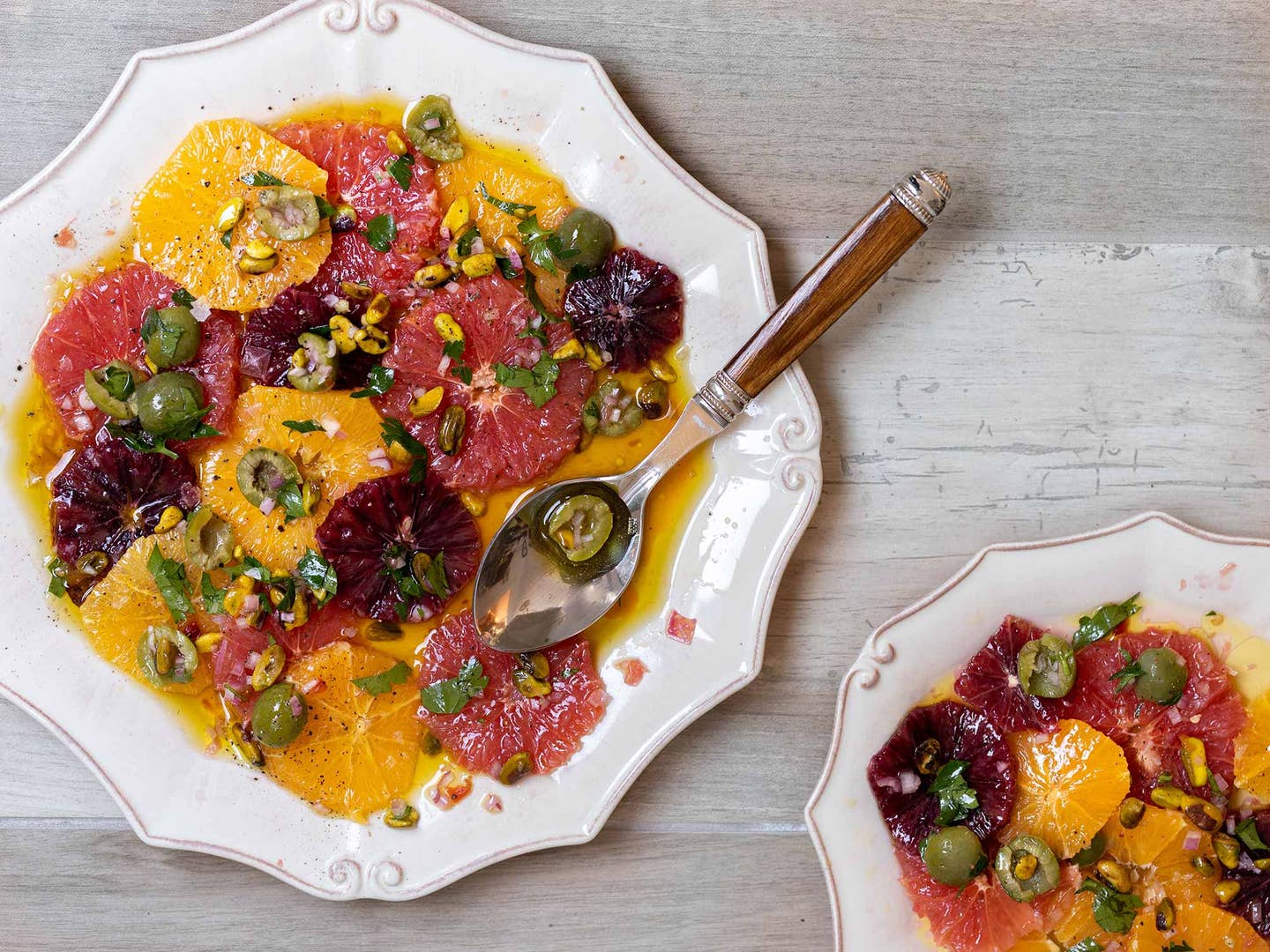 This preparation is adapted from the recipe used at Franny's, a popular Brooklyn restaurant that closed in 2017. Peak winter citrus is paired with a savory relish of toasted pistachios, Castelvetrano olives, Italian parsley, shallot, and hot pickled peppers. This combination of elements is thrilling, as the sweet and acidic citrus finds balance amidst a host of different flavors and textures (briny, spicy, grassy, crunchy). Top notch extra-virgin olive oil is the key to bringing it all together, as the richness of the oil supports and smoothes out these bold flavors. This salad is versatile, as the Castelvetranos and pistachios can be swapped out for virtually any olives or toasted nuts. For the olive oil, former Fanny's chef John Adler suggests "a medium-full bodied olive oil without too much pepper," such as Cru di Cures from Lazio, Tratturello from Molise, or Olio Verde from Sicily.
Ingredients
1⁄4 cup raw pistachios
1⁄3 cup Castelvetrano olives, pitted and torn in half
3 tbsp. extra-virgin olive oil, plus more for drizzling
2 tbsp. red wine vinegar
2 tbsp. finely chopped shallot
3⁄4 tsp. finely chopped hot pickled peppers
1⁄4 tsp. kosher salt
1⁄4 tsp. freshly ground black pepper
4 whole citrus (any combination of blood orange, cara cara orange, navel orange, grapefruit, tangerine, clementine, or mandarin will work)
1⁄3 cup coarsely chopped Italian parsley leaves
Flaky sea salt, such as Maldon
Instructions
Step 1
Preheat the oven to 325°F. Place the pistachios on a rimmed baking sheet and, when the oven is hot, roast until the nuts are lightly toasted and still somewhat soft, 5-6 minutes (they will firm up as they cool). Cool to room temperature, then coarsely chop, and set aside.
Step 2
To a medium bowl, add the olives, olive oil, shallot, vinegar, hot pickled peppers, kosher salt, and freshly ground black pepper. Give the mixture a quick stir and then set it aside.
Step 3
Slice off and discard the top and bottom of each citrus fruit. Stand the fruit upright on a cutting board, then use a sharp knife to cut away the rind and pith in strips from top to bottom, making sure to follow the contour of the fruit. Turn the fruit on its side and cut into pinwheels between ¼ and ½ inch thick. Alternatively, citrus that can be easily segmented like tangerines, clementines, or mandarin oranges may be broken into segments rather than cut into pinwheels. Remove and discard any seeds from the fruit. Arrange the fruit in a single even layer on a large platter. Garnish the fruit evenly with flaky salt, lightly crushing any large flakes between your fingers.
Step 4
Add the parsley and pistachios to the reserved olive relish and stir gently to combine. Spoon this mixture evenly over the top of the fruit, then generously drizzle with olive oil. (The salad should glisten with oil, and a little oil should pool at the bottom of the plate.) Serve at room temperature.