Shopping & Reviews
Making Candy? A Precise Thermometer Is A Must-Have Tool
These candy thermometers are easy to use and reliable, great for making everything from jam to brittle to fudge.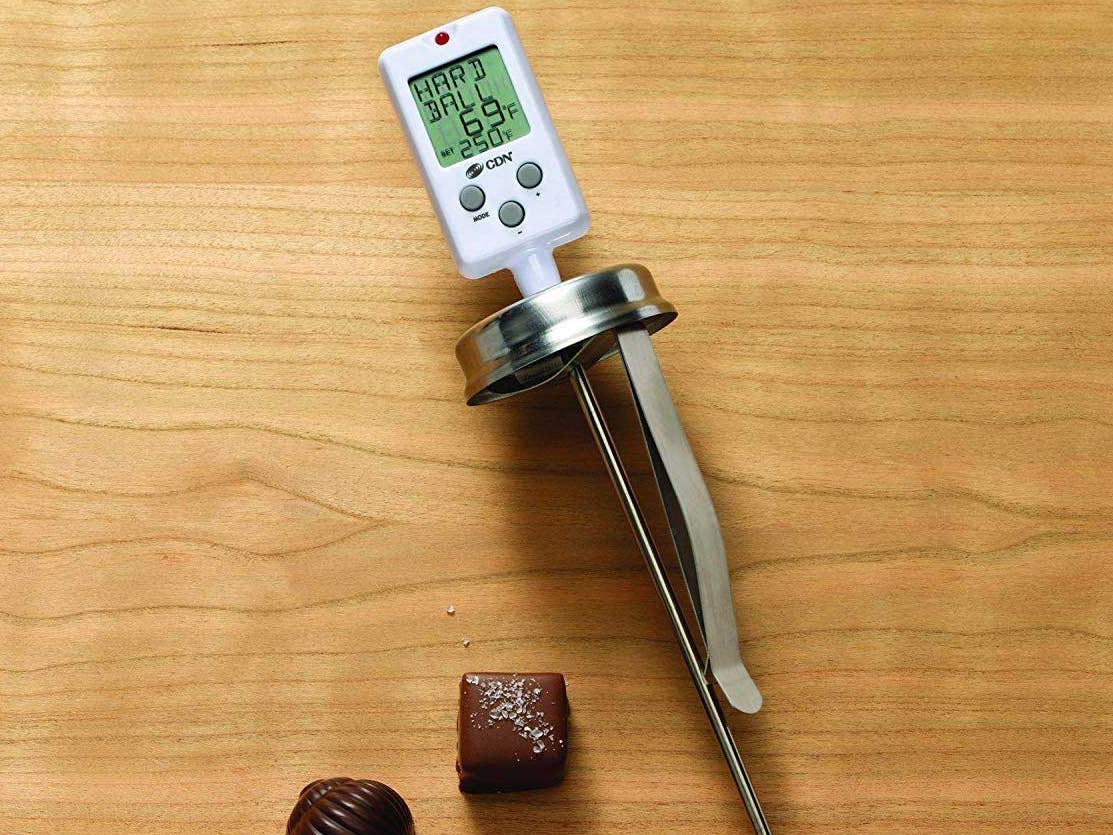 You bring the art to candy making, so let a reliable thermometer handle the science. There's no better way to ensure success—soft and creamy fudge, crispy peanut brittle, or preserves with just the right jammy consistency—than hitting precise temperatures, and a good candy thermometer is the must-have tool. We've rounded up our favorite batch, both high and low tech, for foolproof creativity in your kitchen.
Stainless Steel Thermometer
Clip this thermometer directly onto the side of the pot while cooking sugar for candy. The markings are easy to read, and the stages for cooking sugar—thread stage for jam, soft-ball stage for fudge, hard-crack stage for lollipops—are included alongside the temperatures. Though not as by-the-second precise as a digital version, this stainless-steel-and-glass thermometer gets the job done and is a snap to clean. (You can even put it in the dishwasher.) We like the sturdy, low-tech functionality of this one, as well as the comfortable heat-proof handle. It's also great for heating oil to the perfect temperature for deep-frying.
Digital Thermometer With Spatula
If you're attempting chocolate-dipped strawberries or truffles, you'll need to temper the chocolate, a process of mixing it at different temperatures to ensure a finished product with a glossy, even color and a crisp snap. We like this thermometer's BPA-free silicone spatula for all of that stirring. The single-temperature digital display is built right into the handle, so you can watch the numbers at the same time. The design is sleek, making this one the most attractive of the bunch. Remove the spatula (for easy cleanup, though the digital portion must be wiped down) and you're left with an instant-read thermometer that's great for use when cooking meat.
Programmable Digital Thermometer
High tech comes in handy with this programmable digital thermometer. An easy-to-read screen displays current temperature, the goal temp, and the name of the corresponding sugar-cooking stage. When the numbers rise to within three degrees of your target, the device beeps to get your attention—and it continues to beep while in range of this temperature. This unit clips directly onto the side of the pot, with a heat-proof shield to protect the digital portion. The plastic sheath for storage does a little multitasking: Printed with the temperatures of the cooking stages for both candy and meats, it provides at-a-glance information. Cleanup is the only place where extra effort is required, as this one can't be submerged in water.