Shopping & Reviews
5 Stylish, Stretchy Pants to Wear to Holiday Dinner
These chic options are made for eating and entertaining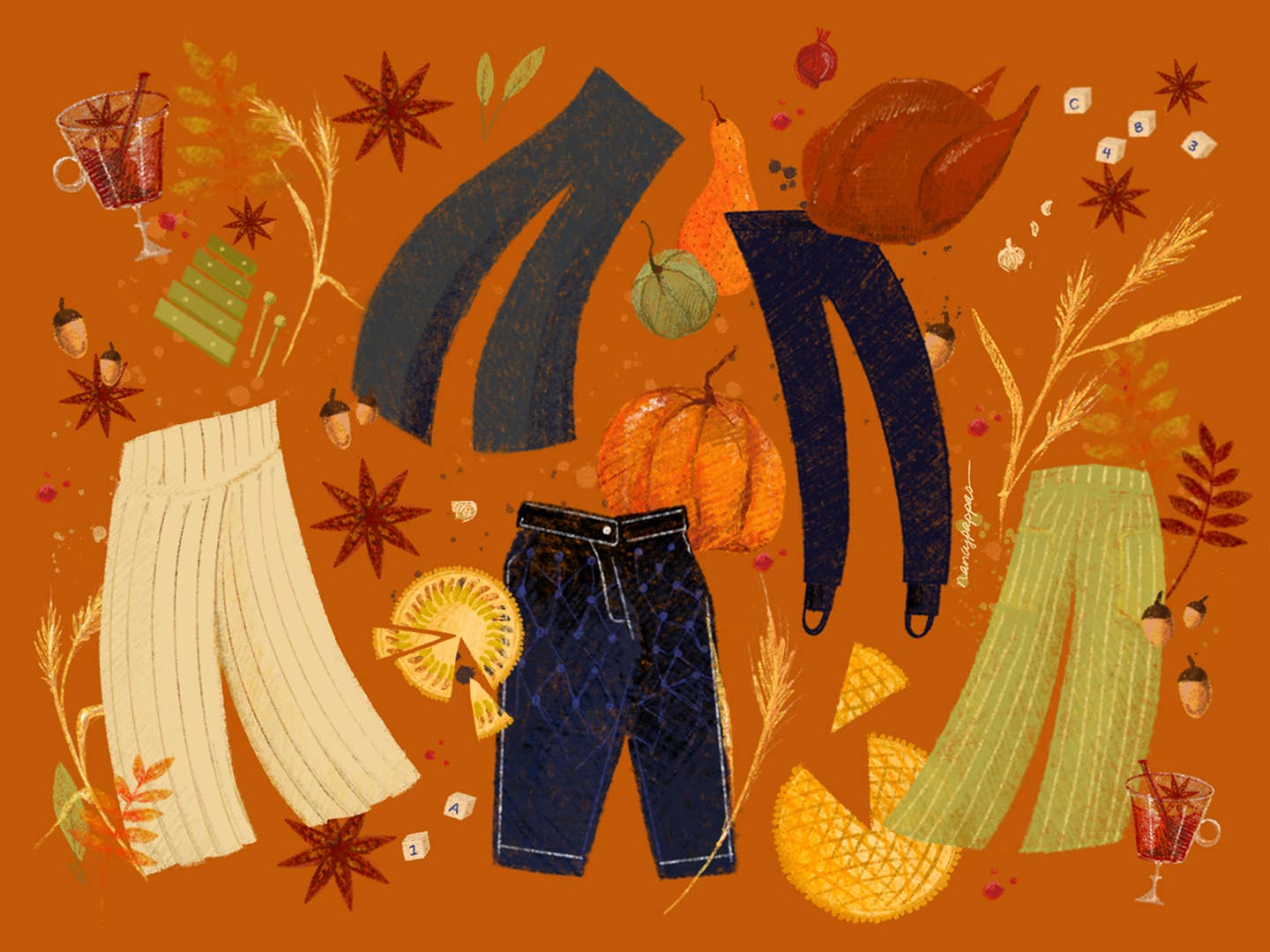 It is one of the most elegant phrases in the English language: dressing for dinner. It dates back to an era when recently polished candlesticks lit the room, and there was the occasional smashed glass but never a smashed phone screen. There is more than a hint of aristocracy to the phrase: practically speaking, there is the understanding that if you dress for dinner, you will be served by others, that they will clear the dishes and wash them up. The majority of us do not live this way. For ordinary dinners the chef, the guest, and the busser are all played by you. For many of us, that's part of the fun: testing your pastry skills one minute, enjoying the fruits of your labor the next, and then later, after you've drained the last of your wine, getting the whole story on your friend's promotion as she helps you with the dishes. But there are some occasions, like Thanksgiving, when you want to do it all, be it all, in something nice.
I'm one of those ladies for whom the answer to the eternal question "What should I wear?" is almost always pants, so this fall I've been looking for a pair that will allow me to bend down and check the pie in the oven, get on the floor to play with my niece, and keep up appearances in front of rarely seen relatives. This being Thanksgiving, the pants need to be generous in the waist but festive; cozy but polished; not so precious you'd be afraid to scoop ice cream for the pie, but tidy enough that you'll only need to defend your political views and not your wardrobe choices. Here are five eating- and entertaining-friendly options that don't remotely resemble sweatpants.
If these knit pants can be improved, I haven't worked out how. A sleek, handsome option knit from 100-percent extra-fine merino wool, Mansur Gavriel's Milano trousers are nearly seamless and hugely appealing in both black and cozy gray. Mansur Gavriel was started by friends with art degrees, a mutual love for Donald Judd, and an interest in creating simple but well-made Italian leather goods. They added a clothing line in 2017, and the luxe textiles and pitch-perfect palette make it possible to imagine letting the duo dress you entirely. These Milano trousers are a perfect example. They have an elegant hemless waist that is meant to sit just at the top of the hips, and a wide leg that gives them both a contemporary feel (Are you an art director? A graduate student with your act together? A chic mom?) and a 1940s, Katherine Hepburn touch. Best of all, the slim knit has a flattering hug that leaves room for seconds and thirds. They are conservative without being boring and are appropriate for Thanksgiving festivities whether you're charged with carrying on traditions or making new ones.
Ace & Jig has been a favorite of left-coast-minded women on the go since 2009. Based in Portland, Oregon, and made from fabric produced on hand looms in India, no two pieces of Ace & Jig's clothing are quite the same. The brand's Laura pants come in solid black as well as six different playful patterns. The flexible cotton is an easy sell for those heading to warm-weather locales for Thanksgiving or for those destined for a long day in a hot kitchen. These are curiously flattering for elastic-waisted trousers, which helps to justify their not insignificant cost. Two front pockets at hip height can handily hide dog treats or lipstick (why not both?), depending on your needs. With a full flair and a deep '70s feel, the Laura pants make a comfortable case for dressing like your favorite feminist icons while asking your husband to do the dishes.
Similar styles in more sizes here.
The first Thanksgiving dinner I ever hosted was in Delhi. In some ways it was my first dinner party, the first time I realized I could say, "Come, there will be food," and my friends would show up. In some top drawer I still have that scribbled menu with costs calculated from rupees to dollars. When I saw these autumn-weight pants from Untitled, I knew they were suitable for just such a Thanksgiving.
A Delhi-based team of Indian designers, Untitled has built a line of modern, universally appealing women's clothing using traditional Indian textiles and tailoring. Each made-to-order piece is hand-finished and often features hand-embroidery as well. Lately, I've had my eye on the brand's Nam pants, whose quilting makes for a soft yet structured silhouette. The embroidery evokes kantha-style quilting, creating a textured trouser so comfy and versatile that they give you the feeling of being softly bedded down, putting your loungewear to shame. These pants are available in a dusky green and muted pink. Most Untitled products take three to four weeks for completion and then several more weeks for international shipping, but completed stock can be found at the hip boutique Aloja in Toronto or at occasional pop-ups in Paris and New York City.
These versatile leggings from Kallmeyer—a New York-based knitwear line started by South African designer Daniella Kallmeyer—caught my eye, and then my heart. They're wool and come in black, navy, or mushroom, all in a thick, textural knit. The stirrup base is inherently sporting—the detail was originally added to riding jodhpurs to hold them in place, and a recent resurgence has a self-conscious wink missing from most athleisure trends. Like the retro beef-broth cocktails trending today, these equestrian-inspired leggings have a bracing British touch, and their easy and thoughtful styling brings a little modern dance to otherwise sedentary holidays.
Spending time with family is all about love and being reminded of how easy it is to play the role you've been perfecting your whole life. Are you going to get sour if your grandmother's Concord grape tart isn't on the table? Will you try to rearrange the flowers? I first heard about the Canadian brand Oak + Fort from a friendly north-of-the-border neighbor, but the company has boutiques throughout the United States, too. With an attainable price point, Oak + Fort makes it possible to bring a little surprise into your wardrobe routine. These pleated pants give the effect of a skirt from the front and trousers from the back, so you can break expectations—at least from the waist down.