Oven-Roasted Atlantic Butterfish with Fennel and Tomato
Roast these dainty, sustainable fish for an easy, sheet-pan supper.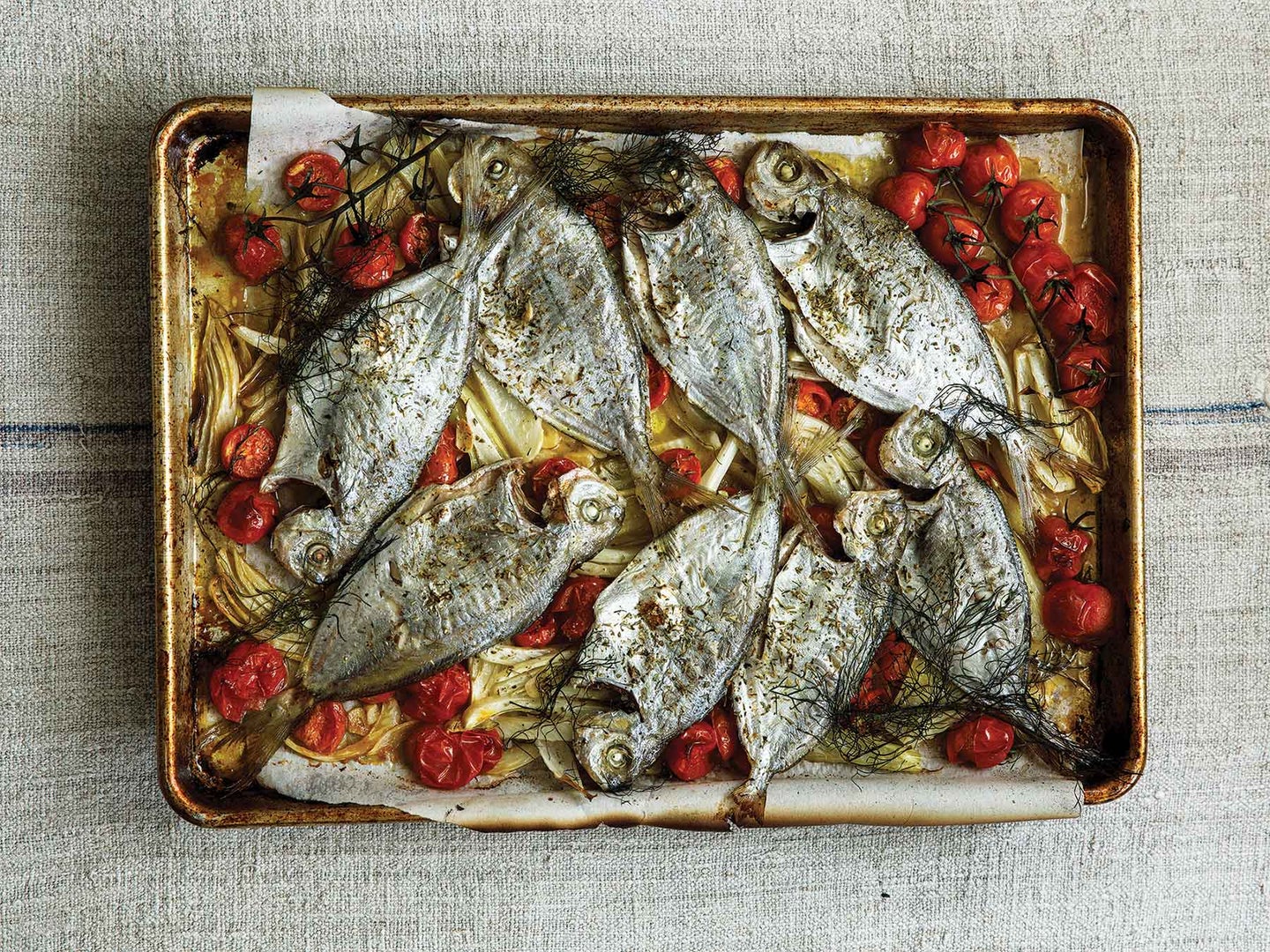 Check out all items from the Saveur 100 »
Sustainable, a snap to clean, and strangely adorable (that underbite is kind of every­thing), itty-bitty Atlantic butterfish ($6.50 per pound; ­fultonfish­market.com) are tastiest in fall, once the species—Peprilus triacanthus—has had a chance to put on a few ounces. Cook this mild-­flavored bycatch of Rhode Island's booming squid industry the way James Mitchell, the chef at Newport's Midtown Oyster Bar, does: roasted in a hot oven, over a bed of ­tomatoes, fennel, and thyme.
Featured in: The 2020 Saveur 100: 11-20
Equipment
Oven-Roasted Atlantic Butterfish with Fennel and Tomato
A common bycatch from Rhode Island's squid industry, Atlantic butterfish is easy to cook, sustainable, and delicious when cooked with Mediterranean flavors like fennel, tomato, and vermouth.
Time: 40 minutes
Ingredients
1 tsp. dried oregano
1 tsp. dried thyme
1 tsp. kosher salt
1⁄4 tsp. freshly ground black pepper
1½ cups halved cherry tomatoes
1 large fennel bulb, cored and sliced ½ inch thick
6 large garlic cloves, thinly sliced (about ¼ cup)
1⁄2 cup plus 2 Tbsp. robust extra-virgin olive oil, divided
8 whole Atlantic butterfish (1½ lb.), gutted, fins removed
1⁄4 cup dry vermouth
2 Tbsp. coarsely chopped Italian parsley
Crusty Italian bread, for serving
Instructions
Preheat the oven (with a rack positioned in the center) to 500°F. Line a large rimmed baking sheet with parchment paper and set aside.
In a small bowl, combine the oregano, thyme, salt, and pepper. In a large bowl, toss the tomatoes, fennel, and garlic with ½ cup olive oil. Transfer the tomato mixture to the prepared baking sheet.
Rinse the fish inside and out, and pat dry with paper towels. Rub the remaining 2 tablespoons olive oil over the fish, then place a generous pinch of the seasoning into each cavity. Arrange the fish atop the tomato mixture, and sprinkle with the remaining seasoning. Cook until the vegetables are soft, 18-20 minutes. Pour the vermouth over the fish, then cook 10 minutes more. Garnish with parsley, and serve with crusty bread for ­sopping up the juices.