Shopping & Reviews
The Best Stainless Steel Cookware Sets for Restaurant-Worthy Home Cooking
Stainless steel is a chef-approved, reliable choice for your home cookware.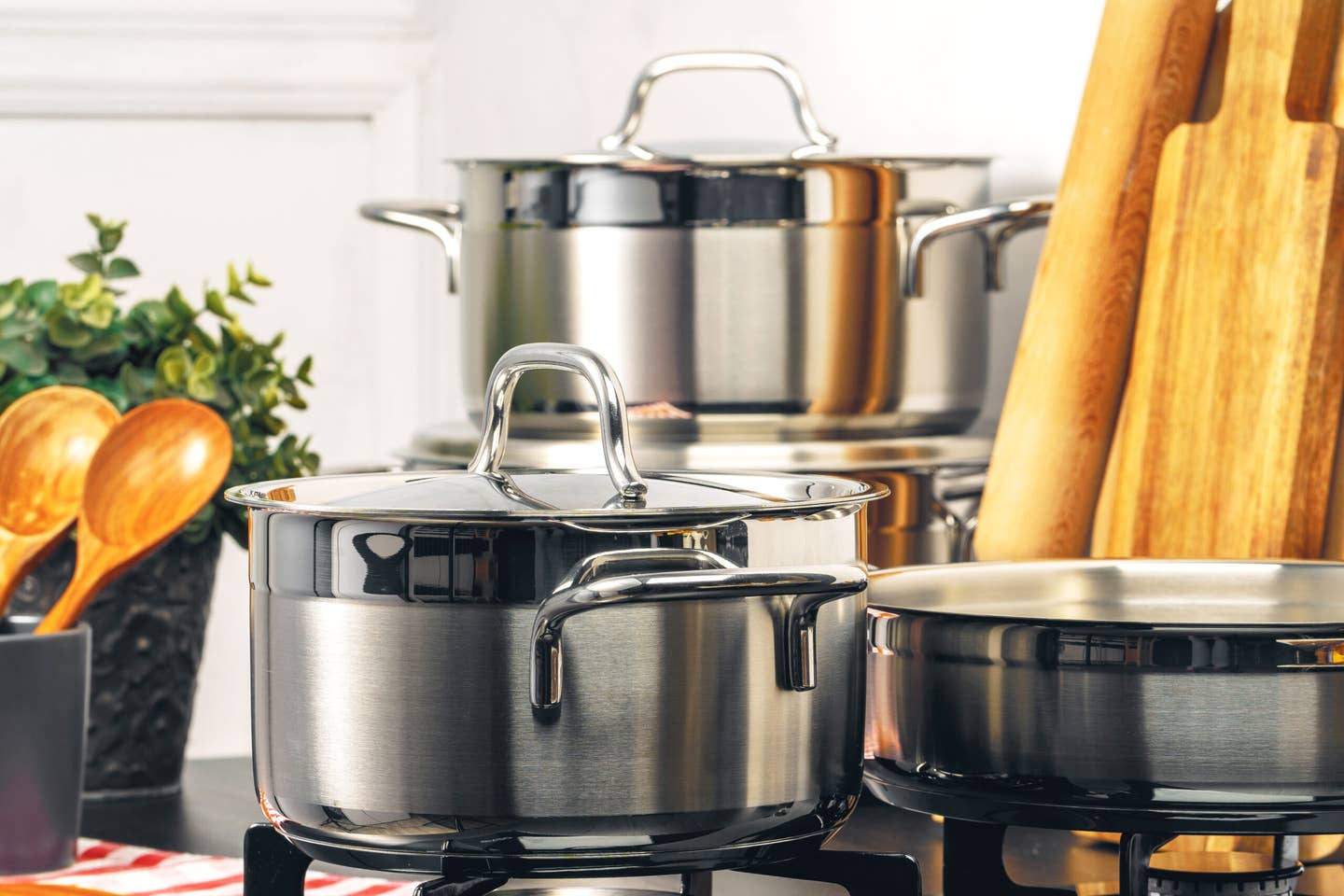 Known for its reliability and durability, stainless steel cookware has long been a favorite of professional chefs. Though figuring out how to cook with the metal can come with a bit of a steep learning curve, once home chefs master it, they rarely look back. "Stainless can be used for everything from sweating vegetables to searing meats at high temperature," says Joshua Resnick, chef-instructor at the Institute of Culinary Education. "As long as you're using the right-shaped pot or pan for the right job, there is very little that stainless steel cookware can't do."
If properly cared for, the right stainless steel cookware set can last decades. We've curated a selection of the best stainless steel cookware sets that will suit any home cook and kitchen below.
Best Overall
Construction: tri-ply construction | Number of pieces in set: 10 | Induction stove compatible: yes | Oven-safe: up to 600°F
---
Fully clad construction eliminates hot spots
8.5-inch and 10.5-inch skillets provide ample surface area for browning
6-quart stock pot takes up less space than its 8-quart counterpart
Lids are interchangeable
---
Expensive
Not dishwasher safe
Why we chose it: An industry favorite gets an upgrade with even more features home cooks have requested.
Of the experts we spoke to, the highest number recommended the All-Clad brand for its quality and reliability. This stainless steel cookware set's tri-ply construction means its outer layers of stainless steel sandwich an aluminum core, which conducts heat better and more consistently than stainless steel alone. The pots and pans are fully clad, meaning the aluminum core runs through the entire pan rather than just the bottom, which eliminates hot spots.
This cookware set was curated based on All-Clad customer feedback: Its skillets have 30 percent more surface area than those in its traditional 10-piece set, and its lids are interchangeable to both save space in your kitchen and ensure each piece of cookware in the pot and pan set has an accompanying lid. As is true with most All-Clad products, the set is expensive: Its retail price is $1,405. However, it is sometimes offered on sale for prices as low as $599.99.
Best Budget
Construction: five-ply construction | Number of pieces in set: five | Induction stove compatible: yes | Oven-safe: up to 480°F
---
Includes three workhorse cooking pans
More affordable than sets of comparable quality
Stock pot includes built-in measurement marks
---
Not as comprehensive as other sets
Less-established brand than others listed
Why we chose it: A set that gives you everything you need, and nothing you don't.
Professional chefs agree that you get what you pay for when it comes to stainless steel. Though there are less expensive stainless steel cookware sets on the market, they're often constructed with lower-quality materials that don't stand the test of time. To save money, opt for a small set like this one from homeware startup Italic, which sources products from the same manufacturers as other big-name brands on the list. This set includes three kitchen workhorses that are the ideal pots and pans to start off your stainless steel collection. Reviews of this set repeatedly call it a "steal" and say it's "indistinguishable" from big-name competitors.
Priced at $255, this is the least expensive set in the lineup. But it's also the smallest of all the sets, featuring just five pieces. Italic as a brand is also not as established as many of the power players on this list.
Best for Small Kitchens
Construction: five-ply construction | Number of pieces in set: six | Induction stove compatible: yes | Oven-safe: up to 800°F
---
Includes three stainless steel workhorse pots and pans
Comes with a nonstick pan, too
Products made in the U.S. and Italy
---
Not as comprehensive as other sets
Why we chose it: This small set from a chef-trusted brand includes quality stainless steel pieces, along with a must-have nonstick pan.
Made In's six-piece stainless set includes an 8-quart stock pot with a lid, 2-quart saucepan with a lid, and two 10-inch skillets, one nonstick and one stainless steel. For those with small kitchens or limited storage space, this set checks every box. Add a cast iron skillet and Dutch oven, and your cookware collection will be complete.
Though similar to the set from Italic, the added bonus for this set from Made In is that it includes a nonstick skillet perfect for scrambled eggs or other tasks that require its slick surface. Like Italic, Made In is a newer brand, though it has quickly become a favorite amongst chefs. This set, among the most affordable on the list, also includes fewer pieces than others.
Best Time-Saver
Construction: tri-ply construction | Number of pieces in set: 10 | Induction stove compatible: yes | Oven-safe: up to 450°F
---
Includes a wide variety of pots and pans
Laser-etched markings for easy measuring
Scratch-resistant satin finish
Only set with a casserole pan perfect for braising
---
Expensive
Disk-bottom pans aren't for everyone
Why we chose it: A comprehensive set with handy measuring guides.
Most of the chefs and home cooks we spoke to for this list prefer fully clad stainless steel cookware, but some, like The Forked Spoon founder Jessica Randhawa, prefer disk-bottom pans like the ones in this set. In these pans, the better heat conductor, usually aluminum or copper, is sandwiched between two layers of stainless steel on the bottom of the pan. Randhawa prefers this construction because she says it eliminates hot spots, which can be an issue if fully clad pans are poorly engineered or constructed.
This set is the only one on our list that includes etched measurement markings on each pan in the set. "Having this integrated measuring scale in my pots and pans allows me to measure the liquid amounts I need directly in the cookware while saving me time on the back end with fewer dishes to clean," Randhawa says.
This set is pricey, though. With a retail price of $919.95, this is among the more expensive sets.
Best Splurge
Construction: five-ply construction | Number of pieces in set: 14 | Induction stove compatible: yes | Oven-safe: up to 600°F
---
The most comprehensive set on the list
Combination copper and aluminum core for fast heating and incredible responsiveness
10- and 12-inch pans offer ample surface area for browning
---
Very expensive
Takes up a lot of space
Why we chose it: A beautiful set with all the bells and whistles.
Of the sets on this list, this 14-piece set from All-Clad is the largest, along with being the only one that features pots and pans with a copper core. Copper is revered by chefs for its responsiveness and its ability to heat quickly, but it's more expensive than both stainless steel and aluminum. This set's five-ply construction features outer layers of stainless steel, two inner aluminum layers, and a copper core. It is fully clad. This set's copper detailing is beautiful, and it includes everything a home chef could need for excellent stainless steel cooking.
This set's biggest con is that it's expensive: Its normal retail price is $2,729.92, though it does go on sale occasionally. Plus, with 14 pieces, it also takes up a significant amount of storage space.
Things to Consider Before Buying a Stainless Steel Cookware Set
How much home cooking you do
Stainless steel is an incredible material, but it requires some work to learn how to best use it. It must be preheated before adding butter or oil to create the nonstick layer that allows your food to sear properly. "If you don't preheat it, you will more often than not end up with a burnt, harder-to-clean mess on the bottom," Randhawa says. If you're still a novice home cook, it could be better to buy one stainless steel pan to decide if you like cooking with it before investing in a set.
How much storage space you have
Those who love cooking with stainless steel will find ample use for all the pots and pans in the large sets on this list, but they do take up a considerable amount of storage space. Several experts we spoke to said all you really need from a stainless steel cookware set is a saute pan, saucepan, and stock pot (with lids). That being the case, the Italic and Made In sets on this list will fit the bill.
If you're averse to hand-washing, stainless steel might not be for you. Some of the brands on this list tout the fact that their sets are dishwasher safe, but the Institute of Culinary Education's Resnick recommends hand-washing in all cases. "Being in a moist environment for so long can cause water spots to appear," he says. "Always make sure the pan is cool before cleaning, and dry immediately so it keeps it luster. Don't use a tough abrasive to clean it."
All of the sets on this list are either tri-ply or five-ply. That means the core metal is clad, or sandwiched between layers of stainless steel. Always look for stainless steel pans that are at least tri-ply. Consider if the cookware is fully clad or disk-bottomed as well. Most chefs prefer fully clad cookware.
What is the highest grade of stainless steel?
Many brands tout the makeup of the material they use, such as 18/10 or 18/8 stainless steel. The first number refers to the amount of chromium in the steel, and the second to the amount of nickel in it. The presence of both of these metals makes the stainless steel food-safe and resistant to rust and corrosion. The higher the numbers, the more resistant.
There are dozens of different types of stainless steel and multiple different rating systems. For cooking purposes, the highest grade of stainless steel is 304 stainless steel, which is what 18/10 and 18/8 stainless steel are.
Which stainless steel is nickel-free?
Nickel-free stainless steel is grade 430 and 18/0, or 18 percent chromium and 0 percent nickel. Its primary usage in cooking is for silverware. If you have a nickel allergy or sensitivity, it is not advisable to seek out 18/0 cookware because it will corrode easily due to the lack of nickel. Consider ceramic-coated cast iron cookware instead.
How can you tell if stainless steel is good quality?
Touting its metal makeup is a way brands attempt to set their cookware apart from the competitors. To be considered food-safe, stainless steel must contain 18 percent chromium. Good-quality stainless steel also contains either 8 percent or 10 percent nickel. If a stainless steel cookware set is marketed as 304, 18/10, or 18/8, it is considered good quality.
Each of the sets featured on this list has its pros and cons, but based on size, price, and expert recommendations, the All-Clad Everyday Set is the best stainless steel set on the market. Its solid construction and smart features make it ideal for passionate home cooks who want to step up their game.
To compile this list, we spoke to professional chefs, food bloggers, and home cooks about what they look for in a stainless steel cookware set. We researched which features matter when it comes to cooking with stainless steel—and what's just marketing. We evaluated which sets included pots and pans that would actually be useful to the avid home cook.
We prioritized tri-ply or five-ply construction because that's what most experts recommend. We also prioritized fully clad cookware because the largest number of chefs prefer working with pans that are fully clad. All of the sets on this list are induction stove compatible and oven safe, which is necessary for chefs and home cooks who need their cookware to be versatile.