All the Cooking Tools You Need to Make Thanksgiving Magic
The best fat separator, roasting pan, and pie tin for a perfect meal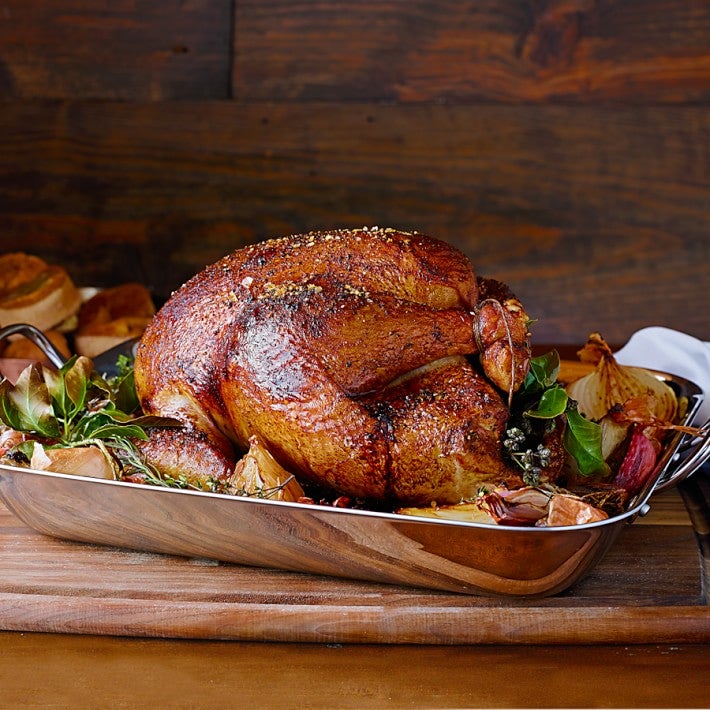 While it's totally possible to pull together a memorable feast in a bare-bones kitchen, multicourse meals are always easier to execute with advance planning and the right equipment.
Whether you're preparing to cook your first Thanksgiving dinner or your 50th, take a full inventory of your kitchen tools. If any of these essentials are missing, save yourself some unnecessary stress by updating your arsenal.
I know it's annoying to invest a piece of kitchen equipment that gets used only once or twice a year, but consider the alternatives: flimsy disposable roasting pans can't take stovetop heat, forcing you to forfeit all that beautiful fond (the solid gold of proper gravy-making); they buckle under the inevitable heft of a stuffed turkey and usually only survive one or two uses.
My own mom's "easy-clean" non-stick roaster isn't much better; it can't be reliably used with its metal roasting rack, lest it end up sloughing bits of Teflon coating into the pan drippings (unacceptable!). So if you're going to splurge on one tool for Thanksgiving, get yourself (or whoever is cooking this year) a good roasting pan. This one from Williams Sonoma is wide enough to accommodate an extended-family-sized bird and the low sloped sides allow for more even browning (and more crispy skin to go around).
If seasonally specific serving trays are cluttering your china cabinet, Marie Kondo the lot of them and get yourself one oval, white platter to go with everything. This pretty beaded option is formal enough for your holiday table and sturdy enough to be withstand years of family dinners and tipsy dish-washing.
Properly carving a whole bird is a messy endeavor. Save your guests the butchering tutorial and, after presenting the turkey, take it back in the kitchen. Get it off the platter, onto a nice, big, cutting board, and carve into pieces.
This wide, plastic, restaurant-style board is easy to sanitize, reasonably priced, and has a deep juice groove to contain all the messy drippings.
…And since you won't be butchering the turkey tableside, don't fuss with a showy, overpriced carving set or one of those old school electrified monstrosities. This easy-to-clean and easy-to-sharpen carving set from Global holds a razor sharp edge; the thin, 8-inch blade is long enough for smooth slicing while still maneuvering nimbly around poultry bones. The textured handles prevent slipping when working with greasy cuts of meat, and the set is attractive enough to be seen by any guests who might have followed you and that turkey back into the kitchen.
Yes, you can absolutely use a spoon to painstakingly separate the turkey fat from the pan drippings. But someone invented a more efficient way of doing it a long time ago and it's well worth the cost. Bite the bullet already, particularly with this model which subs out the pour spout (and the accompanying risk of spilling fat out the top) for an easy-release valve on the bottom of the cup. Trigger it on the handle, then let pan juices stream out the bottom.
Classic, wide, genie-in-a-bottle looking gravy boats take up too much precious space on your dinner table and their elongated shape causes gravy to cool quickly to room temperature. This handsome, handmade version from our friends over at Food52 is more sensibly-shaped, keeping sauces warm for longer in a more compact space.
Those cheap-o, ready-to-eat indicators that come stuck into grocery store turkeys are a reliable indicator only that your turkey is overcooked to the point of sawdust. Do your nerves a favor and remove it before the bird goes in the oven. You will have much better results if you get yourself an inexpensive, oven-safe meat thermometer. This handy probe version can remain in the meat in an oven or grill while the digital readout remains out at room temperature.
A few matching, brightly-colored baking dishes can make your whole spread look intentional and Instagram-ready. These ceramic oven-to-table dishes come in an assortment of jewel-tones to brighten up even the coziest, autumn-brown side dishes.
Several years back, I entered an apple pie contest and set out, under the tutelage of my first chef, to make the best lattice-topped pie in town. I tested a bunch of crust recipes and every style of pie plate I could get my hands on. I was dead-set on having a pie that was juicy on the inside but evenly browned and caramelized on the bottom. Again and again, the only plates that gave me that coveted texture were those made of thin, chintzy metal—not the disposable foil versions, but rather the lightweight aluminum or stainless types you'd find in any grandma's kitchen.
I came in third, though I'm proud to say my pie was the only lattice-top that placed that year. I also succeeded in making my pie exactly how I wanted it to be and that recipe has served me well ever since. Glass and ceramic can't compare.
These days, I avoid cooking in aluminum, so I switched to this set of thin stainless pie plates. They work great for crispy, crunchy, bottom crusts, and they're deep enough to accommodate an award-worthy amount of juicy filling.