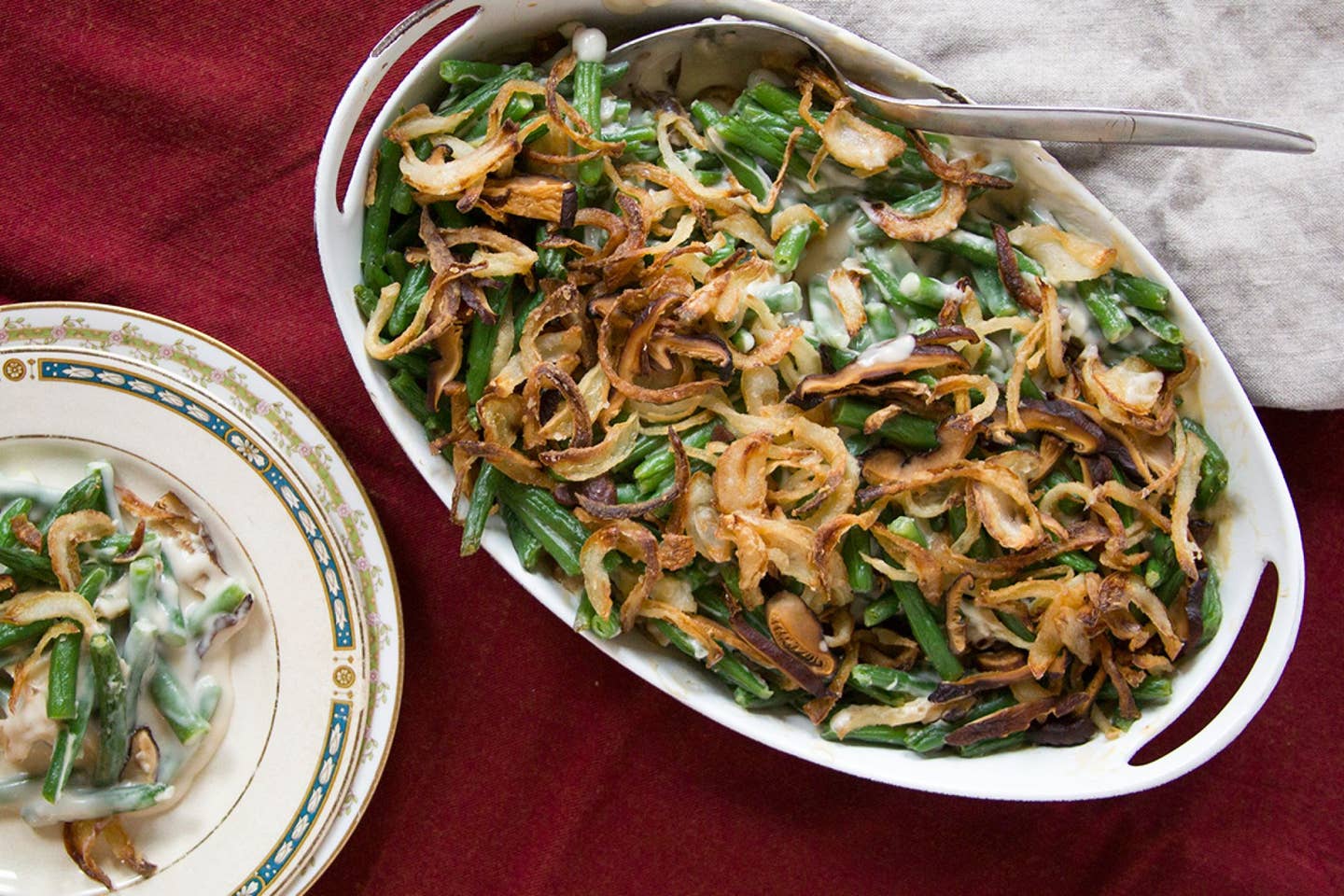 Techniques
7 Ways to Improve Your Thanksgiving Sides
Hack your way to better gravy with booze and the fastest way to peel a head of garlic
The Case for DIY French Fried Onions
Don't tell Alex Testere's mom, for whom he believes the greatest joy of Thanksgiving is making a green bean casserole solely for the opportunity to top it off with a can of French's fried onions, but: fry your own. Sliced thin, soaked in buttermilk, battered, and fried—there is no canned comparison for the real deal. You'll need a bit of patience, and a little extra time (both hot commodities during holiday times, we know), but the payoff is a boatload of crispy onion bits somehow perfectly juicy, crunchy, and onion-y all at the same time.
For the Best Mashed Potatoes, Use a Potato Ricer
A potato ricer might seem like one of those archaic, single-purpose kitchen gadgets that mostly just takes up space in your cupboard. And that's because…it kind of is. But it's also, scientifically speaking, the best tool for the job when it comes to making fluffy, not-gluey-at-all mashed potatoes. Mashing potatoes willy-nilly releases significantly more starch than running them through the ricer, which breaks them down neatly and swiftly. An adequate ricer will run you about $15 online, which is super worth it, even for only the occasional unearthing on potato-based national holidays (ie. the best holidays).
Skip Dinner Rolls for Popovers
Fast and fluffy popovers are the more efficient answer to traditional dinner rolls—they don't require any rising time before baking and the batter comes together in minutes. When the turkey's finished, keep the oven on, preheat some deep muffin tins with little pats of butter, and fill them halfway with popover batter. By the time the turkey is rested and carved, the batter will have "popped over" into a hot, custardy pastry.
Hack Your Way to Better Gravy With Booze
An easy way to boost the flavor of your gravy? Add a dram of fortified wine. Sweet sherry, port, and madeira have incredible depth and also some sugar, and just a couple tablespoons stirred into your finished gravy will accentuate the richness and sweetness of the caramelized pan juices and other ingredients.
We make our Thanksgiving game plan based on temperatures: what needs the oven and for how long, what gets stored in the fridge, what stays simmering on the stovetop. Test kitchen director Stacy Adimando's suggestion to make it all simpler: embrace room temperature. The more dishes you can make ahead of time and move out of the kitchen fully plated and ready to go, the better.
Truly Great Mashed Potatoes Need Cream
Top-notch mashed potatoes need more than lots of butter—they also need cream. Cream adds moisture to better emulsify butterfat into potato; without it you get dense potatoes with a buttery grease slick. It also, paradoxically, makes your potatoes taste much lighter—delicate and fluffy, almost like whipped cream.
The Fastest Way to Peel a Head of Garlic
Planning a big meal often means peeling a ton of garlic cloves. The solution: this amazing trick for peeling an entire head of garlic in less than 10 seconds, no knife or acrid fingernails required.