Recipes
Pastel de Tres Leches (Sponge Cake with Three Milks)
Serves

makes one 7" x 11" cake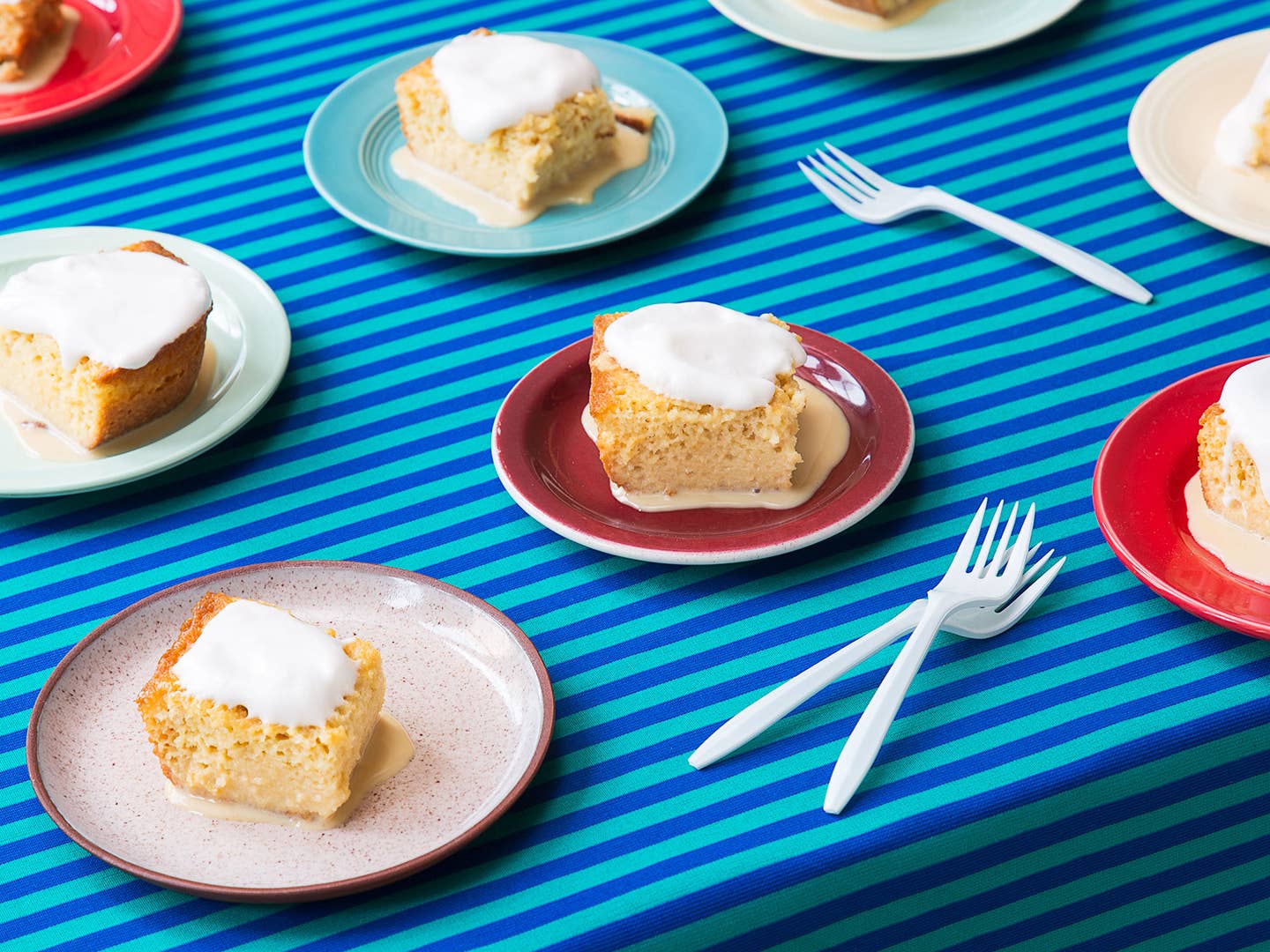 Popular throughout Latin America, this easy tres leches recipe is thought to have originated in Nicaragua. Food historian and SAVEUR contributor Maricel E. Presilla developed this recipe for the latest edition of Joy of Cooking by Irma S. Rombauer, Marion Rombauer Becker, and Ethan Becker (Scribner, 1997).
Ingredients
FOR THE CAKE
1 tsp. butter
1 cup flour
2 tsp. baking powder
3 room-temperature eggs, separated
1 cup sugar
1⁄4 cup milk
1 cup heavy cream
1 (14-oz.) can sweetened condensed milk
1 (12-oz.) can evaporated milk
FOR THE FROSTING
2⁄3 cup light corn syrup
2 room-temperature egg whites
Instructions
Step 1
For the cake: Preheat oven to 325°. Grease a 7'' x 11'' glass baking dish with butter and set aside. Combine flour and baking powder in a small bowl and set aside. Beat egg whites in a large bowl with an electric mixer on medium speed until soft peaks form, 2-3 minutes. Increase speed to high and gradually add sugar, beating until whites are glossy, 1-1 1⁄2 minutes, then beat in yolks, one at a time. Stir in one-quarter of the flour mixture at a time. Add milk and stir until smooth. Pour batter into prepared dish. Bake until a toothpick inserted into center of cake comes out clean, 25-30 minutes. Set aside to cool in dish, then prick at 1" intervals with a toothpick.
Step 2
Combine cream and condensed and evaporated milks and slowly pour over warm cake in dish. Set aside to cool, then cover and refrigerate for at least 1 hour or overnight.
Step 3
For the frosting: Combine corn syrup and egg whites in a large heatproof bowl. Set bowl in a skillet of gently simmering water over medium-low heat and immediately beat egg white mixture with an electric mixer on low speed until it reaches 140° on an instant-read thermometer. Increase speed to high and beat until stiff glossy peaks form, 4-5 minutes. Remove bowl from heatand beat until meringue is cool, 2-3 minutes, then frost cake.