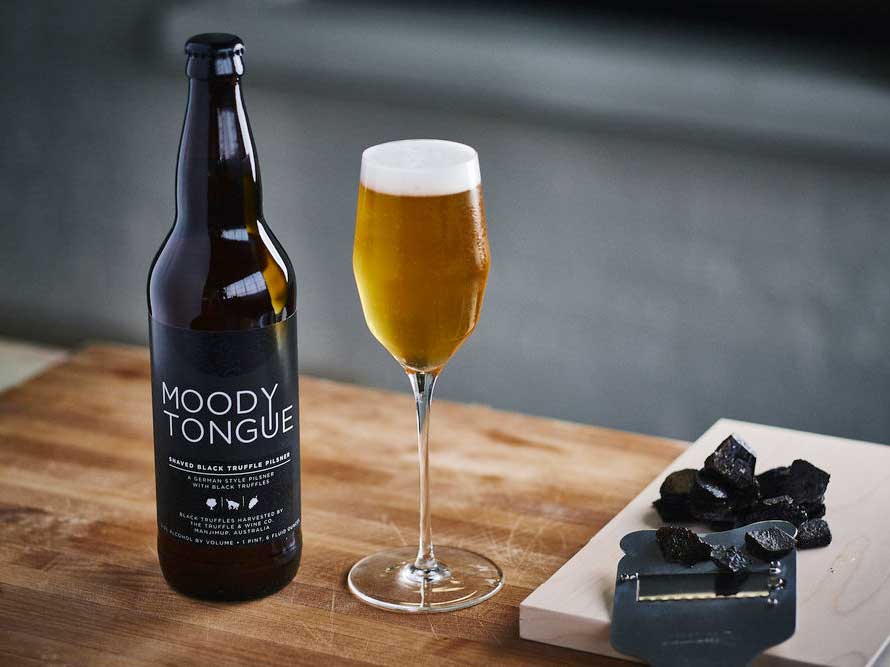 Drinks
You Can Now Drink Truffle Beer On Tap
Chicago's Moody Tongue Tasting Room brings its funky pilsner to the masses
Truffles, the "diamond of the kitchen," are one of the world's most sought-after luxuries. It commands high prices for shavings over pasta, pizza, and olive oil. And now, Food and Wine reports, you can get in your beer.
"During my garde manger class at the Culinary Institute of America, I was told I would rarely have access to this ingredient, so appreciate the moment—and, more importantly, the ingredient itself," Rouben tells SAVEUR. "The opportunity to handle truffles typically only exists within a few kitchens, and so when Frank Brunacci of the Truffle & Wine Company reached out to me to create a beer with their Australian black truffles, I immediately focused all of my efforts on the project."
Rouben consulted with various chefs and culinary professors on how to incorporate and handle truffles in a beer, without compromising the integrity of either component. Still, Rouben says, not everyone was initially on board with the idea.
"Very few people have the opportunity to experience truffles within dishes, so I believe I naturally received a bit of skepticism when releasing this beer," said Rouben. "That said, once it was available at restaurants with fantastic service teams who hold a strong understanding of the ingredient, I believe the culinary community quickly adopted its placement on menus alongside delicious food."
Now, Rouben is releasing the game-changing beer on tap at his Moody Tongue Tasting Room. In two weeks time, craft beer lovers and the taste-bud-adventurous alike will be able to order a glass of the famous truffle pilsner in the Tasting Room. There, guests can also learn about Rouben's process: shaving the black Australian truffles by hand before adding them to the brewing process over a low heat so as to encourage the infusing of oils and aromatics. Pilsners are traditionally light and unobtrusive, making it the appropriate platform for the decadent special ingredient. The beer also has a low ABV, with only 5 percent alcohol content, meaning it isn't a boozy choice, rather an indulgent one.
But how do you drink a truffle beer, exactly? Rouben says the best way to enjoy it is in good company, preferably, but also with an open glass.
"I would suggest enjoying the Shaved Black Truffle Pilsner within a champagne flute between 42 and 48 degrees," Rouben tells SAVEUR. "Just like with shaved black truffles on a pasta, much of the beauty lies within the aromatics of the beverage. With the holidays coming up, share this beer with friends and family—and possibly a bone-in ribeye."
The Tasting Room has a limited, carefully thought-out menu, which includes a rich chocolate cake and oysters—a perfect match for a something as luxurious as the so-called diamond of the kitchen. Whether or not the beer lives up to its hype stands to be seen, but it's an experiment worth testing.