Video: How to Dehydrate Strawberries
Pastry chef William Werner shows us how to make candy-sweet, dehydrated (but still juicy!) strawberries in the oven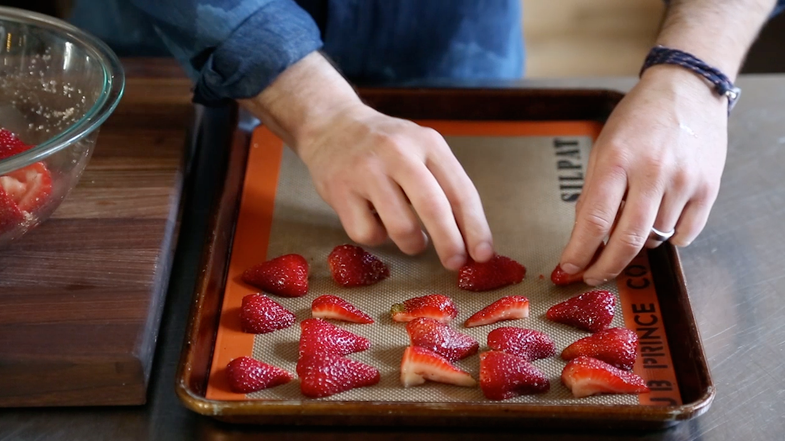 Summer strawberries generally don't last very long in our kitchens, but when we're faced with a particularly generous harvest, we love discovering unexpected ways to use them up. Pastry chef William Werner of Craftsman and Wolves came by our test kitchen recently to show us one of his favorite things to do with strawberries: dehydrate them and use them to top tartlets, mini cakes, or ice cream. By heating them for several hours in a low oven, he's able to concentrate their flavor, resulting in candy-sweet (but still juicy) berries that are perfect for topping any number of treats.
He starts by cutting up the strawberries into evenly sized pieces, making sure to get the most out of each berry by hulling it correctly. He then tosses them with coarse sugar; he prefers Demerara sugar (or something similar) over granulated sugar, which doesn't draw quite as much water out of the berries. Once cut and sugared, he lines up the strawberries, cut side-down, on a baking sheet lined with a Silpat mat, and bakes them on the lowest possible temperature in the oven. The final product should not be blackened or fully dehydrated; Werner aims for strawberries that are slightly juicy and semi-dry.
Try a handful on top of olive oil gelato or pastry cream-filled tartlets, or even use them to add a pop of sweetness to summer salads.