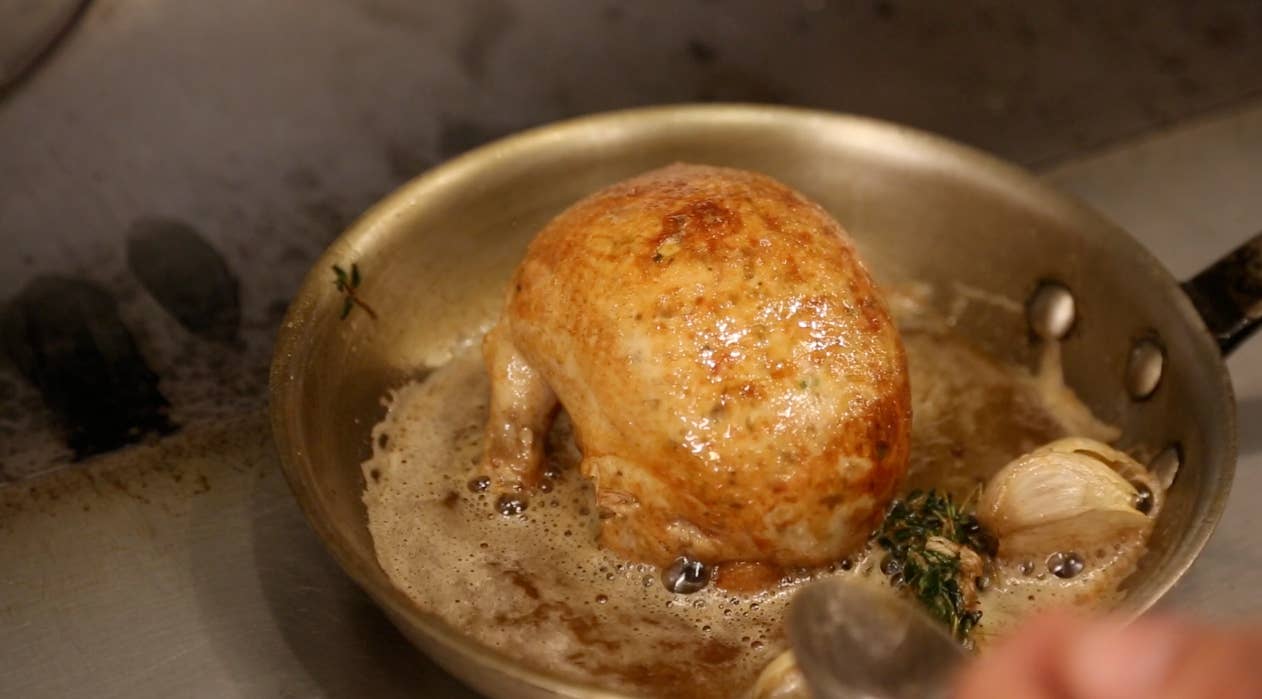 Techniques
Video: How to Pan-Roast a Chicken
The secret to a perfectly browned bird? Pan-roasting it, then finishing it in the oven
Erik Anderson has a bone to pick with your oven-roasted chicken. "Nobody takes the care to brown everything at home," says Anderson, current chef-in-residence at Intro in Chicago. To get a perfectly roasted chicken, or turkey, or hen, he first pan-roasts it stove-top, where he can tend to every inch of skin and ensure it browns up to his liking, before finishing it in the oven. Today, he's showing us the technique with a poussin, or spring chicken.
Anderson starts with a hot sauté pan—"not your grandma's cast iron skillet," he says—and a generous dose of oil. Some key tips: make sure your bird is as dry as can be (to avoid splattering) and let it reach room temperature before cooking (which helps it to cook more evenly). Then start with the shoulders, with the cavity up. "I start browning the edges against the curve of the pan, the shoulders, the wing joints—everything. Always use the edge of the pan to your advantage," he explains. It's the best way to properly cook those hard-to-reach areas.
Then come the breasts: sear one, and then the other, against the edge of the pan. Then, flip the bird back onto its shoulders and baste it with butter that's been cooked with whole garlic and thyme. "Get it all over there," Anderson instructs.
Once your bird is brown and basted, finish it at 350°F—the time will depend on the size of the bird. Anderson doesn't judge doneness by internal temperature (although he does recommend stopping a bit before you reach the suggested "safe" temp, as the bird will continue to cook as it sits), but instead inserts a cake tester into the bird and presses that against his lips. "If it's warm to the touch on your lips, it's done."