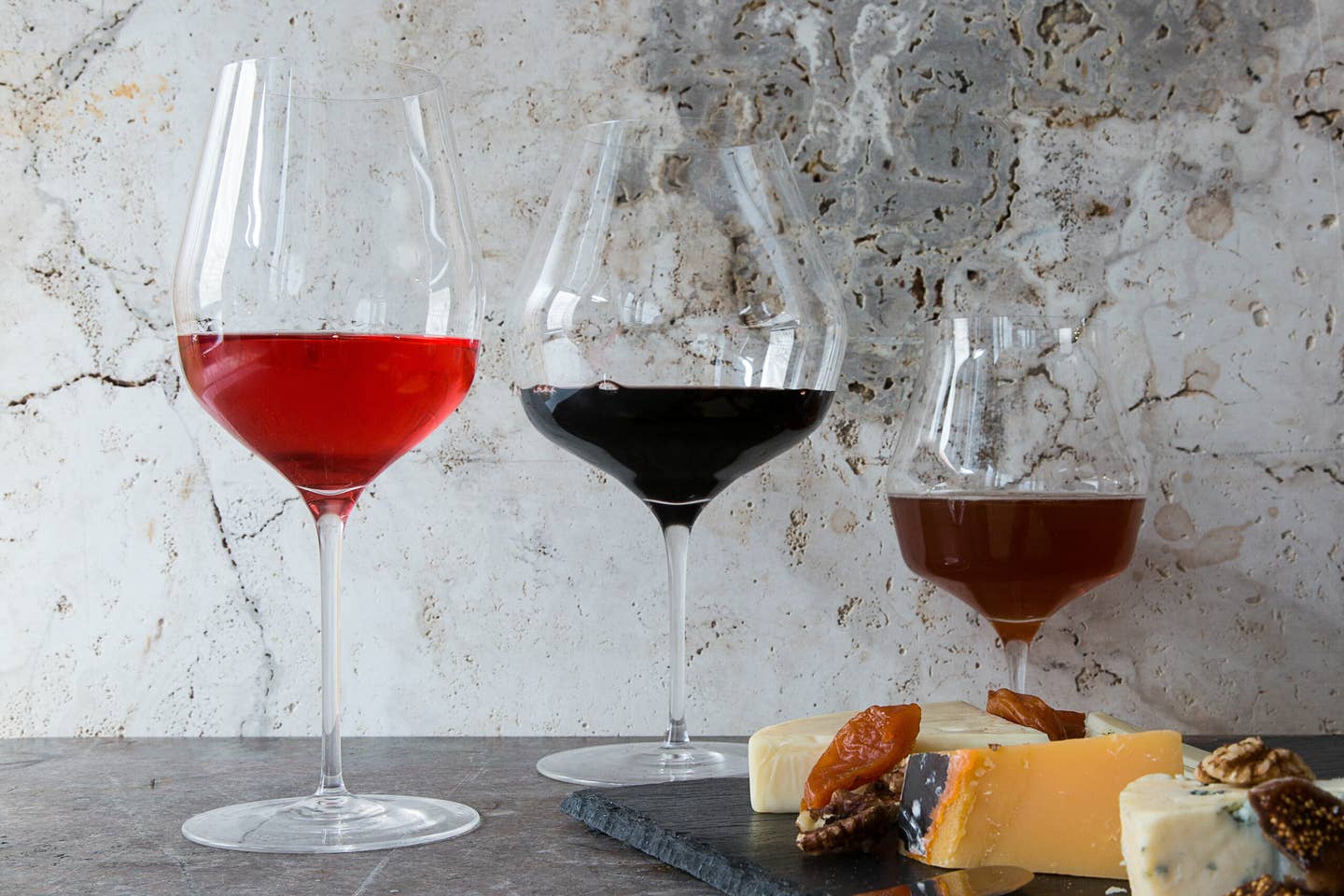 Shopping & Reviews
What a $70 wine glass buys you
How design details can create a more pleasurable drinking experience
Most people, myself included, would balk at the idea of a $70 wine glass. But when I saw these new Double Bend crystal glasses from Austrian maker MarkThomas, they were so beautiful, so thin and lightweight, that I began to think they might be worth the price for their "wow" factor alone. It turns out there's a lot more to recommend them.
Because they're made of lead-free crystal, these glasses can go through unlimited dishwasher cycles without clouding up. (I was surprised to learn they were dishwasher-safe at all!) They're also slightly shorter than comparable glasses and have a slightly larger base, both of which add to their stability (good for somewhat clumsy people like me). And if they do fall, they have a chance of surviving, because the mouth-blown crystal literally bends a bit to the touch, making the glasses less likely to break.
As for the two bends in the bowl, they're not meant as simple design flourishes. They mark the perfect tasting pour (1.5 oz.) and the perfect serving pour (6 oz.). That's definitely more useful to restaurateurs than to the rest of us, but the bend at the serving level also marks the widest point in the bowl, so if you stop pouring there, you get the maximum surface exposure, helping to aerate the wine more quickly.
I get that, but I'm not sure I get the claims that the bottom bend and the particular design of the bowl where it meets the stem work together to "lift" the aromatics of the wine. I generally have a hard time believing that glass shape changes a wine's taste, or maybe I'm just not enough of a connoisseur. Sommelier Ryan Arnold, of the Paris Club Bistro & Bar in Chicago, who has been testing the Double Bend glass, is a believer. "When I tried wine out of the glass—and I often taste the same wine out of four or five glasses—what I noticed was how focused the aromatics were, especially when tasting more delicate varietals," he says.
Whether or not that's the case doesn't really matter to me. I love the lines and the near weightlessness of these glasses, and showing them off to my guests will provide a pleasure of its own.