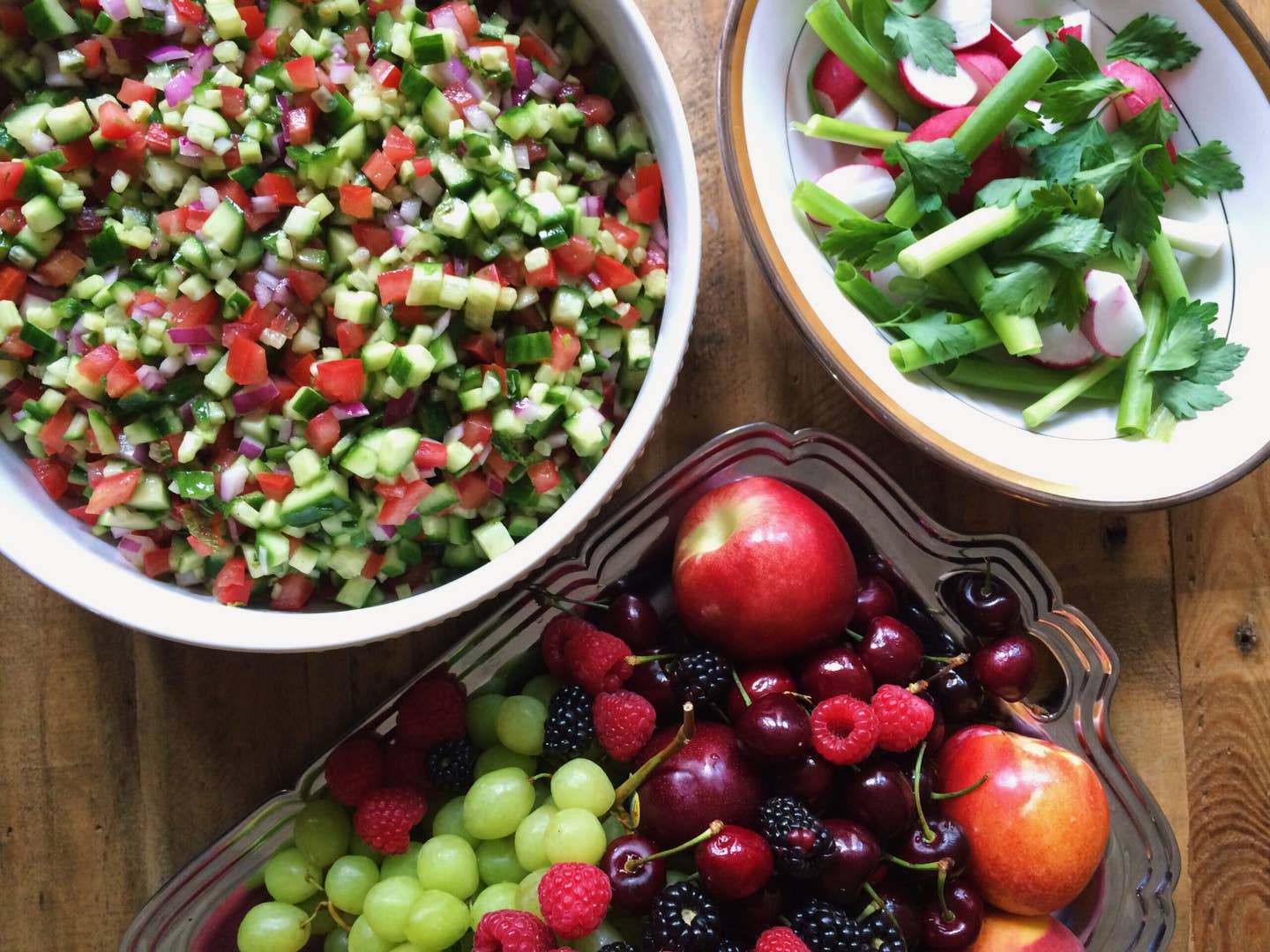 Techniques
What We Learned This Week: June 8-12, 2015
How to make onigiri, cook an octopus, and create a Persian feast
Each week is a new culinary adventure in the SAVEUR Test Kitchen. From cooking tips and kitchen hacks to product discoveries and creative ingredient uses, here's where we share our biggest takeaways.
We learned how to make onigiri this week, Japanese rice balls mixed with different condiments and wrapped in nori. The true lesson was in Japanese condiments: ground red shiso, an herb used primarily for giving a red hue to pickled plums; grilled cured pollack roe, a saltier and firmer version of the roe served on sushi; and dried salmon flakes, chewy bits of salmon reminiscent of bonito flakes in flavor. Each one made for a completely different flavor profile in onigiri, making it a truly customizable rice treat.
Some may find octopus a little daunting, but it's really quite simple to make. We found the easiest way to prepare this fellow was to remove the head and then take out the ink sac located in the center—important to prevent a messy situation. While there are many ways to cook an octopus, I find the best way is to start by simmering it for about an hour in water or red wine. Drain the octopus and remove the tentacles, tossing them with olive oil, salt, and pepper. On a hot grill, cook tentacles until lightly charred, about 8 minutes.
We made Chocolate Cupcakes with Goat Cheese Frosting this week, and food editor Ben Mims gave us all a lesson in icing cupcakes. To get the look here, start with about two tablespoons of frosting in the middle and spread with a butter knife, making sure not to touch the cupcake liner.
Test kitchen director Farideh Sadeghin's father came all the way from Maryland to teach us how to make some traditional Persian dishes. His trick for perfect tahdig (crispy Persian rice): let the rice soak in its cooking liquid for 15 minutes before turning on the heat to elongate the grains and make a fluffier rice. The whole office was especially smitten with his cucumber yogurt sauce—not only is it good eaten with everything, but you can use it to chase vodka, as they do in Iran. Watch for all his recipes on the site next week!
We often make family meal from leftovers when we have photo shoots; this week, leftover vegetables and shrimp from recipe testing were turned into a spread of shrimp fried rice, roasted fiddlehead ferns and summer squash, spaghetti in a tomato-olive sauce, and a beautiful arugula salad. We discovered that photographers have quite the appetite.
We're constantly learning from our mistakes here; the first time I tested this candy recipe, I followed the instructions carefully but the end result was burnt. After careful inspection, I discovered the candy thermometer I used was broken. Always test your thermometers! To make sure yours is in proper working order, place it in a pot of water and bring it to a boil. As long as you are at sea level, the thermometer should read 212 degrees Fahrenheit. If it does not, then you should calibrate your thermometer using the manufacturer's instructions.