Recipes
Chocolate Cupcakes with Goat Cheese Frosting
A silky fresh chèvre topping gives this childhood favorite its grown-up appeal.
Serves

Makes 12 Cupcakes

Cook

3 hours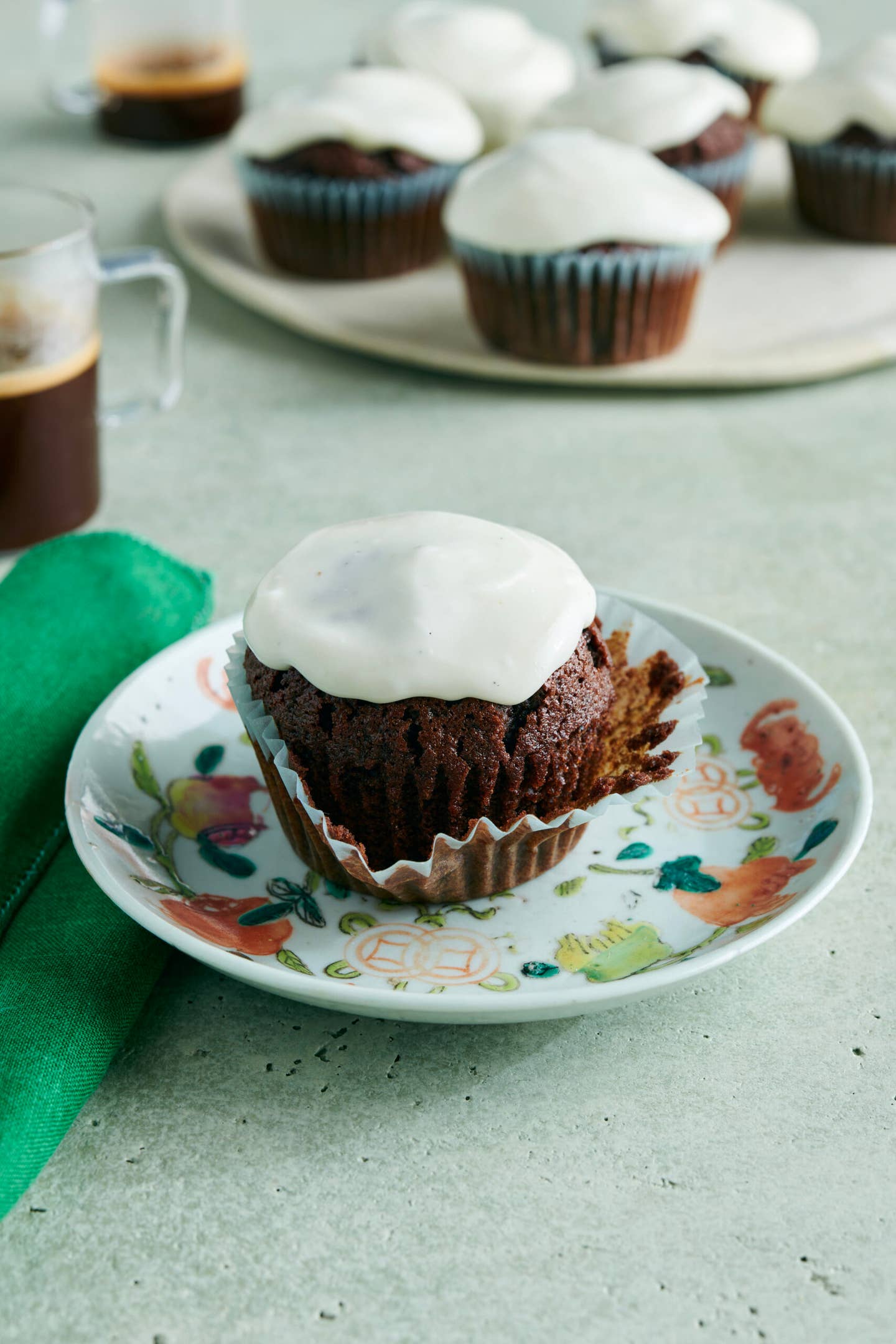 Softened goat cheese adds delightful tang to these bittersweet chocolate cupcakes from cookbook author Leah Koenig. Vanilla bean gives the frosting a pretty, faintly speckled look. If you prefer a pure-white topping, good quality vanilla extract is a fine substitute.
Ingredients
For the cupcakes:
1 cup all-purpose flour
1 cup sugar
¼ cup plus 2 Tbsp. unsweetened cocoa powder
½ tsp. baking powder
½ tsp. baking soda
½ tsp. fine sea salt
½ cup strong coffee
½ cup vegetable oil
½ cup whole milk
½ tsp. vanilla extract
1 large egg
For the frosting:
4 oz. cream cheese, softened
3 oz. goat cheese, softened
1½ cups confectioners sugar
1 vanilla bean, split lengthwise, seeds scraped (pod reserved for another use)
Instructions
Step 1
Position a rack in the center of the oven and preheat to 350°F. Line a cupcake pan with 12 paper liners and set aside.
Step 2
In a bowl, whisk together the flour, sugar, cocoa powder, baking powder, baking soda, and salt. Add the coffee, oil, and milk and whisk until combined, then whisk in the vanilla and eggs to create a thick batter.
Step 3
Using an ice cream scoop or large spoon, divide the batter evenly among the cupcake liners (each should be about two-thirds full). Bake, rotating halfway through cooking, until the cupcake tops are golden and just firm and a toothpick inserted into the center comes out clean, 20–22 minutes. Transfer to a wire rack to cool completely in the pan, about 2 hours, then unmold the cupcakes.
Step 4
Meanwhile, make the frosting: Using an electric hand mixer or stand mixer fitted with the whisk attachment, beat the cream cheese and goat cheese on medium-high speed until fluffy, about 5 minutes. Add ¾ cup of the confectioners sugar, beat to incorporate, then add the vanilla seeds and the remaining confectioners sugar and beat on low speed until thick and creamy. Cover with plastic wrap and refrigerate until ready to frost.
Step 5
To serve, use a spoon to evenly spread the chocolate cupcakes with the frosting, then cover with plastic wrap and refrigerate until chilled, at least 30 minutes. Frosted cupcakes keep well for up to 3 days in the fridge.