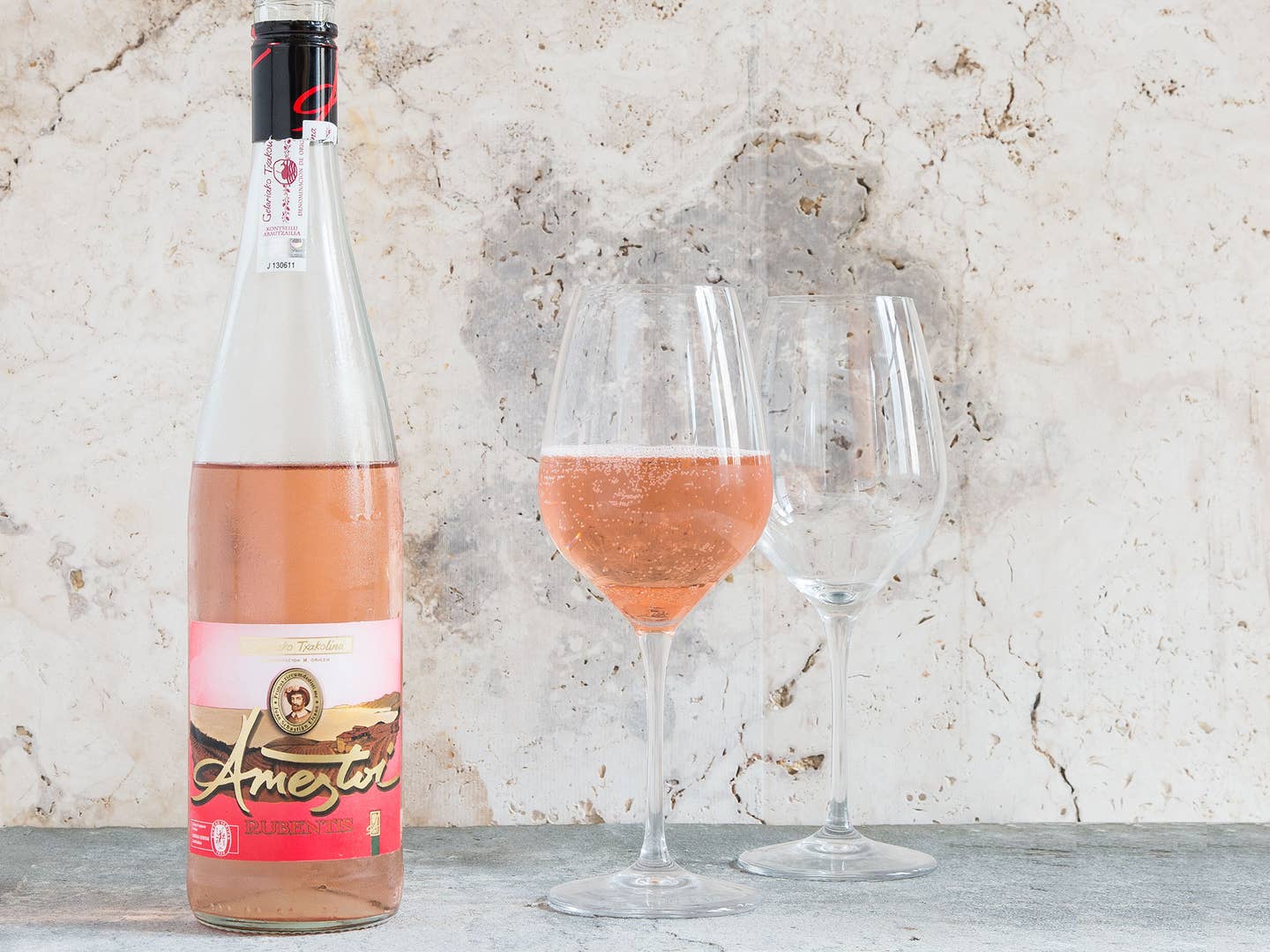 Drinks
Why You Should Be Drinking Rosé Txakoli
Fruity, tart, and lightly bubbly, this should be your summer wine
Every Friday this summer, we will be celebrating Rosé Fridays, and sharing stories and information on the best of pink wine around the world. Today, we start in the Basque country, with Txakoli.
Memorial Day is behind us and summer is here and it is time to drink rosé. And while you're likely to think of Provence when you walk into your favorite wine store looking for a pink bottle to tote along to your next picnic, you should shift your gaze northwestward, to Spain's Basque country. Here, in the land of txakoli—that dry, perky, effervescent wine that has become a niche darling among many drinkers—lay some of the most exciting rosés you can find right now.
Where white txakoli is stony and minerally and tastes of the sea—like Chablis, but from a colder climate, and with a sharper backbone—the rosé is tart and leaves a trail of exclamation points in its wake. It's fruity, but summer-fruity, like very refined gushers. Its production is small, even for txakoli, but it's easiest to find right now, at summer's cusp; bottles are released every spring.
"Rose txakoli is slightly prickly and super refreshing," says Ashley Santoro, wine director at The Standard East Village in Manhattan. "It's definitely a rosé to give people who think all rosé is sweet blush wine, if you really want to freak them out. And [it's] ultimately a justifiable excuse to porrón wine into people's mouths." The porrón is a glass pitcher with a spout used in the Basque country to a) pour wine into people's mouths from up high and b) aerate the poured wine in the process. Buy one and you'll always have an excuse to throw a party.
In the Basque country, "Rosé started out as a novelty" explains Alex Raij, chef-owner at Txikito in Manhattan. Production has increased, it seems, mostly due to America's taste for rosé. There are only a handful of producers who make it, and this can change from year to year depending on the harvest. But you should grab what you can, right now, if you want a rosé that will shake up your routine.
Thanks in part to high levels of acidity, rosé txakoli almost demands to be drunk with food; Raij calls it "a perfect picnic wine." It's low in alcohol and has a refreshing effervescence, so it's easy to drink throughout the day, paired with something snacky. A good place to start is by fashioning yourself the quintessential Basque pintxo, a gilda: pickled peppers, green olives, and salt-cured anchovies skewered on a toothpick. Then pour your txakoli from on high—if you don't have your own Porrón, pick up a Txakoli pourer—and don't worry if things get splashy. As Santoro reminded me, "Txakoli is meant to be fun."