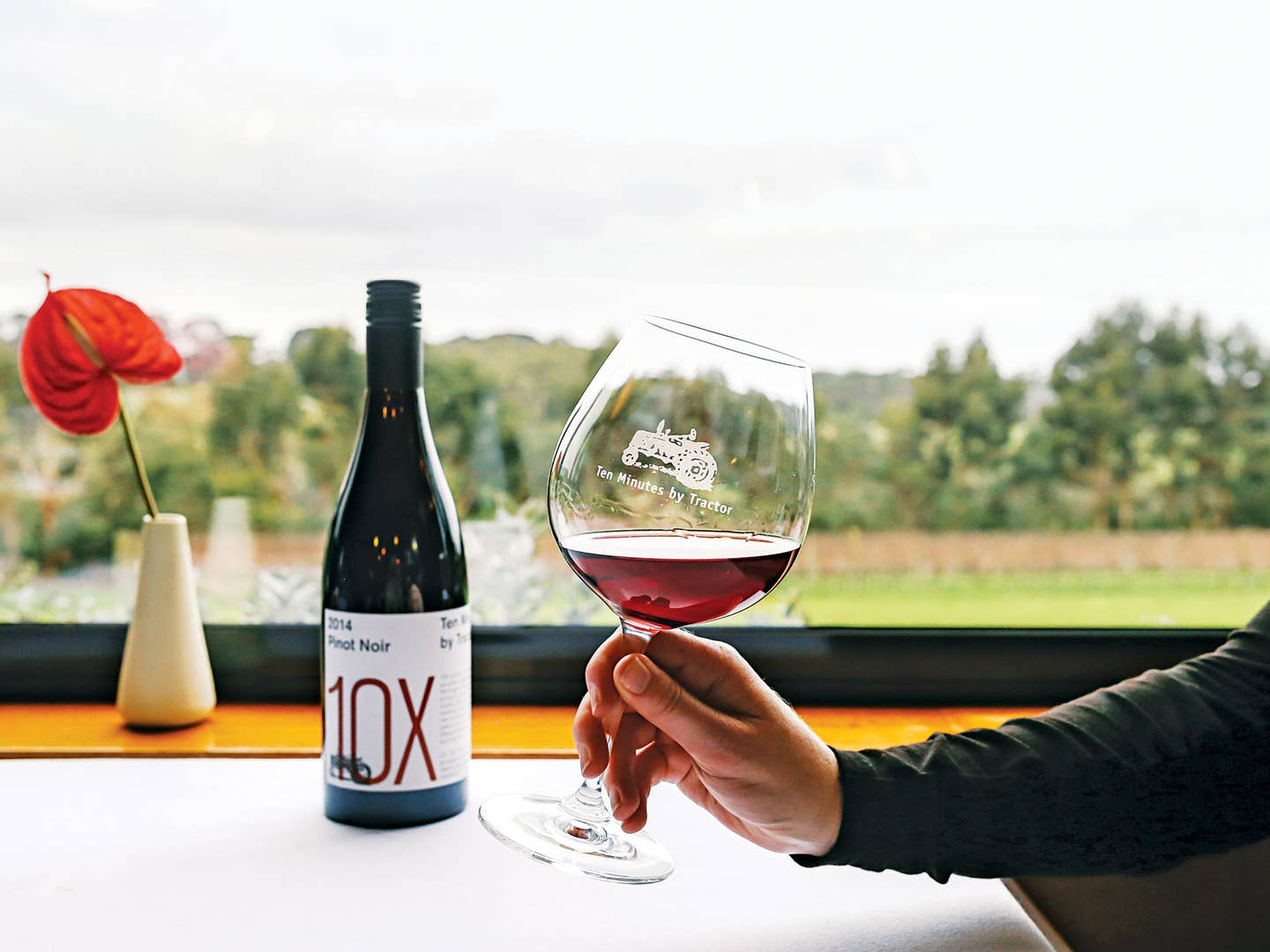 Drinks
Pouring in Mornington Peninsula
A slip of land on Australia's southeastern coast has become a surprisingly delicious destination for wine-lovers
Wine and wine tourism came of age simultaneously in Australia, so the best food in viticultural regions is often found at restaurants attached to wineries. I've eaten a robust organic lunch at Cullen in Margaret River, an exquisite formal dinner at the d'Arenberg winery restaurant in McLaren Vale, and fresh-baked bread and one-of-a-kind pizzas at Innocent Bystander in the Yarra Valley, each accompanied by rare wines, some of which are available only at the source.
But nothing prepared me for Mornington Peninsula.
This spit of land an hour from Melbourne has for years served, Hamptons-like, as a weekend destination for well-heeled urbanites. Over the past decade, hillside apple orchards have given way to some of the best pinot noir vineyards outside Burgundy. When a few producers opened full-service restaurants, the appropriate clientele was already there. "People used to come down from Melbourne for the beaches and to have a few drinks," said Kate McIntyre of Moorooduc Estate. "Now it's a serious food and wine experience."
Serious, as in pinot noir as good as Oregon's, grown in a place with the feel of Cape Cod that offers meals you'd hope to find in a major city. At Port Phillip Estate, gazing through a wall of glass at vineyards and the sea beyond, I ate calamari in a cannellini pesto and then a whole local flounder with capers and croutons—and that was in the tasting-room bistro, because the main restaurant (serving such dishes as "organic suckling pig," "parsley risotto with bone marrow") isn't open for lunch Tuesdays. At Moorooduc, where McIntyre's mother opened the first important restaurant in the area more than a decade ago, a set menu has segued into Sunday lunches and seasonal dinners that have a national following.
And at Ten Minutes By Tractor—where the restaurant is rated by various guides and magazines as one of the finest in Victoria and the name of the winery can't help but bring a grin to your face—I enjoyed the most accomplished cooking of my trip. The crispy mussels with confit tomatoes, grilled soy-scented yellowfin, and venison with quince were constructed to pair perfectly with the estate's own wines and highlights from neighboring properties, all of which are organized on the extensive list by grape variety, soil type, and—not to be ignored—vineyard altitude.
Not all the nearly 70-odd producers in the area are quite so ambitious.
"But most of them," said McIntyre, "have pretty similar ideas of what we're aspiring to here." That's nothing less than one of the world's premier wine-and-food destinations. They just might be there already.
Cullen
4323 Caves Road, Wilyabrup
Open daily: 10am-4pm
+61 8 9755 5277
d'Arenberg
Osborn Road, McLaren Vale
Open daily: 10am-5pm
+61 8 8329 4822
Innocent Bystander
336 Maroondah Highway, Yarra Valley
Cellar Door Hours: Daily: 10am-6pm Restaurant Hours: Sun-Thus: 9am-9pm; Fri-Sat: 9am-10pm
+61 3 5962 6111
Moorooduc
501 Derril Road
Open daily: 11am-5pm
+61 3 5971 8506