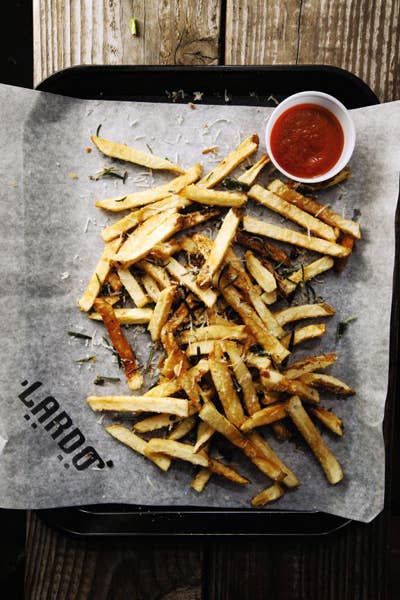 The secret to the stellar bistro fries? Duck fat, a superior frying medium that gives the potatoes a deep, meaty flavor.
Roasted Garlic Chipotle Mayonnaise
This classic Asian sauce of soy sauce, rice vinegar, and chili paste goes well with steamed dumplings and fried chicken wings.
This sauce has an intense umami flavor and a mustardy zing.
Classic double-fried french fries get extra savory flavor from a sprinkling fresh herbs and grated parmesan.
Creamy and bright-tasting, lemon parmesan dip makes for an excellent accompaniment to a chip or crudité platter.
This tangy dip, which makes a perfect sauce for steamed crab legs, gets a sweet-and-sour kick from ketchup, brandy, and sour cream.
This complex tomato-based dipping sauce, which makes a lovely accompaniment to steamed crab legs, presumably gets its name from its fiery hue and its mix of serrano peppers and spicy chile powder.