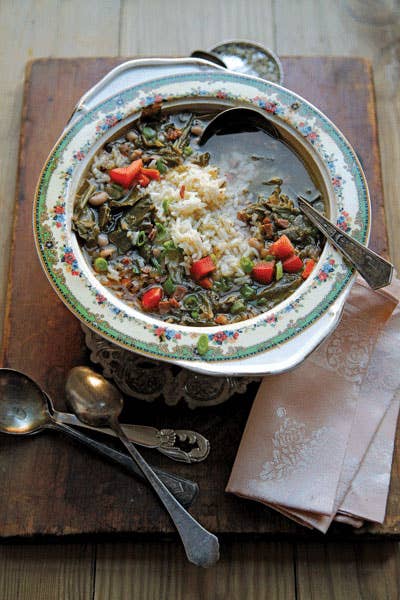 Recipes
Good-Luck Recipes for the New Year
by Alexia Nader
A dash of luck is all you need to make the New Year bright. In many cultures around the world, special ingredients or dishes have been the traditional bearer of good luck for the coming year. One grape for every lucky month in Spain, lentils in Italy, pickled herring in Poland and Germany, long noodles in China and Japan, roast pork in Cuba and other Latin American countries, pomegranates in Turkey, and black-eyed peas here in the United States. To start your year off right, choose one recipe from this collection of dishes featuring lucky ingredients, or serve an entire charmed feast to ring in the new year with good food and fortune.
Grape Tart
In Spain, it's thought that eating one grape with every strike of the clock at midnight brings good luck for the New Year. This grape tart lets you eat all 12 grapes in just a few sweet bites. See the recipe for Grape Tart »
Of Fukien origins, this noodle dish is now synonymous with Tainan—thanks to the expertise of noodle cooks like those at Slow Season, who gave us this recipe.
The appeal of this hors d'oeuvre, which prominently features luck-bearing black-eyed peas, comes from the bright contrast of earthy and tangy flavors.
In this earthy legume stew, chickpea flour serves as a thickener and adds a nutty undertone.
This soup of black-eyed peas and rice, traditionally eaten on New Year's Day in the American South, makes good use of leftover holiday ham scraps.
Wheat berries, lentils, and lamb stewed with Indian spices makes for a perfect cold-weather supper.
This light, Lebanese lentil salad is flavored with lemon juice, cumin, allspice, and parsley.
In Poland and Germany, herring is considered a bearer of good fortune. In this recipe, salt-cured herring becomes a lavish centerpiece when layered with apples and a sour cream-mayonnaise dressing.