Recipes
Hot and Sweet Red Pepper Dip with Walnuts and Pomegranates (Muhammara)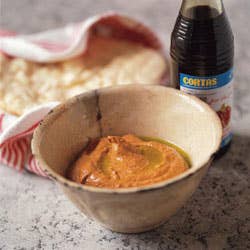 Muhammara is a popular Middle Eastern dip made from peppers, walnuts, and pomegranate molasses. Delicious served with pita or crudités, this recipe comes from Paula Wolfert's cookbook, The Cooking of the Eastern Mediterranean, (HarperCollins). For best results, make this recipe at least one day in advance.
Ingredients
2 1⁄2 lb. red bell peppers
1-2 small hot chiles, such as fresno or hot Hungarian, or substitute Turkish red pepper paste to taste
1 1⁄2 cups walnuts, coarsely ground (about 6 oz.)
1⁄2 cup crackers, crumbled
2 tbsp. pomegranate molasses or more to taste
1 tbsp. fresh lemon juice
1⁄2 tsp. ground cumin
3⁄4 tsp. salt
1⁄2 tsp. sugar
2 tbsp. olive oil
2 tsp. toasted pine nuts or chopped, peeled, and unsalted pistachios, a good pinch of ground cumin, and a flourish of olive oil for garnish
Instructions
Step 1
Roast peppers and chiles either over coals or a gas burner or under an electric broiler, turning frequently until blackened and blistered all over, about 12 minutes. Place in a covered bowl to steam 10 minutes (this loosens the skin). Rub off skins; slit peppers open and remove stems, membranes, and seeds. Spread peppers, smooth side up, on a paper towel and let drain 10 minutes.
Step 2
In a food processor, grind walnuts, crackers, pomegranate molasses, lemon juice, cumin, salt, and sugar until smooth. Add peppers; process until puréed and creamy. With the machine on, add olive oil in a thin stream. Add chiles to taste. (If the paste is too thick, thin with 1 or 2 tablespoons water.) Refrigerate overnight to allow the flavors to mellow.
Step 3
When ready to serve, transfer the dip to a serving dish. Sprinkle with pine nuts or pistachios and cumin and drizzle with olive oil.