Recipes
Nimbu Ka Achaar (Spicy Lemon Pickles)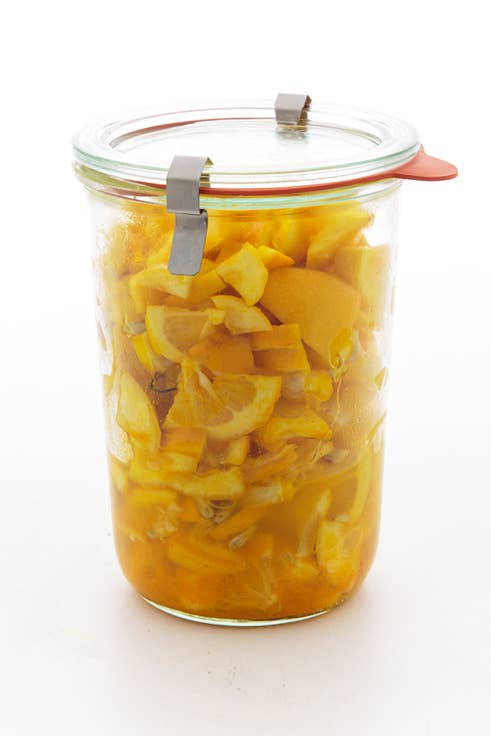 A salt and spice cure transforms fresh citrus into tart, briny pickles that perk up many Indian meals. Cookbook author Smita Chandra uses them as a condiment to punch up soft naan flatbreads and steamed white rice. This recipe first appeared in our August/September 2014 issue with her story Preserving Culture.
Ingredients
10 small lemons, preferably Meyer, quartered, seeded, and sliced ¼" thick
1⁄4 cup kosher salt
1 tsp. ground turmeric
1⁄2 cup canola oil
1⁄2 tsp. brown mustard seeds
1⁄2 tsp. cumin seeds
1⁄2 tsp. fenugreek seeds
12 small green Thai chiles or 6 serranos, halved
8 cloves garlic, thinly sliced
1 (2") piece ginger, peeled and thinly sliced
1⁄2 cup white vinegar
1⁄2 cup sugar
1 tbsp. red chile powder or cayenne
Instructions
Step 1
Rub lemons with salt and turmeric in a bowl; pack into a sterilized 1-qt. glass jar. Cover with lid; place near a window with direct, warm sunlight. Let sit 1 week; shake jar daily to disperse brine. After 1 week, heat oil in a 10″ skillet over medium-high; cook mustard, cumin, and fenugreek seeds until they pop, 1–2 minutes. Add chiles, garlic, and ginger; cook until golden, 4–6 minutes. Stir in vinegar, sugar, and chile powder. Pour over lemons; reseal lid. Shake to combine; chill 1 week to infuse flavors. Keeps up to 1 year.