Ricotta Recipes
We love this mild fresh cheese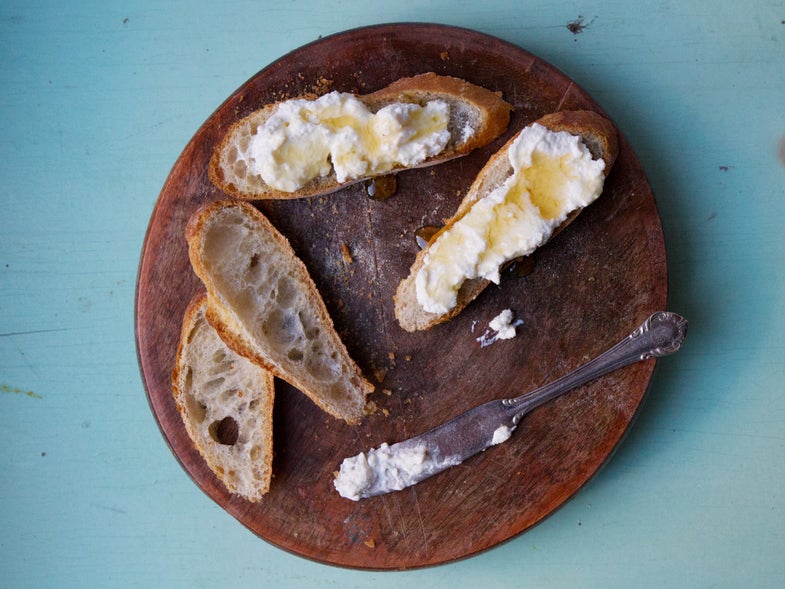 Ricotta is a fresh cheese that we go crazy for. Its mild flavor and rich, creamy texture makes it a perfect comfort food. From pillowy gnocchi to airy coffee mousse, we've rounded up our favorite ricotta recipes.
You can buy ricotta at a supermarket, but it's easy to make it at home. All you have to do is cook together milk, buttermilk, and half & half, let the mixture cool, and strain it through a cheesecloth. That's all there is to it. You'll never get the store-bought stuff again.
One of the simplest ways to enjoy fresh ricotta is on a crostini. Try pairing it with simple toppings like spicy soppressata, sweet broiled cherry tomatoes, or black olives, lemon zest, and mint. For something a little heartier, top your ricotta crostini with rosemary-scented cannellini beans spicy sautéed broccoli rabe.
Fresh ricotta makes for beautifully ethereal gnocchi. Check out our vibrant beet and ricotta gnocchi with wilted beet greens and tangy balsamic vinegar or earthy buckwheat gnocchi with cream, peas, and spinach. For gnocchi that are soft but still substantial, we use both ricotta and potato. Try them served in a tomato sauce with briny olives and capers.
With its tangy sweetness, ricotta is a refined dessert ingredient. It serves as the base for our easy but elegant coffee mousse, which is rich, creamy, and just a little bitter. Mixed with an egg, ricotta bakes into an amazing custard. We love topping baked ricotta with a floral cherry-orange blossom compote.
Find all of these dishes and more in our collection of ricotta recipes.