Recipes
Zucchini, Onion and Ricotta Pie (Torta Salata di Zucchine e Cipolle)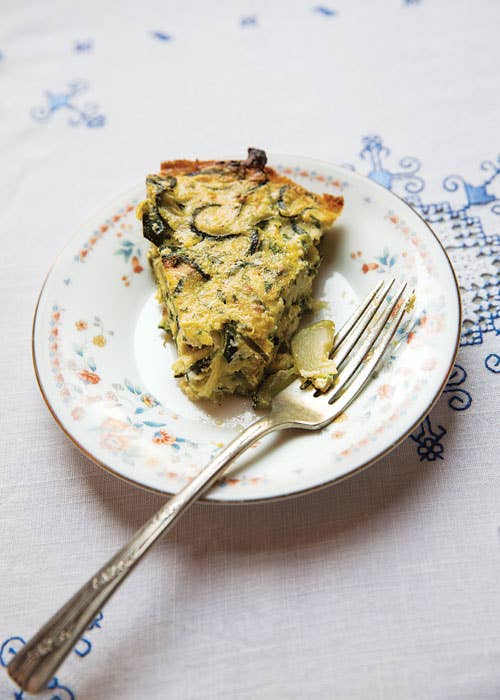 A savory summer pie with a base of fresh ricotta and eggs seasoned with shallots, garlic, and pecorino is the answer to an overly abundant vegetable crop. This version from Italy's Piedmont region is made with zucchini and onions, but feel free to substitute with peppers, eggplant, squash—even tomatoes. This recipe first appeared in our June/July 2014 issue with Sophie Brickman's "The Feast of Life."
Ingredients
1⁄4 cup olive oil
2 cloves garlic, thinly sliced
1 shallot, thinly sliced
6 medium zucchini, thinly sliced
1⁄2 cup grated pecorino
1⁄2 cup ricotta
1⁄2 cup roughly chopped parsley
4 eggs, beaten
Kosher salt and freshly ground black pepper, to taste
1 tbsp. unsalted butter
3 tbsp. bread crumbs
Instructions
Step 1
Heat oil in a 6-qt. saucepan over medium-high heat. Cook garlic and shallot until golden, 4–6 minutes. Add zucchini; cook, stirring occasionally, until golden, about 15 minutes. Transfer to a bowl; let cool. Stir in pecorino, ricotta, parsley, eggs, salt, and pepper.
Step 2
Heat oven to 350°. Grease a 10" pie plate with butter; coat with bread crumbs. Spread zucchini mixture evenly over top; bake until golden on top and slightly puffed, 40–45 minutes. Serve hot or at room temperature.