Recipes
Charred Sweet Potatoes with Pickled Shallots, Pistachios, and Ricotta Salata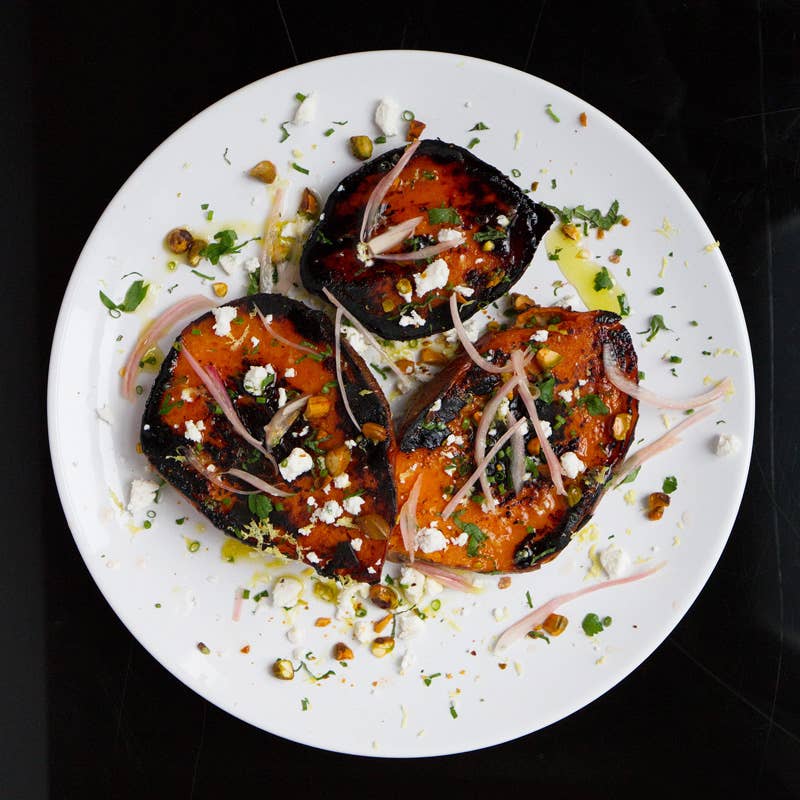 Like a lot of chefs, Jared Bennett of Metropole in Cincinnati is into charring vegetables to amplify their natural sweetness inside, and lend them a pleasantly bitter crust. The secret, he says, is precooking many of the vegetables and then just searing them in a smoking-hot cast-iron pan, so they don't go to mush before getting a char. One of his signatures: this sweet potato side dish with pomegranate, lemon juice, pistachio, and ricotta salata.
Ingredients
4 medium sweet potatoes, scrubbed
1⁄4 cup olive oil, plus more for drizzling
Kosher salt and freshly ground black pepper, to taste
1⁄3 cup red wine vinegar
2 shallots, thinly sliced
1 clove garlic, thinly sliced
1⁄2 cup pistachios
1 1⁄2 tsp. smoked paprika
3 tbsp. crumbled ricotta salata
1 tbsp. roughly chopped mint
1 tsp. minced chives
1 tsp. roughly chopped parsley
Zest and juice of 1 lemon
Maldon flake sea salt, for garnish
Instructions
Step 1
Heat oven to 350°. Rub potatoes with 3 tbsp. oil, salt, and pepper and wrap individually in aluminum foil; roast until just tender, about 1 hour, and let cool. Toss 1 tbsp. oil, the pistachios, paprika, and salt on a baking sheet; roast until golden, about 5 minutes. Let pistachios cool and roughly chop; set aside. Combine vinegar, shallots, and garlic in a bowl; let sit 20 minutes.
Step 2
Heat a 12" cast iron skillet over high. Slice sweet potatoes lengthwise ½" thick; brush with oil and sprinkle with salt. Working in batches, cook potatoes, flipping once, until charred and tender, 10–12 minutes; transfer to a serving platter and top with reserved pistachios and shallot mixture, the ricotta salata, mint, chives, parsley, and pepper. Drizzle with more olive oil and the lemon juice; garnish with lemon zest and Maldon.