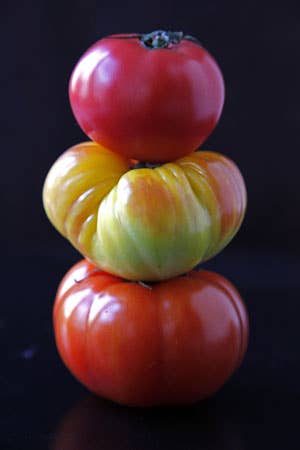 Juicy ripe tomatoes, picked off the vine in the middle of a hot July day and served while they still hold a bit of the sun's warmth: this is what we dream of in the cold winter months, when supermarket tomatoes are mealy and bland. During July and August, tomatoes are prolific in most parts of the country; if you've ever grown your own tomatoes you know that it's hard to eat them all before more come along. There are thousands of cultivars of the tomato plant, which yield fruit to meet many different growing conditions and seasons. Beefsteak tomatoes are large and round, a reliable sandwich-slice tomato, while plum (or paste) tomatoes are smaller, oblong, and have more solid flesh, making them ideal for sauces and paste. Cherry tomatoes are small, round, and sweet, perfect for tossing raw into salads or baking in quiches and tarts.
Summer is prime time for heirloom tomatoes. "Heirloom" refers to tomatoes that are pollinated by wind and bees (non-hybrid) and have been cultivated for more than 50 years. In fanciful shades—from purple to green to gold, and even striped and multicolored—and in all shapes and sizes, heirlooms have a flavor that's richer, more complex, and more varied than that of your standard tomato. The varieties are seemingly endless, but some of our favorites include the widely available Brandywine, a large beefsteak that comes in several shades; the Mortgage Lifter, another large red beefsteak that can weigh up to 2 lbs. and has a mild, sweet flavor; the dark and earthy Prudence Purple; and the small, sweet cherry variety called Sungold, flavored with tart citrus notes.
Look for firm, blemish-free tomatoes that feel heavy for their size.
Tomatoes continue to ripen off the vine, so let them sit on the windowsill until ripe before using.
Do not refrigerate fresh tomatoes; the cold takes away a lot of their flavor.
Common tomatoes are available in all grocery stores year-round, but check your local farmers' market or farm stand for heirloom varieties during the summer months.