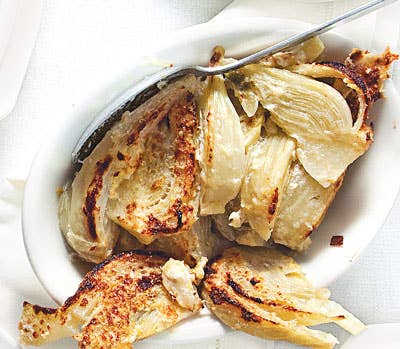 The first time I tasted fennel - in a gratin of fennel bulbs softened in stock and cream, resting under a golden Parmesan cheese crust - I was living in a castle in Italy. It was the summer after college, when magical things like a claw foot tub in the bathroom and a view like a Bob Ross landscape painting out the window are possible.
I lived in that particular paradise while volunteering on an organic vineyard in Tuscany, where I spent long days tangled in the grape vines, fueled by industrial-strength shots of espresso. At the end of each day, all the vineyard volunteers sat for an extended meal that we'd prepared together. Simple pasta dishes and creamy risottos reigned, enhanced with vegetables from the kitchen garden, and we washed it all down with bottles of house wine. After dinner we'd talk and play poker, snacking on fresh bread drizzled with olive oil and sea salt, and sipping still more espresso spiked with fiery grappa.
Along with many of my experiences that summer, fennel was new for me - a vegetable I didn't know to love or hate, because I had never tried it. In the gratin, the bulb's hallmark licorice flavor paired perfectly with the rich, salty elements surrounding it. Maybe it was the palatial setting, maybe it was the verdant Tuscan scenery, but after one bite, I knew that fennel would be a lifelong friend.
Fennel is a perennial plant (though it's often cultivated as an annual) that grows wild throughout the Mediterranean and California, and was prized by the ancient Greeks and Romans as a medicinal herb. The sweet bulb fennel we eat today, also known as Florence fennel or finocchio in Italian, was first cultivated in the 17th century. Culinarily speaking, it's is a powerhouse food: every part is edible, from the common bulb (which resembles a large, flattened leek), to the stalk, foliage, seeds, and even pollen, which is harvested from the plant's spray of yellow blossoms.
While fennel not exclusively a fall crop - hearty bulbs can be harvested from summer through early winter - it's perfect for the autumn table. A cousin to dill, celery, and parsley, its various parts share those plants' crisp, herbaceous flavor. With more and more of summer's vegetables going into hibernation for the winter, now is the time to fall in love with fennel.
SAVORY
Fennel Gratin
Fennel's licorice-flavor mellows out after a long bath in hot stock. Rich cream and freshly grated Parmesan finish the classic Italian dish.
Fennel, Sunchoke, and Apple Salad
Paper-thin slices of fennel, sunchoke, apple and radish join together in this crunchy salad.
Fennel and Herb Phyllo Pastries (Hortopita)
Sweet fennel and spicy feta cheese pair perfectly inside buttery phyllo packages.
Ziti with Sausage and Fennel
This rich pasta dish combines spicy sausage with cream, fennel, and Pernod.
Oaxacan Stuffing
A host of delicious flavors from fennel and prunes to apple and poblano chiles combine in this sweet and savory stuffing.
Fried Fennel
Fans of onion rings and tempura will savor these pan-fried fennel pieces.
Sweet
Food52: Strawberry Fennel Ice Cream
Fennel pollen and agave nectar team up with strawberries in this blush-colored ice cream.
Gourmet: Fennel Orange Brittle
This crunchy-sweet candy is made from nothing more than sugar, toasted fennel seeds and orange zest.
Bon Appetit: Apple Tart with Caramelized Fennel
Caramelized fennel bulbs top this apple and puff pastry tart.
DRINK
Fennel Apple Spritzer
Fennel-infused syrup and fresh apple juice pair beautifully in this refreshingly non-alcoholic autumnal drink.
The Year in Food: Rhubarb Fennel Gin Fizz
Spicy gin and sweet-tart rhubarb puree come together with muddled fennel bulb in this coral-pink drink.
Leah Koenig is a freelance writer and author of The Hadassah Everyday Cookbook: Daily Meals for the Contemporary Jewish Kitchen
.__