One Ingredient, Many Ways: Goat Cheese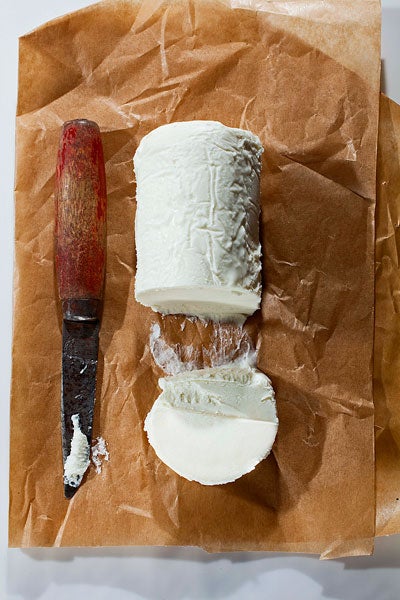 As a city girl living in the throbbing heart of New York, I harbor an occasional fantasy to leave the pavement and tire screeches behind and go raise goats in the country. So does pretty much everyone I know. And for most of us, the feeling is fleeting — a bucolic urge sated by a weekend trip upstate and a bottle of maple syrup tucked into our bag as we journey back to the skyline we love.
But for my friends Karl Schatz and Margaret Hathaway, a photographer and writer living in Brooklyn, once in a while wasn't enough. Instead, they packed up their apartment, took a soul-searching road trip and ended up moving to Maine. To raise goats. They now live with their three young daughters at Ten Apple Farm, a homestead complete with chickens, ducks, an impressive vegetable garden, and a 100-year old barn that houses a rowdy but delightful pack of dairy goats. Not surprisingly, considering their professional talents, they chronicled their journey in two books, The Year of The Goat (Lyons Press, 2007) and Living with Goats (2009).
Karl and Margaret's self-sufficient lifestyle, which is sustained in part by gallons of fresh goat milk, suits them well. When my husband and I spent a weekend at Ten Apple Farm this past summer (getting our pastoral fix), we helped them milk the herd, and we tasted some fresh goat cheese that Margaret made — cheese being one way of preserving the excess milk that would spoil before they got around to drinking it. Its flavor was tangy and nuanced with a hint of sweetness, and its texture smooth and dense. It was nutritious too, filled with calcium (naturally) and a slew of useful vitamins. If anything could convince me to actually make the city to country swap, that cheese was a definite contender.
Goats can continue to produce milk for many months after giving birth, making goat cheese a nearly year-round food. But the early spring, when most goats are bred to give birth, is high season for goat cheese. The milk can be turned into yogurt, farmers' cheese, or any number of hard and aged cheeses. In America, however, most mentions of goat cheese refer to the soft, spreadable, French-style chevre — a cheese that, over the last decade, has gone from relative unknown to everyday staple. It is often paired with earthy beets, dolloped last-minute onto fresh salads and pasta dishes, or slathered onto hearty sandwiches. And like cream cheese, fresh che vre plays well with sweet and fruity flavors, making it a delicious addition to a variety of desserts.
SAVORY
Olive Oil Marinated Goat Cheese
Marinate rounds of goat cheese in thyme and peppercorn-infused olive oil.
Olive High Cotton's Ricotta Gnocchi
Goat milk ricotta gets folded into this fluffy gnocchi.
Chive and Goat Cheese Omelette
Goat cheese adds tang to this simple, springy omelette.
Mille Feuille with Two Goat Cheeses
Young ripened and aged goat cheeses combine on this elegant appetizer.
Orecchiette with Rapini and Goat Cheese
This pasta dish, which pairs bitter greens, lemon zest and creamy goat cheese, is a Saveur.com reader favorite.
Mesclun Salad with Goat Cheese and Balsamic Vinaigrette
Sourdough croutons top this flavorful green salad.
Open Face Avocado and Goat Cheese Sandwiches
It's hard to imagine a more satisfying lunch than these sandwiches spread with goat cheese and layered with creamy avocado.
Smashed Beets with Goat Cheese
The classic pairing of beets and goat cheese is elevated by crispy fried garlic chips and a bright vinaigrette.
Beet and Goat Cheese Napoleons
With their gorgeous pink and white stripes, these appetizers are the height of edible elegance.
Onion Tart with Goat Cheese
This beautiful puff pastry tart comes topped with browned onions, anchovies and goat cheese.
SWEET
Chocolate Cupcakes with Goat Cheese Frosting
Softened goat cheese adds a delightful tang to these sweet chocolate cupcakes.
Coeur a la Creme with Caramelized Strawberries
A luscious mixture of goat cheese, cream cheese, honey and heavy cream tops wine marinated strawberries.
Food 52: Peach and Goat Cheese Tart
Tangy goat cheese and sweet peaches pair beautifully on a rosemary cornmeal crust.
Fat Toad Farm: Cajeta and Goat Cheese Brownies
These decadent brownies come swirled with goat cheese and _cajeta,_goat's milk caramel.
Food & Wine: Goat Cheese Cake with Mixed Berries
This twist on classic cheesecake replaces the traditional cream cheese with softened fresh goat cheese.
_Purple Foodie:_Goat Cheese Stuffed Figs
Drizzled with honey and sprinkled with fresh thyme, these goat cheese stuffed figs are delicious as an appetizer or dessert.
Leah Koenig is a freelance writer and author of The Hadassah Everyday Cookbook: Daily Meals for the Contemporary Jewish Kitchen.