One Ingredient, Many Ways: Winter Squash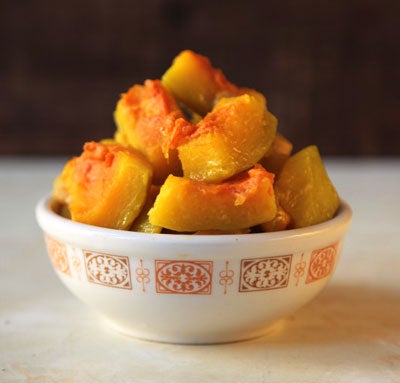 Growing up, winter squash meant one of two things in my family: butternut or acorn. Either way, they were halved, seeded and filled with a few cubes of salted butter and a spoonful of brown sugar before being baked in the oven, emerging steaming and tender with a browned, blistered top and syrupy melted butter puddled at the bottom. Not a bad way to eat your vegetables.
Two decades later I still enjoy squash this way, and I continue to crave butternut and acorn squash throughout the colder months. But among the many treasures the farmer's market has given shoppers is the panoply of squash varieties that help keep winter eating interesting. Some of are pretty and dainty like the striped delicata, the Christmas ornament-shaped red kuri, and the brightly colored carnival. Others are gnarly, misshapen creatures – like the monstrous, blue-green hubbard and the awkwardly protruding turban – which belong in the pages of_ Where the Wild Things Are_ as much as on the dinner table.
Squash, which is a member of the cucurbit family along with melons and cucumbers, originally hails from the Americas – likely somewhere between Mexico and Guatemala. Today, squash has made its way all over the map of world cuisine, and making one's way through the ever-growing list of these winter fruits can be intimidating. Each has its own personality and flavor (think of the super sweet and fleshy buttercup versus the stringy spaghetti), and confusingly, only some have edible skin. The good news is that nearly every variety tastes great the old-fashioned way: roasted and served with butter — and almost all of them have specific preparations that help their particular characteristics shine. Step outside of your baked butternut and acorn comfort zone and say hello to winter's best bounty.
Savory Squash Recipes
Roasted Butternut Squash Salad with Cranberries and Candied Pecans
This sweet-tart winter salad is a simple way to add elegance to a weeknight dinner.
Seared Scallops with Butternut Squash
Scallops pair beautifully with flavorful mashed butternut squash in this dish.
Kabocha Squash with Ginger Chao Nan Gua
This simple Taiwanese dish braises kabocha squash in a ginger- and sugar-spiked liquid.
Butternut Squash Ravioli with Oregano Hazelnut Pesto
Ravioli filled with butternut squash are topped with a fragrant fresh herb and parmesan pesto.
Squash Gratin
What could be more satisfying then acorn and butternut squash softened in milk and gruyere cheese?
Winter Squash and Apple Soup
Fried mushrooms and spiced mint butter garnish this delicious sweet and savory soup made with acorn squash and tart green apples.
Risotto with Butternut Squash, Leeks, and Clams
This rich, creamy risotto is flavored with leeks, littleneck clams and diced butternut squash.
Squash Gnocchi with Meat Sauce
Butternut squash gets folded into this gnocchi dough before being boiled and topped with a savory meat sauce.
Pork Chops with Blue Cheese Sauce and Butternut Squash Puree
Squash puree enlivened with brown sugar, herb salt and fresh ginger makes a delicious companion for pork chops.
Sweet Squash Recipes
Butternut Squash Pancakes with Maple Butter
Cooked butternut squash is sweet and super tender, making it the perfect mix-in for pancakes.
**Coconut Squash Custard
** Kabocha squash adds heft and extra sweetness to this Laotian custard.
Assidat al Boubar
This luscious Emirati pumpkin porridge (in Arabic it's a halvah, or sweet food) is a dessert that straddles the line between sweet and savory.
Cooking Melangery: Pumpkin Blue Hubbard Jam
A sweet, earthy squash jam is perfect over pancakes, oatmeal, or straight from the jar.
Martha Stewart: Acorn Squash and Honey Pies
Acorn squash puree sweetened with cinnamon and honey gets baked in a cornmeal piecrust.
Squash Drink Recipes
New York Magazine: Butternut and Fallernum
Butternut jus is combined with rum and falernum liqueur in this sophisticated autumnal cocktail.
Food Network Magazine: Mexican Pumpkin Punch
Toast the winter with pumpkin-infused rum punch, flavored with Mexican cinnamon sticks.
Leah Koenig is a freelance writer and author of The Hadassah Everyday Cookbook: Daily Meals for the Contemporary Jewish Kitchen.