Recipes
Taiwanese-style Braised Squash with Ginger (Chao Nan Gua)
Kabocha is simmered in a sweet bath in this warming side.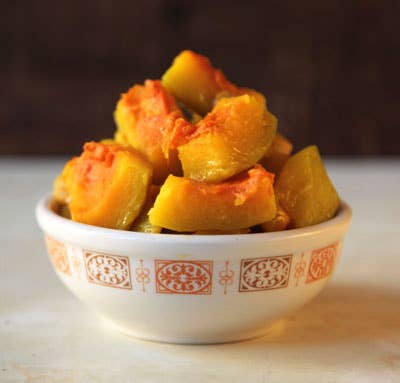 This fragrant side dish, a Taiwanese favorite called chao nan gua, can be made with several different kinds of squash; we've found that kabocha and butternut work best. The recipe comes from travel writer Matt Gross, whose in-laws are Taiwanese. Browse all of our winter squash recipes to ward off those winter blues.
Ingredients
1 tbsp. vegetable oil
1 half-in. piece of ginger, peeled and sliced into ⅛-in.-thick coins
1 small kabocha or butternut squash (about 2½ lbs.), peeled, seeded, and cut into 1½-in. cubes
2 tsp. sugar
1⁄2 tsp. kosher salt
Instructions
Step 1
To a large cast-iron skillet set over high heat, add the oil. When it is hot and shimmering, add the ginger and cook until fragrant and softened slightly, about 2 minutes. Stir in the squash, sugar, salt, and ½ cup of water. Bring to a boil, then cover and turn the heat to medium. Cook, stirring occasionally, until the squash is tender when pierced with a fork, 8–12 minutes. Transfer to a bowl and serve hot.