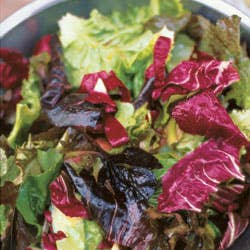 Recipes
The Joy of Salad
When the dog days of summer descend, we begin to crave lighter—though still satisfying—foods. And whether served as an accompaniment to a meal, a light lunch, or a main course, few dishes are as fresh and full of flavor as salad.
Over the years we've witnessed the humble salad's transformation from the pale, bland opener of a meal—a simple bowl of lettuce covered with a run-of-the-mill dressing—to its vibrant centerpiece. Nowadays, salads are an ideal playground for new flavors and ideas. With the ever-expanding selection of intriguing and exotic greens available in many groceries, the sky's the limit, from delicate baby greens to bitter-but-tasty radicchio to the spicier varieties found in our Asian Greens Guide.
To build a better salad, don't stop with greens. Toss in a variety of fruits and vegetables fresh from the garden—tomatoes are fine, but experiment with other ingredients, too, like earthy mushrooms, or the sweet surprise of strawberries. Turn it into a meal by adding some protein, such as gently seared scallops or perfectly grilled flank steak. For the finishing touch, high-quality olive oil and a flavored vinegar can be elegant yet simple, but we also love the classics: Green Goddess, Thousand Island, and Ranch dressings are always delicious, but don't reach for the bottle—fresh is best.